At 74 years old, with nearly half of them spent as a chef, Pong Song Oh could be called a veteran of the business.
His return to head the kitchen at Golden Sushi, a Korean-Japanese restaurant in Flushing, is a homecoming of sorts: he was the executive chef of the restaurant when its previous incarnation, Pado Sushi, first opened 22 years ago.
He drifted away from and back to the restaurant a few times over the years, but each time he left, business would slow down, according to the current owner Kyung Ho Lee—who himself started as a sashimi chef for the restaurant 22 years ago. So when Lee took over the business last year, he specifically went looking for Oh.
Cooking With a Heart of Gratitude
In Korea, Oh was a middle school teacher and small business owner. After coming to the U.S. in 1986, he found himself craving the food of his home country. Taking matters into his own hands, he decided to study Korean cuisine and learn to master it himself.
Oh pored over books, observed other chefs, and adapted what he learned into his individual style. Now, after over three decades of experience, his repertoire spans all aspects of Korean food, from its varied soups and stews to well-known and loved Korean barbecue.
But he's careful not to give himself too much credit.
Asked to spill his secrets, he laughed and admitted he didn't have much to say, "because I'm not the one making the dishes."
"Over my 32 years as a chef, I've always felt like I wasn't alone in the kitchen—God has always been there cooking with me, guiding me," he said.
At Golden Sushi, Oh prays for help and inspiration in creating dishes that will bring health and happiness to his customers, and then cooks them as if cooking for himself—only food good enough to pass his own standards, that he would enjoy eating, makes it out to the customers' tables. He's proud of that, he said with a smile, but never forgets to give due thanks to God.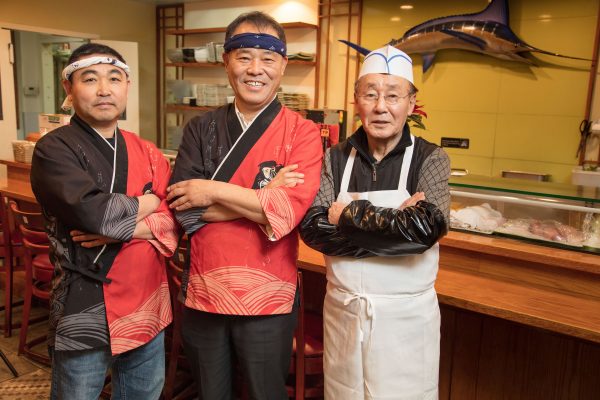 Endless Variety
Oh's cooking complements the restaurant's extensive sashimi bar, where gleaming cuts of fish rest on ice, waiting to be cut to order. Between the two, customers are treated to a veritable feast.
This January, the restaurant launched a new All-You-Can-Eat (AYCE) option. For an affordable $19.99 per person for lunch and $24.99 per person for dinner, diners get access to a sprawling selection of Korean and Japanese bites, including soups and salads; seafood soondubu (tofu stew); tempura and teriyaki; and a variety of sushi rolls, nigiri, and sashimi (with a 10-piece per person limit).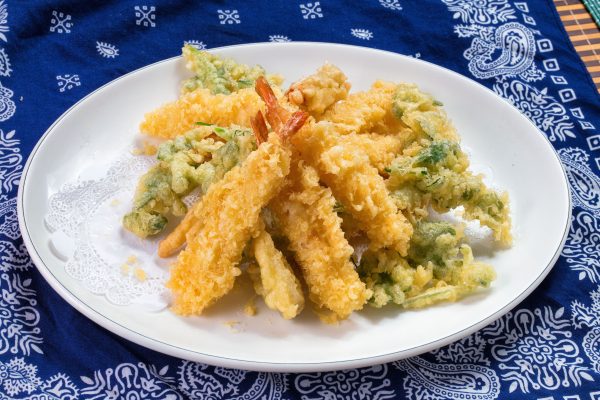 Unlike the offerings of many other AYCE buffets, made in advance with budget ingredients and left to languish for hours in open display cases, Golden Sushi's are made fresh to order with only high quality ingredients. Cheap buffets too often mean cheap ingredients, Lee said, but he opts to sacrifice higher profit for higher quality.
Fish is imported from Korea, Japan, and across the U.S. two to three times a week, for optimal freshness, and the rice comes direct from Japan. Customers can taste the difference from the first bite.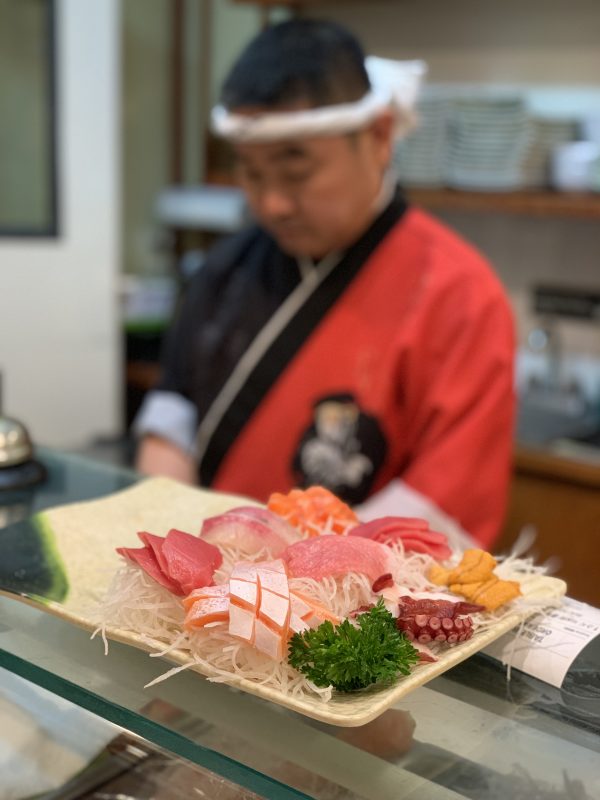 The same holds true for the rest of the menu. While AYCE is an attractive new option, regulars tend to spring for the elaborate combo sets, which get you a seafood-heavy, family-style feast.
The centerpiece is a fresh sashimi platter, a gleaming selection of fish, uni, and octopus, flanked by a whole army of sides that nearly take the spotlight: crab legs; spicy seafood soondubu; clams dotted with hot sauce; corn blanketed with melty cheese; a dense, mochi-like rendition of okonomiyaki studded with shrimp and squid—among many others. Some sides come in portions so generous that they feel like entrees in and of themselves—like two whole fish, one fried and the other braised.
Among the spread, the soondubu stands out. It comes still lightly sizzling, chunks of wobbly tofu in a deeply briny, flavorful broth, topped with a bright red film of hot oil that warns of its powerful kick. The secret to the soup lies in the sashimi bar: it provides a ready supply of fresh, top-quality fish parts—the collars and other bits unused for sashimi—that Oh stews in the broth for a long period of time, infusing it with an intense depth of flavor. The tofu, made to be firmer than usual, rather than fall-apart tender, rounds out a satisfying dish.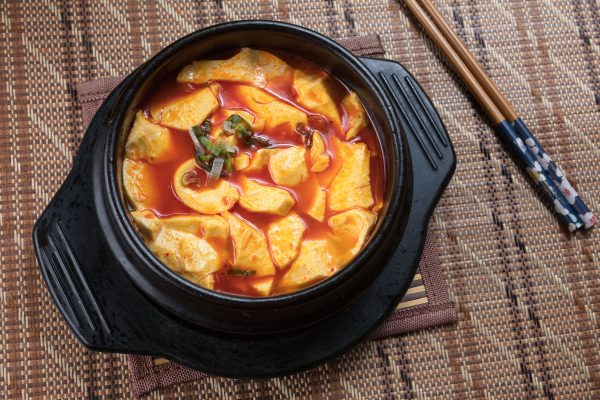 The amount and variety of food varies by set. Choices range from an $80 option, good for a hungry two, to a $300 seasonal special, including delicacies like abalone and sea cucumber, to feed upwards of six.
But whichever your choice, and however big your crowd, one word of advice: Come hungry.
Golden Sushi
171-53 46th Ave.
Flushing
GoldenSushi1.com