For Maneet Chauhan, the India-born, Nashville-based James Beard Award-winning chef, restaurateur, and TV personality, winter weather calls for her family recipe for gajar ka halwa, a sweet and creamy carrot pudding served warm. The traditional Indian dessert is often served at temple festivals and during Diwali, the five-day festival of lights. This year, the main day of the festival falls on Nov. 4.
This velvety carrot pudding, thickened with sweetened condensed milk and paneer, an Indian cow's milk cheese similar to farmer cheese, is subtly spiced with cardamom and garnished with pistachios. It's a wintertime comfort food in Punjab, where frigid temperatures are no match for this warm dessert that is traditionally made from red Punjabi carrots, which are only available in the winter.
Both my grandmothers used to make it, and their moms used to make it. My mom did, then me, and now my daughter—every generation has put their own spin on it.
Everything about the process of making this dish makes it unique to my family. During the winter in India, there was no central heating, so we would spend a lot of time outside in the sun. My grandmother would set up a makeshift stove outside and we would all sit around peeling carrots, the wonderful aroma of wood in the air.
Now, I make it all the time, and have taught it to my daughter to keep the tradition alive. I also feature it on the menus at my restaurants and for events. I'll put my own spin on it and take it to the next level. Additionally, I included it in my latest cookbook, "Chaat: Recipes From the Kitchens, Markets, and Railways of India," which most definitely helps keep it alive today!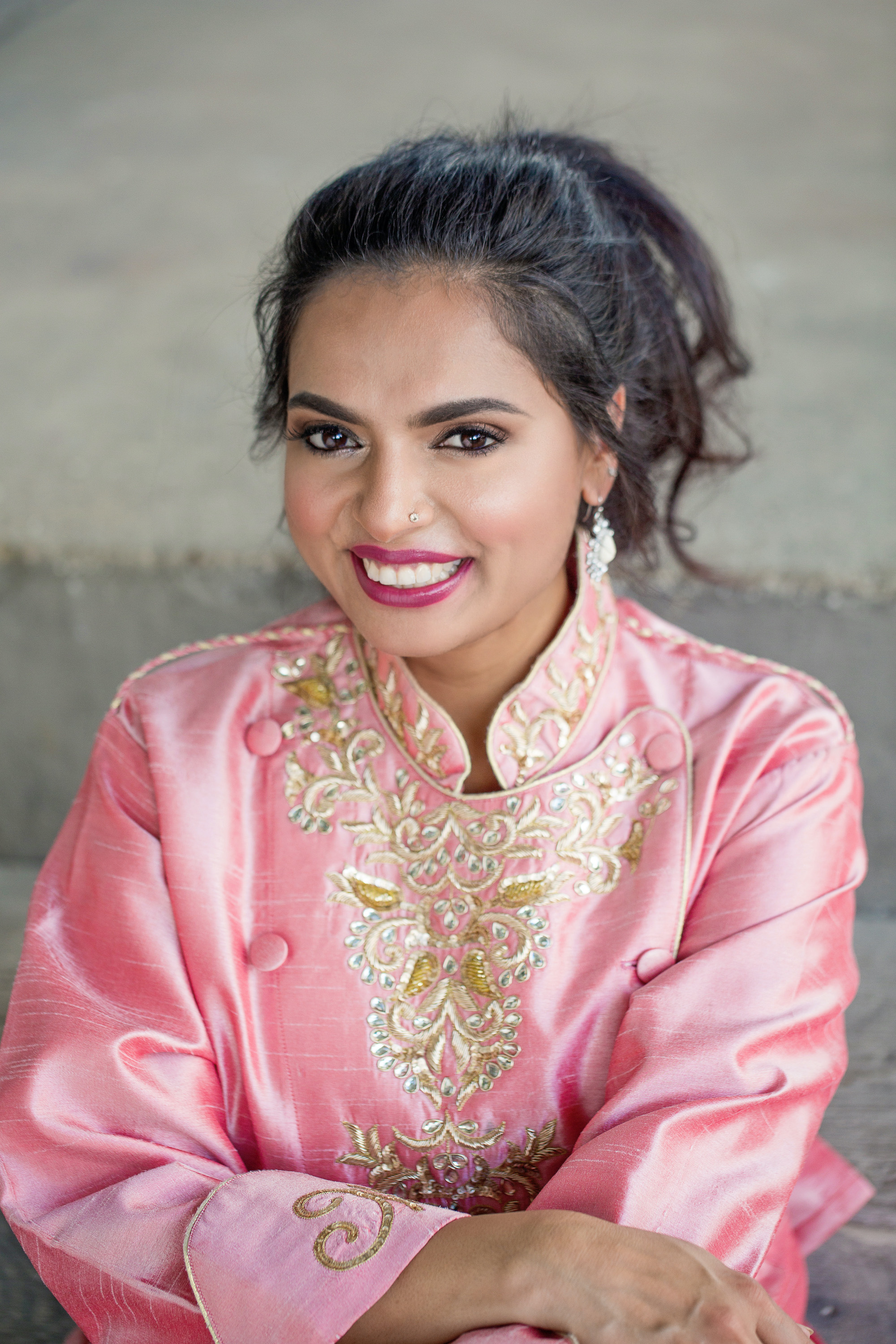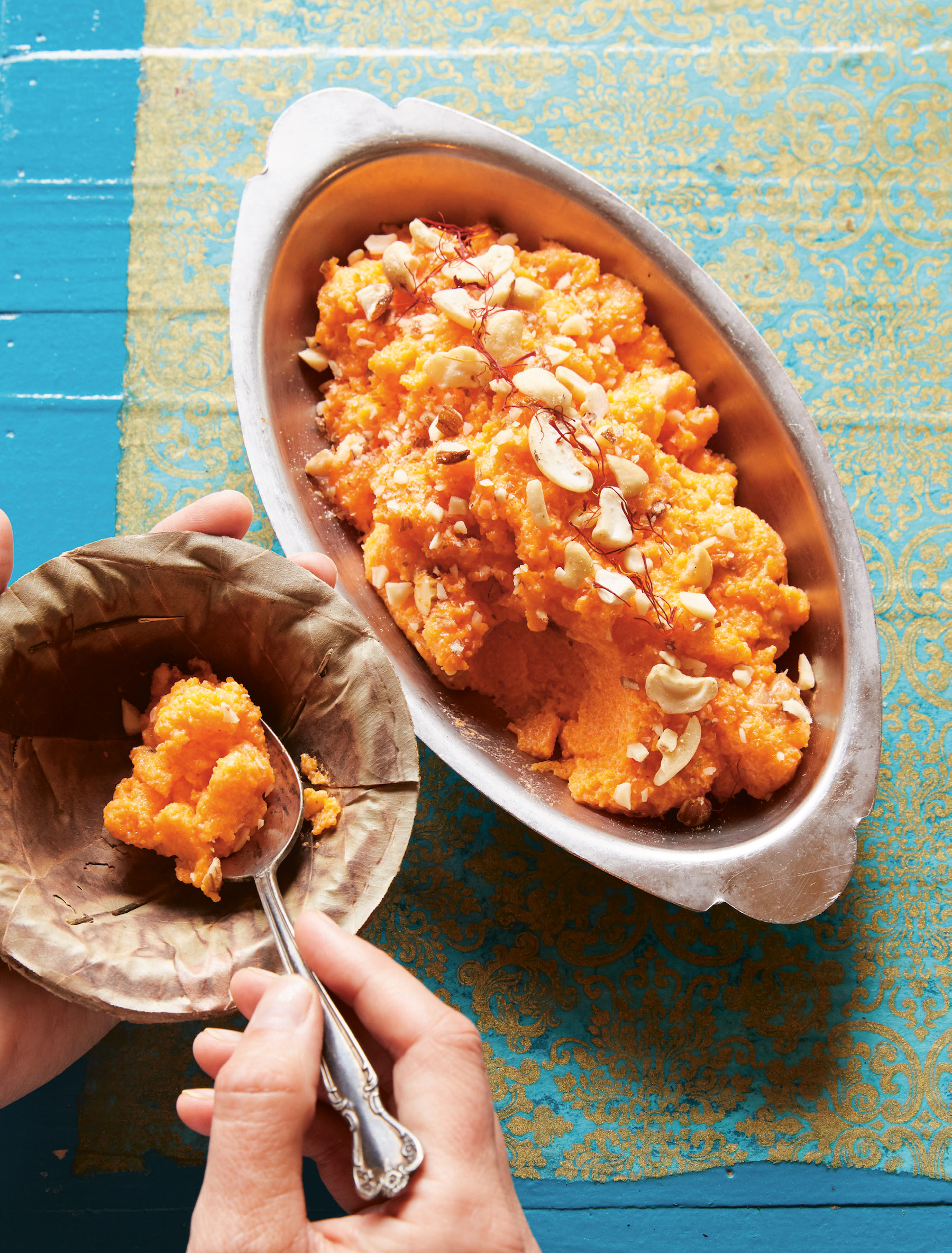 Gajar ka Halwa (Carrot Pudding With Saffron and Pistachios)
In spite of its simplicity, this sweet feels celebratory and is often served at Indian temple festivals and during the winter holiday of Diwali, the festival of lights. Diyas, traditional clay oil lamps, light the homes of millions of Indian families during Diwali, and although it's a Hindu festival, it's enjoyed by people from all denominations.
Total Time: 1 hour
Serves 6
5 cups whole milk
2 pounds carrots, peeled and grated
4 green cardamom pods, ground into a powder
A few saffron threads
2 tablespoons sugar
4 tablespoons ghee, store-bought or homemade
1/2 cup grated paneer, preferably homemade
One 14-ounce can condensed milk
2 tablespoons coarsely chopped toasted cashews
2 tablespoons coarsely chopped toasted pistachios
2 tablespoons golden raisins
In a large saucepan, heat the whole milk over medium-high heat, stirring occasionally with a wooden spoon, until warmed through, about 4 minutes. Do not let the milk come to a boil in order to prevent scorching.
Add the carrots, cardamom, saffron, and sugar and reduce the heat to medium. Cook until most of the milk has evaporated and the carrots are tender and the pudding is beginning to thicken, stirring occasionally to prevent the carrots from burning and the milk from boiling over. This should take about 15 minutes.
Add the ghee and the paneer and cook for another 10 minutes to melt the ghee and dissolve the paneer until it is fully incorporated, stirring occasionally. Add the condensed milk and reduce the heat to low. Cook until you can insert a spoon into the middle of the pudding and it's thick enough to stand up straight, another 25 to 30 minutes.
Remove the pan from the heat and gently stir in the cashews, pistachios, and raisins. Serve while the pudding is still hot, as it's at its most comforting at this stage. I doubt if you will have any leftovers (this is a seconds and thirds kind of chaat), but if you do, it will keep in your refrigerator in a covered container for a day or two. If saving the pudding for another day, reheat it in a saucepan over medium heat with a tablespoon or two of milk to help it regain its creamy consistency.
Recipe reprinted with permission from "Chaat: Recipes From the Kitchens, Markets, and Railways of India " by Maneet Chauhan and Jody Eddy. Published by Clarkson Potter.