A family has been reusing the same card for almost 50 years—and it is so fragile they now hand-deliver it.
John Saunders, from Bath, Somerset, England, says his family's unique birthday card tradition was kicked off by his 69-year-old father, Dave, after receiving a card for his 21st birthday from his sister Sheila in 1972.
Saunders, who is now a dad-of-one, claims they have around 30 to 40 cards that they circulate between family members; the cards have been repurposed for brothers, sisters, parents, children, and grandparents over the years.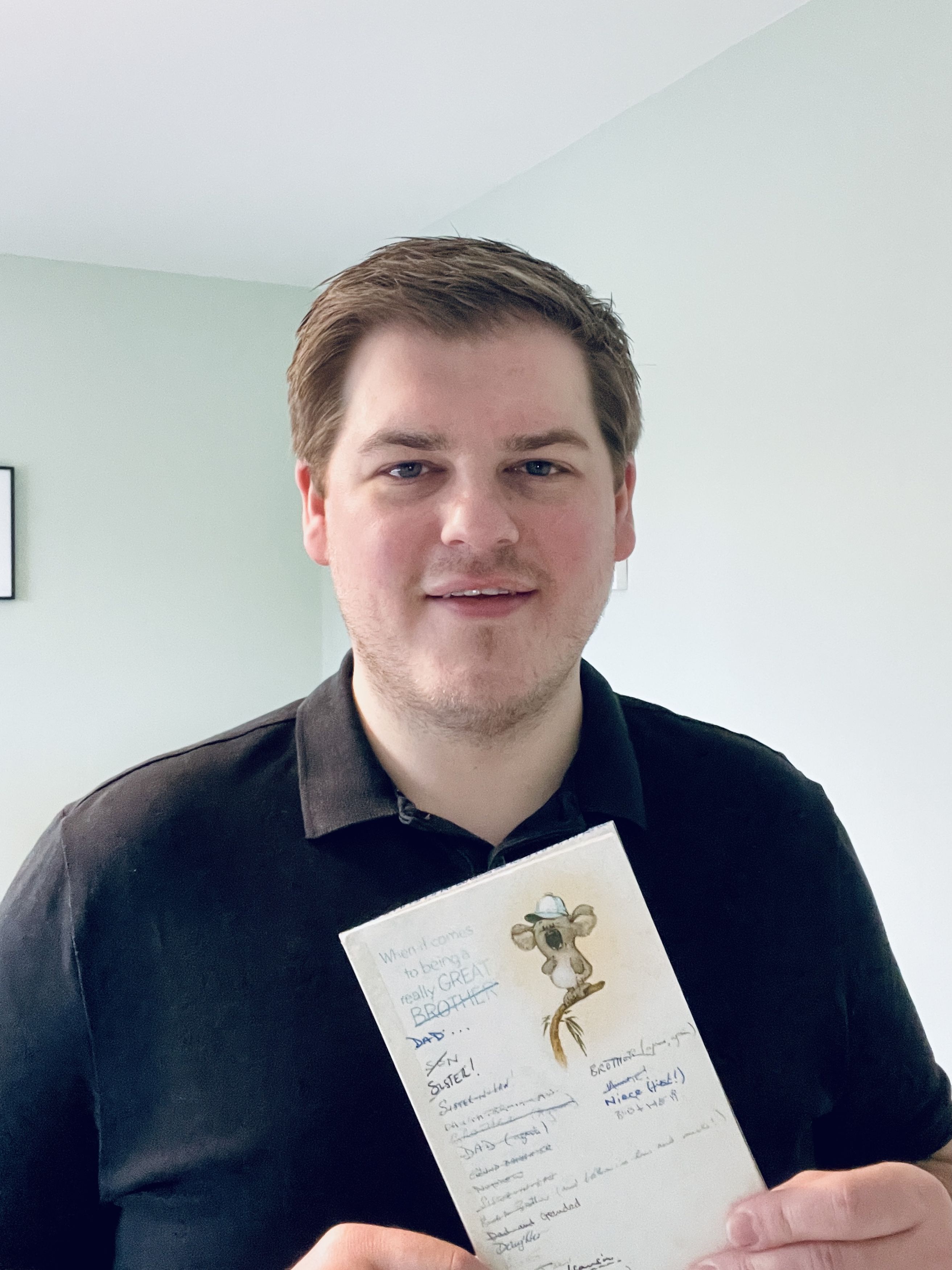 The cards, which contain tea stains and children's doodles inside, have lines of signatures and notes to each other dating back more than 48 years.
One of the most special notes in the oldest card was from John's late grandad Denys, who proudly posed with the original Peanuts card himself on his 90th birthday.
Keeping the family tradition alive, John recently received one weathered card for his 33rd birthday. The card features a koala on the front and the most recent note from his sister Serena is preceded by more than three decades of relatives' well-wishes—while others date back almost five decades.
John, a technical sales worker, has received similar repurposed cards dozens of times since being a child, with pages being sellotaped on the back to allow for more messages.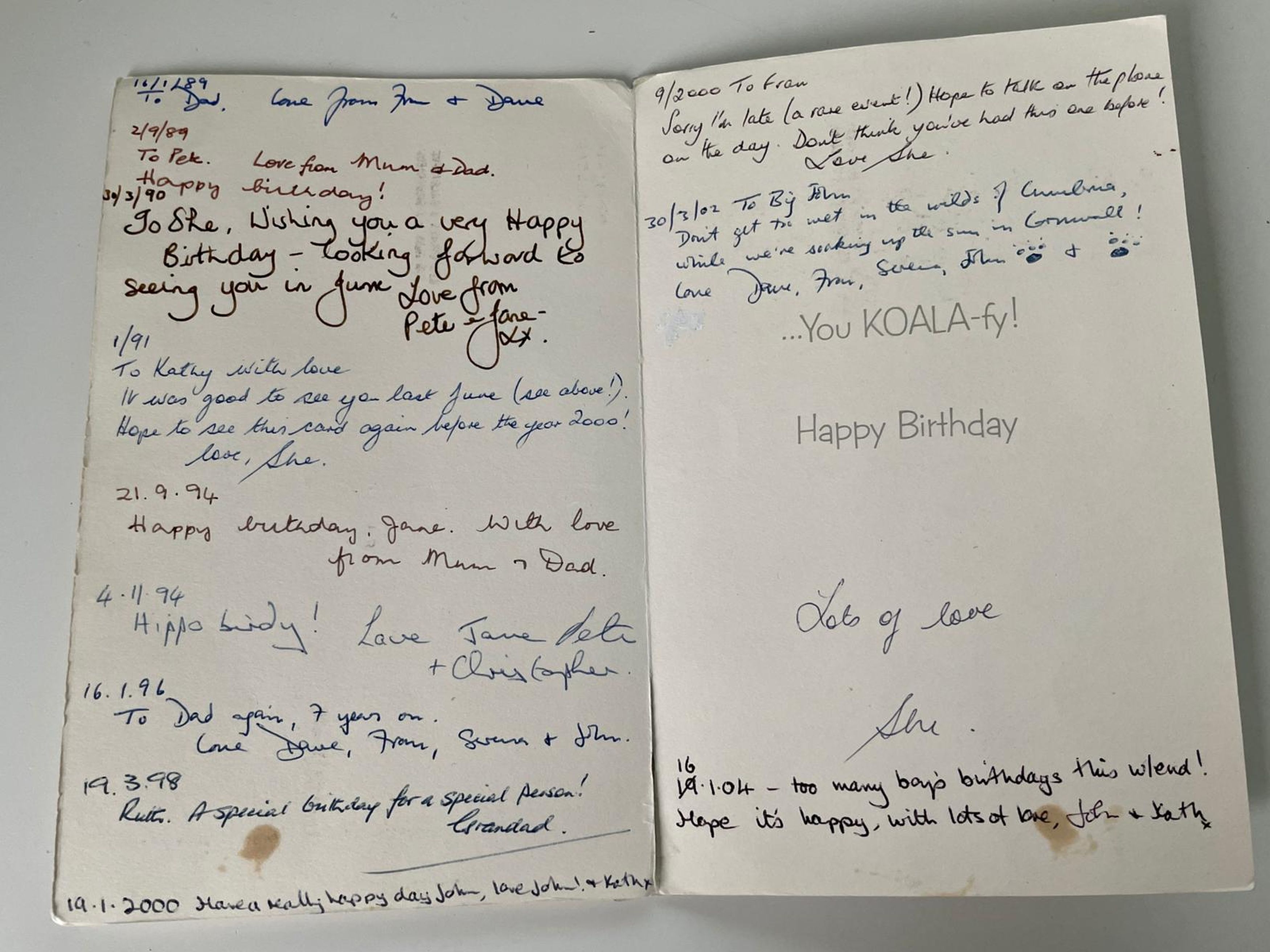 "It's a lovely record of our family history," John said. "The one I received for my 33rd birthday was from 1988—it's 33 years ago. It's astonishing that so many people love it and want to start the tradition.
"I heard on the radio years ago [that] some of the call-ins [had cards that] were 20 or 30 years old, but none as old as our ones. I always wondered if we had one of the oldest. The tradition has been going for 49 years. Let's keep going for another 50-plus.
"The reaction has been incredible."
John's dad Dave first started reusing the greeting card from his sister Sheila, now 73, in 1972, sending it back to her the following year, signed by himself and his wife Fran.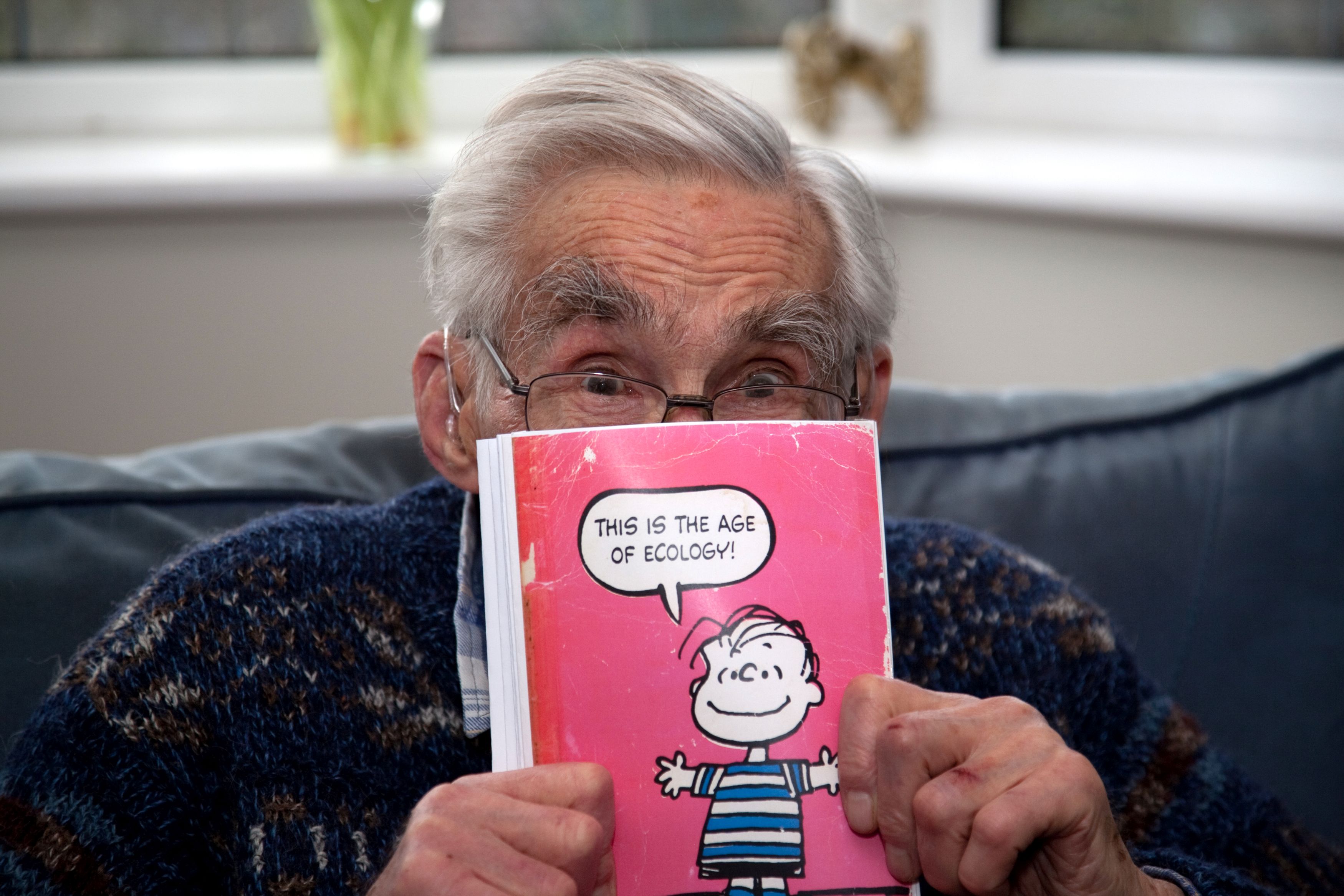 John said: "My aunty [Sheila] lived in Australia and she sent a birthday card to my dad for his 21st. On the card, the front says 'this is the age of ecology' with Peanuts, the Charlie Brown character.
"Mum and dad were at the time trying to save and recycle. They decided to reuse the card and so passed it on.
"From there, they started circulating it among the family. It was then sent to partners and over the years, more cards were added.
"There are several of these going round and sometimes they'll go missing for a couple of years.
"I've received the cards more than a dozen times. Some years you'll get two or three, other years you don't get any."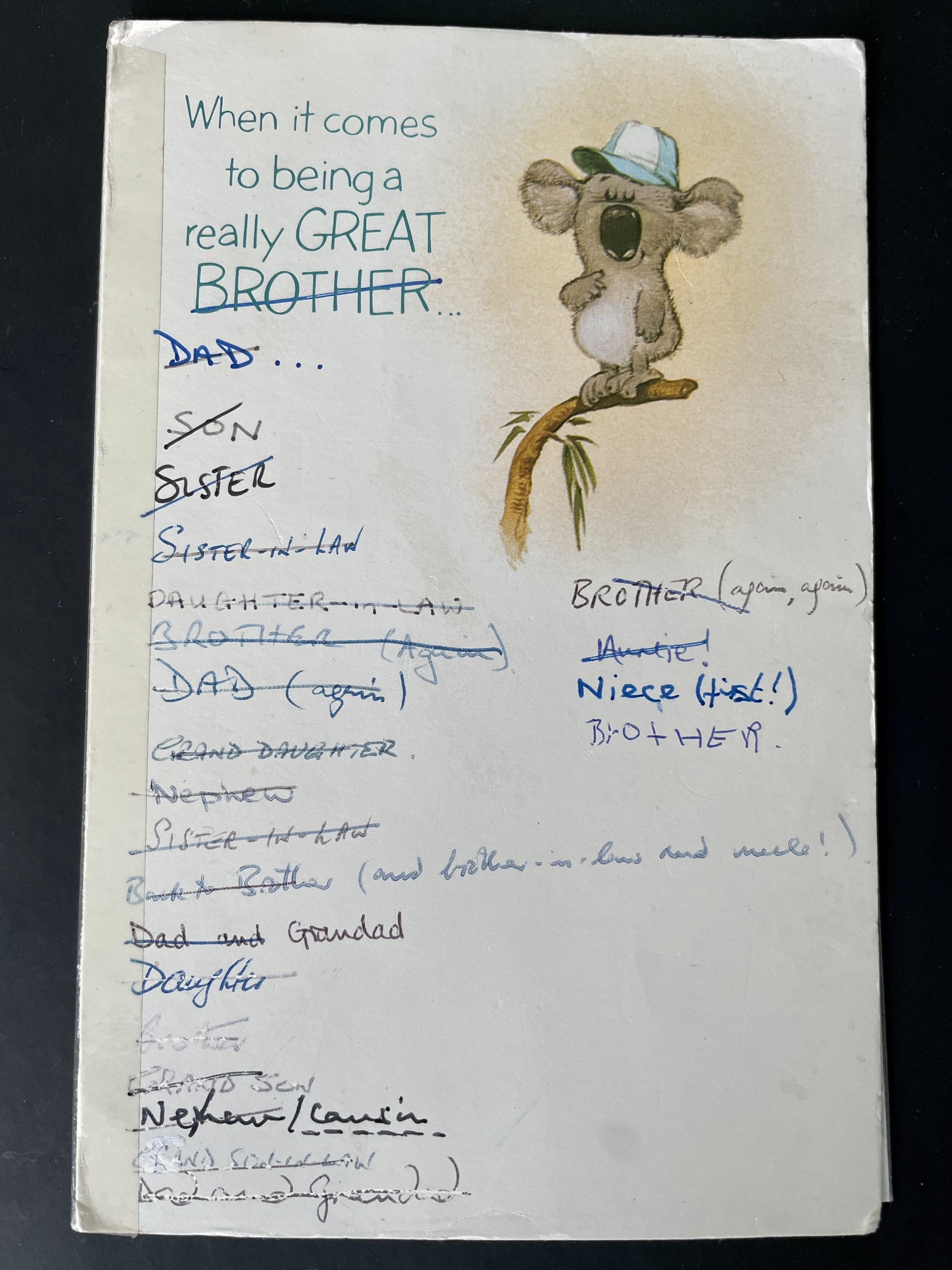 John added: "It's interesting looking inside. Everyone dates it, puts who it's to, who it's from, and a quick message.
"It's absolutely filled with different people's handwriting and you have a full history of who it's gone to.
"We tape pages onto the back to extend it. The original card has pages and pages added it to. It's almost a book.
"When I receive one of the cards, I read through the pages each time. Most of them are 'happy birthday' but it's nice to look back and be mindful of the family, to see who get it when.
"My grandad Denys isn't with us anymore and he'd signed it previously. He was a central piece of the family and passed away a few years ago. [His writing is] throughout this card.
"Pre-lockdown, we'd hand deliver the cards as much as possible, or we send them recorded delivery. They're very carefully handled."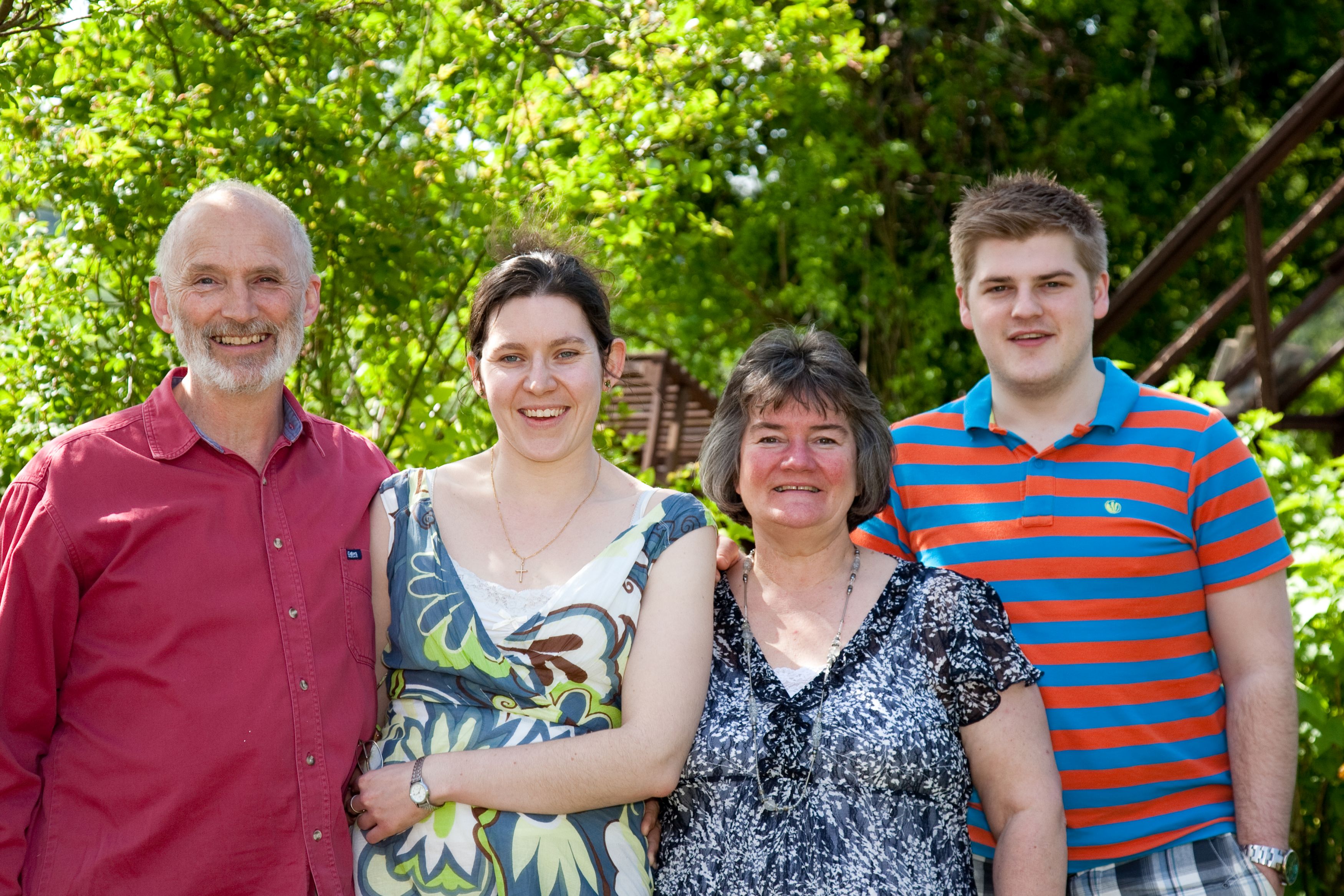 Since John met his wife Jo, 31, in 2007, she has also been receiving a few of the special cards.
"Jo, my wife, has also been lucky enough to receive one of the cards. We've been together since 2007 so she's received them a few times over the years," John said.
"We've often joked about new partners or kids who get it for the first time, [and say] that they've been accepted into the family. It's special to receive—no matter which part of the family you're from.
"I have an almost 17-month-old son. I do hope he carries on the tradition."
Dave and Fran first started the tradition almost five decades ago, seeing the cards follow them overseas to Jamaica, where they were teachers.
The retired photographer now hopes the tradition will continue for years to come, being carried on by future little additions to the Saunders family.
Dave said: "We never knew how big this would get. We sent the card back to Sheila, then she sent it to her youngest brother, Pete, who then sent it back to us. It carried on going.
"After a few years, we thought 'this is a good idea—it's helping save the plant'. It wasn't tapping into the wastage of commercialism and it was reusing things.
"We started choosing other cards that we thought would be suitable. I think there are now over 30 separate cards going round and round the family.
"It's special to receive one—but especially the one that's almost 50. It's a family heirloom now."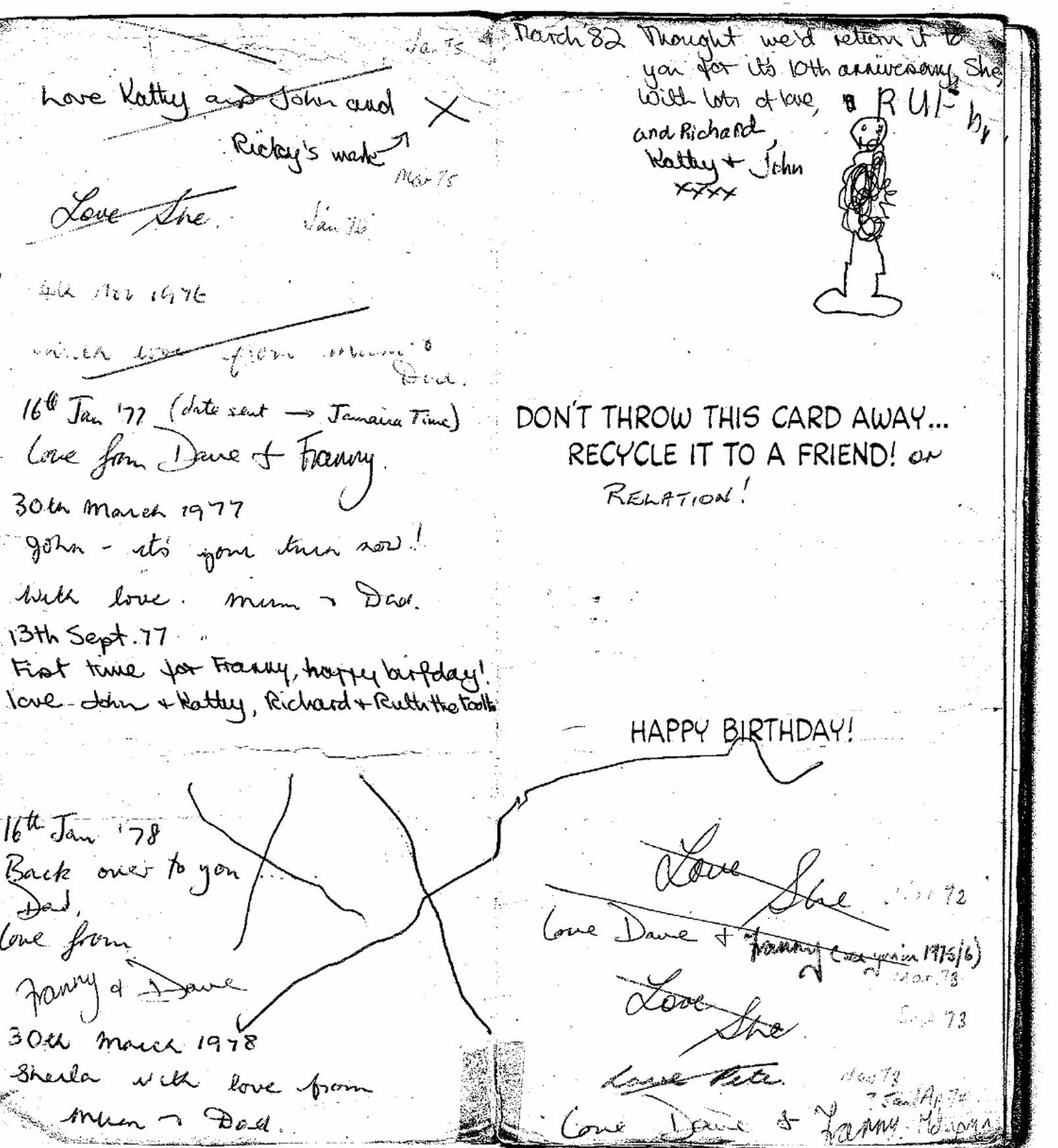 Dave said they lived in Jamaica between 1975 to 1977.
"The card went out to Jamaica then," he said, "but nowadays we're a bit more cautious about sending it overseas.
"I've got a card in front of me that says 'Happy Birthday to a wonderful dad', then that's been crossed out to say 'son', then 'brother', 'uncle', 'granddaughter' and 'sister-in-law.'
"In the very early days the greeting was just 'Happy Birthday, love from', but then it became more relevant to that particular person such as 'see you at the family gathering' or '10 years since you last had this card.'
"When we all started having kids, there would be a big wobbly cross on the card where they'd signed their name. There's no reason why it can't continue."
Epoch Times staff contributed to this report.
Share your stories with us at emg.inspired@epochtimes.com, and continue to get your daily dose of inspiration by signing up for the Epoch Inspired newsletter at TheEpochTimes.com/newsletter