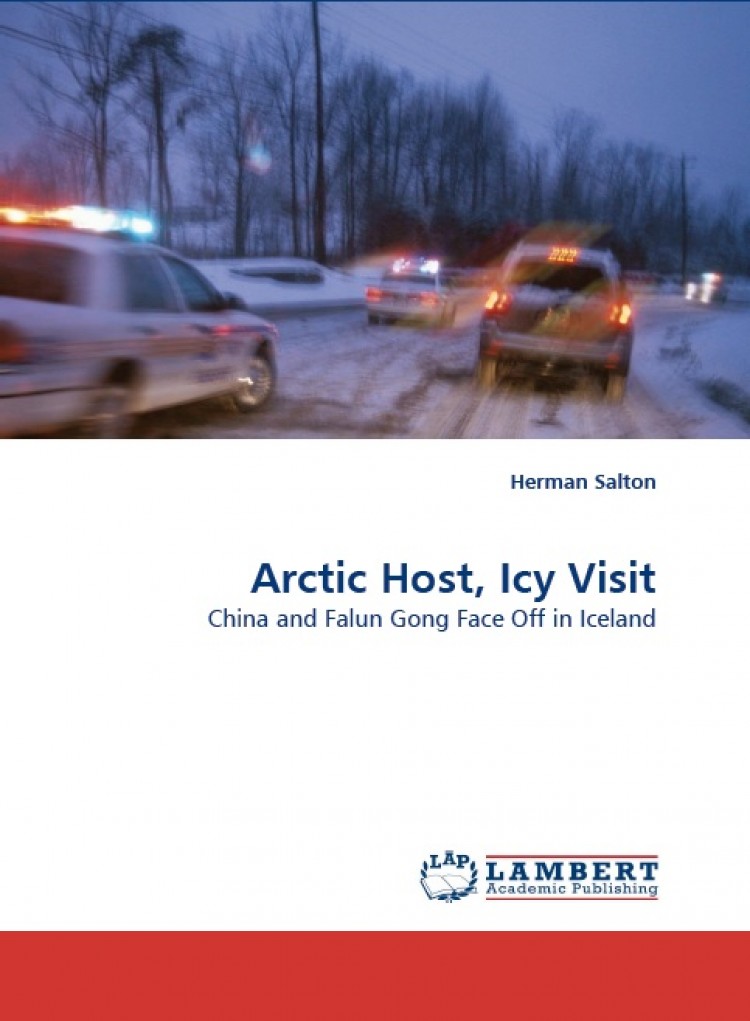 Salton, Herman. "Arctic Host, Icy Visit: China and Falun Gong Face Off in Iceland,"
Lambert Academic Publishing (October 2010).
261 pages. $111.00.
ISBN: 978-3843365130
When Jiang Zemin journeyed to Iceland in 2002, he brought a dark cloud with him. His grudge against a particular Chinese spiritual group led to a series of bizarre, even burlesque episodes, as Chinese agents in Iceland and the Icelandic authorities repressed, censored, and generally treated with prejudice spiritual practitioners who were attempting to protest against crimes against humanity.
At the time Jiang was the leader of the Chinese Communist Party (CCP), a political organization of some 70 million members who control a country of 1.3 billion people. The population of Iceland is about 300,000, no more than a Chinese village, and people there call each other by their first names. To secure economic privileges with China, for a period of about two weeks the government of Iceland aided and abetted Jiang and his entourage in suppressing the voice of Falun Gong on that island.
Herman Salton, a well-traveled academic now living in New Zealand, wrote a detailed account of what happened, and it was published in October 2010 by Lambert Academic Publishing, an academic press. The fact that Lambert is charging over $100 for a copy means the book will probably only end up in academic libraries. That is a shame, because Salton has produced a monument.
Salton, wisely, begins with an explication of what Falun Gong is and what it is not. Falun Gong is a Chinese spiritual practice with five meditative exercises and three moral principles. It is not violent or dangerous. For several complex reasons, but mostly because it got too popular, in 1999 Jiang Zemin targeted it for elimination. People who practice it have been persecuted in the mainland since then, and it has been vilified in a cross-media propaganda campaign.
When Jiang visited Iceland he did not want to see any Falun Gong people protesting against the persecution he started. The Icelandic authorities respected this wish, and Falun Gong practitioners were each made persona non grata. They were to be stopped from entering the territory or, if they got in, prevented from protesting.
The key loci of this bullying and harassment were 1) A blacklist sent by Iceland's Ministry of Justice to its embassies abroad, and to the country's flag carrier airline Icelandair, seeking to intercept Falun Gong practitioners, cancel their visas, and otherwise prevent them from boarding incoming flights, and 2) Chinese agents in Iceland, sometimes assisted and often observed by Icelandic police, blocking Falun Gong practitioners' protests, infiltrating their events, getting their hotel reservations canceled, getting them kicked out of hotels, and at one point, almost running the Falun Gong spokesman off the road.
The responsibility to provide the first line of defense against traveling Falun Gong activists fell onto the shoulders of Icelandair, the national carrier. The company was therefore put in the unenviable position of having to carry out ethnic profiling at airports around Europe, the U.S., Canada, and elsewhere: Chinese and "Asian-looking" people were siphoned off the queues at airports, shepherded into rooms, and questioned about their spiritual beliefs. Westerners who happened to be on the blacklist were also targeted.
The confusing and awkward nature of all this was represented in an incident in the customs line at Keflavík airport, in Iceland, where an American couple were witnessing Chinese people entering the country being questioned and led away. One of them asked out loud, "What is happening to these people? How come any person who looks Chinese is being prevented from entering the country?"
Some people were banned from flights, others delayed for hours or days, and others again forced to sign a piece of paper saying they would not protest when they got to Iceland. (This is lighter treatment than Falun Gong gets in China, where the paper that practitioners have to sign is to renounce their faith altogether, under the pain of torture and death.)
Other practitioners were apprehended once they got to Iceland, interrogated about their beliefs, sometimes for up to five hours, and held in makeshift detention centers with dozens of other accidental thought criminals.
In some cases Icelandair staffers were annoyed at their government for humiliating them with the task of suppressing peaceful activists, so they let Falun Gong practitioners on the flight as payback.
The begrudging way that Icelandair staff carried out the government's orders was thrown into sharp relief by the actions of Chinese security forces on the ground in Iceland. Under the aegis of the Chinese Embassy they were given free rein to spy on practitioners, follow them around, intimidate them, and "try to use all possible means to disrupt Falun Gong's peaceful protests," (p. 93) in Salton's words. Many were apparently flown in for the purpose from the mainland, where they have had years to perfect the skills.
In one case, Chinese operatives ordered an Icelandic policeman to confiscate a "Truth-Compassion-Tolerance" banner from Falun Gong practitioners—this was caught on tape. In other cases Icelandic police tacitly or actively aided Chinese operatives in blocking Falun Gong protesters: either with enormous red Party flags, or buses, or other means. When Icelandic police became aware they were being videoed, they often pulled back; the most scurrilous activities therefore may lay only in memory.
Next: Icelanders resist government directives; "WE APOLOGIZE" announcement in the major newspaper.