Fabergé is the world's most iconic jewelry house and its name is synonymous with the legendary Fabergé Eggs. However it is not just about eggs, it also creates elegant pieces including jewelry, timepieces, and objets d'art. Sean Gilbertson, CEO of Fabergé, defines it as "labor of love."
Founded in 1842, Fabergé has been the most respected name in jewelry ever since Peter Carl Fabergé became official goldsmith to the Russian imperial family. 
Fabergé changed hands many times since 1951. A mining magnate Brian Gilbertson bought the brand in 2007 with an ambition to restore the name to its historic glory. He also announced the reunification of the brand with the Fabergé family, great-granddaughters of Peter Carl Fabergé. Fabergé today traces the legacy of excellence in creativity, design and craftsmanship.
Epoch Times spoke with CEO Sean Gilbertson, son of Brian Gilbertson at Baselworld, largest fine watch and jewelry show in the world. Gilbertson talked about the intriguing story of Fabergé, unique aspects of the brand, and his business philosophy.
Fabergé today traces the legacy of excellence in creativity, design and craftsmanship.
Epoch Times: Could you please tell us the brand's history and how it all started?
Sean Gilbertson: Fabergé goes back originally to 1842. A gentleman called Gustav Fabergé founded the company. The family Fabergé was originally from France. They had escaped religious persecution in France, moved through Europe, and eventually ended up in Russia.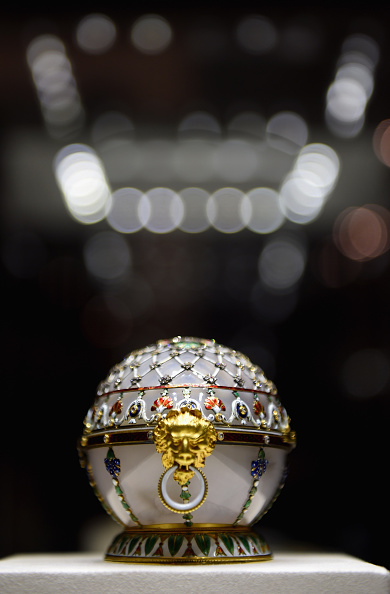 Epoch Times: Fascinating. Not many people know the brand's French origin, right?
Mr. Gilbertson: Exactly, and actually, one of the best descriptions of Fabergé is that it has a French sensitivity with a Russian soul. So in many respects, the brand is a combination of French and Russian attributes. In fact, it wasn't Gustav Fabergé who put the brand on the map. It was his son, Peter Carl Fabergé who really took the business to another level. And Peter Carl Fabergé traveled extensively as a young man around Europe, did a couple of internships, read quite a lot, did a lot of research, learned the trade, learned the craft, and went back to Russia to take the reigns of the family firm.
In 1885, perhaps the single biggest milestone and the start of what has made Fabergé the most legendary brand on the planet was the hen egg. … It is one of the most remarkably modern looking pieces. … Yet it was the first egg made for the Russian imperial family. And that's how the tradition of imperial eggs started in 1885.
In subsequent years, the firm was commissioned by the imperial family to make one or two imperial eggs every year. And that tradition carried on until 1916 when the last two eggs were completed. And that left a legacy of 50 completed eggs, of which for many years, 8 were missing. So the whereabouts of only 42 eggs were known.

In 1917, the Russian Revolution struck, and the Bolsheviks took control. The firm of Fabergé came to an end, as a result. All the employees disappeared. A lot of the inventory disappeared and Peter Carl Fabergé fled Russia and ended up in Switzerland, just outside Lausanne, where he died in 1921. And two of his sons tried to continue the business based out of Paris and they mostly repaired old Fabergé items.
In 1945, they discovered that an Amercian gentleman called Mr. Rubin had started making fragrance using the Fabergé name. So they decided to sue the American gentleman. But at that time, there was no fax machine, no email, no Instagram, no Twitter, no Facebook.
Fabergé has a French sensitivity with a Russian soul.
, Fabergé
They sued him from France in America. It took 6 years of litigation and court cases that ended with a legal settlement in 1951. And in that legal settlement, Mr. Rubin effectively got control of the Fabergé name for $25,000. And that's how the family and name got separated, and how Fabergé ended up in the United States.
In 1964, Mr. Rubin sold Fabergé to a gentleman called George Barrie. Mr. Barrie was the creator of another fragrance called Brut. So Brut by Fabergé was born in 1964. And that continued for many years.…
Mr. Barrie eventually sold it to a gentleman called Meshulam Riklis. Mr. Riklis used Fabergé egg to build a conglomerate that included other fragrance and cosmetics businesses. And in 1989, he sold Fabergé Inc. to Unilever.

Epoch Times: What a big change in ownership!
Mr. Gilbertson: In 1989, Unilever bought Fabergé egg for $1.55 billion. But at that point, Fabergé egg also owned other businesses, like Elizabeth Arden.
Unilever issued licenses to a number of different companies to manufacture different things under the Fabergé name. So there was a company in New York that made Fabergé ties. There was a company in Austria making Fabergé spectacles. There was a company in America making museum quality reproduction eggs, copy eggs.
A company called Franklin Mint in America was making little baskets of Fabergé eggs for $29.95, and Mattel, the toy company, got a license to manufacture 2,000 limited edition Fabergé Barbie dolls. You can still buy the Fabergé Barbie dolls on eBay, somewhere between $1,500 and $3,000.
So the group that I work for had the idea that Fabergé was one of the most remarkable brands on the planet. But it was lying there doing these fairly awful things and that somebody had to save it and restore the dignity of the brand.
It took us approximately two years to eventually agree on a transaction with Unilever. … On January 3, 2007, we were able to acquire the Fabergé brand from Unilever.

Epoch Times: How did you connect with the original owners of the brand?
Mr. Gilbertson: Two or three months later, I had the privilege of meeting with two of Peter Carl Fabergé's great-granddaughters. So the first thing we did was to reunite the name with the surviving family members in order to reconstitute Fabergé and I think we announced that in November 2007.
It took us approximately two years to eventually agree on a transaction with Unilever.
, Fabergè
Epoch Times: So you're the savior of the soul of the brand.
Mr. Gilbertson: It has certainly been our ambition, that is to restore the dignity of the brand in the spirit and the ethos of what it did before 1917. But many people think that Fabergé pre-1917 was only about the 50 imperial eggs. That's clearly not the case. Before 1917, Fabergé made 250,000 individual items. And only 50 were the imperial eggs, which they became famous for. They made cigarette cases, hairpins, cufflinks, combs, letter openers, and many other things. Fabergé made some of the very first ladies' wristwatches…
And just as an example, one of the cigarette cases recently was up for sale at Sotheby's. I went there to have a look at it. It was a beautiful, green enamel Fabergé cigarette case. The price estimate was 4,500 to 5,000 pounds. However, at the auction, it was sold for 32,000 pounds… And I think that's the power of Fabergé, to transcend centuries with amazingly crafted, remarkable design.
Epoch Times: Fabergé is definitely one of the best-kept secrets. How are you planning to increase the brand value?

Mr. Gilbertson: One of our first challenges was to make sure we got control of the various licenses that had been issued. All of those licenses today are gone. Therefore, there are no items, products, or anything else manufactured under the license of Fabergé brand. Control of the brand has been restored. The brand has been reunited with the family. Our focus today is on hard luxury items, so we don't do any soft luxury items like leather purses or scarves. We only focus on timeless jewelry and timepieces. And we never replicate anything from pre-1917. …
We often pick up elements, codes, motifs, and design. A great example is the Fabergé peacock watch. … Last year we were lucky enough to win the GPHG (Grand Prix d'Horlogerie de Genève) award for it, which is a very prestigious award. That was inspired by the 1908 peacock egg, made by Fabergé. … So that's a classic example of how you can draw upon the history and the heritage of Fabergé and bring that into the modern context, whilst respecting the spirit and ethos of everything that Fabergé stood for.
Epoch Times: Talking about the French origin and the Russian imperial heritage, do you still reflect the combination of the two in each piece you produce?
Mr. Gilbertson: I think one of the amazing aspects of the Fabergé brand and what they did pre-1917 is that it was so diverse. … So in many respects, we replicate that today as well. We do different items, different collections, for different markets, or for different people, or drawing on different inspirations. So we certainly try to avoid making everything look the same, or clearly linked to the next piece.

Epoch Times: Who is your dream customer?
Mr. Gilbertson: I would say the dream customer for us is the customer that wants to be actively engaged in the development of the products on a customized basis. In other words, somebody who comes to us and says, I have an idea, I'm thinking of an object or a piece of jewelry and I would like Fabergé to assist me in delivering it. … It is much more rewarding for the customer to end up with an item which is personal.
I think our team enjoys that kind of work as well, in addition to creating all the pieces that they do. And unlike many brands, we love the concept of customization. …
Dream customer is the customer that wants to be actively engaged in the development of the product
, Fabergè

It is very important. For instance, we use a lot of enamel dials, which is one of the techniques that Peter Carl Fabergé was so good at, and still very difficult to do today. And typically the technique takes the form of guilloche enamel, where they take a piece of metal, and the metal is essentially engraved with a sophisticated pattern, either by what they call 'turning engine', or done by hand. And then on top of that, powdered glass is applied, and the powdered glass goes in a kiln. The glass melts, it comes out, it gets buffed and then you put more powdered glass on top and you repeat that exercise several times to create the enamel dial. And if you get that right, you get this wonderful three-dimensional depth in the enamel.
When a customer comes in and says: 'That's a beautiful blue enamel, I wonder if you could do one of your watches for me in orange enamel.' That would absolutely be the type of thing that we very much like to undertake.
Epoch Times: What makes Fabergé so unique?
Mr. Gilbertson: Before 1917, Fabergé worked with approximately 38 workmasters. This is a unique aspect of Fabergé. For most of the items they made, they chose one individual to be responsible for managing the project of making that piece. And the unusual bit was that Fabergé, in addition to putting the Fabergé name on the item, also allowed the workmaster to stamp his initials on the piece. So if you go to Sotheby's or Christie's auctions today, you will see Fabergé and you might see August Hollming, AH, for example.
Some of the workmasters are held in higher regard than others, and some of them will earn a premium at the auctions. So that's a very interesting thing, which we are also doing today. The first workmaster that we appointed was a gentleman called Frédéric Zaavy who made some unbelievably artistic and remarkable pieces. Today, we work with additional workmasters, including in the watch area. …
Before 1917, Fabergé worked with approximately 38 workmasters.

Just another quick anecdote on the customization: We have announced at Basel, a watch which we call the Lady Levity. The Lady Levity is also inspired by a clock that Fabergé made in 1908 and it contains a rock crystal in the middle, which gives the impression of the face of the moon. We've launched that watch here with the face of the moon in the middle. But the point is that it can be customized. So instead of the face of the moon, we can use the image of customer's favorite horse, for example.
Epoch Times: Or the Chinese zodiac sign of the monkey?
Mr. Gilbertson: Or the rooster next. That's an excellent example.
We could do something really spectacular. And in fact, I've got an idea now, which is that the last Fabergé eggs ever commissioned were in 1917. They were for the imperial family, but they were never completed. Because of the Russian Revolution. So it would be quite interesting to do the 2017 Chinese zodiac egg as the 100th anniversary of the last two eggs commissioned.
That is essentially the perfect echo of what Fabergé did pre-1917. And I think that's one of the things that makes Fabergé truly unique. It's so fun and exciting, and rewarding for the customer.
Let me tell you a story about a missing egg. There were 50 eggs that were completed for the imperial family. There were eight missing and two years ago, one of them was found. It was the 1887 egg, it was the third one ever made. It was bought by a guy at a market in the middle of America. He apparently paid $30,000 for it, and he was planning to melt it down for the gold value because he was a dealer in precious metals. He didn't know what it was.
If any one of the 43 eggs comes to the auction market, it would be sold between $25 million and $60 million.
, Fabergè

And one day, he was flipping through the paper, read a story about Fabergé. He saw an egg-shaped piece and the article mentioned Wartski, who are specialist dealers in pre-1917 Fabergé. He rang them and said: 'Guys I've got a thing that looks a bit like an egg.' And the gentleman at Wartski said: 'Can you send me a photo?' So this gentleman in America sent the photo to Kieran McCarthy at Wartski. McCarthy who was in London then said: 'I will see you tomorrow.' And so he hopped on a plane and flew all the way to America to see the egg. It turned out to be one of the 8 missing eggs.
Today, there are only 7 missing eggs, and reportedly that egg was sold to a customer for 30 million dollars. And today, if any one of those 43 known eggs comes to the auction market, it would be sold between $25 million and $60 million. 
Epoch Times: Where are all these elegant pieces made?

Mr. Gilbertson: Today, we work with many workmasters. Those workmasters are based in probably more than 20 countries. So we try to get the best person to do each one of the aspects of the job. … We work all around the globe with people from Hong Kong, Italy, France, Germany, Luxembourg, Switzerland, the UK.
We've done some amazing enamel pieces with a gentleman in the UK. … So it's a collaboration of different people, different workmasters who bring the projects together. And also, that's why it's a luxury brand.
At the end of the day for me, brand value is not necessarily that important. What matters is the underlying creation. And if you get the underlying creation right, the brand value will follow. But if you focus on the brand value, you're going to get lost and then you'll forget about the product. So people get this the wrong way around in many respects.
The other important thing is, in a world of luxury that has become such a mass market, people have forgotten that 50 or 100 years from now, actually it is the rarity that drives the value. … The more you can tell the story of the individual product, the more it adds value to the product itself.
Epoch Times staff Pamela Tsai contributed to this report.