We remember him as "Papa Haydn," father of the symphony and mentor to Mozart and Beethoven, and the composer of happy music. But as a composer, his impact on music of his time and subsequent ages is so much more.
"He is a genius of the highest order for me," said Bernard Labadie, a leading conductor of 18th-century music and now the new principal conductor of the Orchestra of St. Luke's (OSL).
"I think he is the most underrated great master of the late 18th century."
He thinks Haydn's reputation has suffered from clichés.
This season, the ensemble is pairing a Haydn piece in each of its Carnegie Hall Orchestra Series programs.
The series kicks off on Oct. 25 with two massive masterworks: Mozart's Requiem, which is popular but no less profound for it, and Haydn's "Nelson Mass" in the same key, performed with Labadie's own choir La Chapelle de Québec. If you do think of Haydn as a composer of simply happy and gentle music, this will change your mind.
"So the real name is 'Missa in Angustiis,' which means 'Mass in a time of anxiety,'" Labadie explained.
The work was meant to be for the name day of Princess Maria Josefa, the wife of Haydn's employer Prince Nicholas II. Yet war waged nearby in Austria as Napoleon's troops grew closer and closer.
"It's a very special piece that has also an unusual orchestration because it doesn't feature woodwinds; it uses only trumpets, timpani, strings, and organ," Labadie said. "Mostly because when Haydn wrote that mass, his boss had dismissed most of the orchestra because of the war."
"Because of that, the trumpets and the timpani in the orchestra have a striking impact; they really come out as a reminder of the war that is raging not so far from where Haydn lives at that moment," Labadie said.
Between the Requiem and this Mass, from the first bars of the program to the last, the connected themes of not just death but also redemption flow throughout.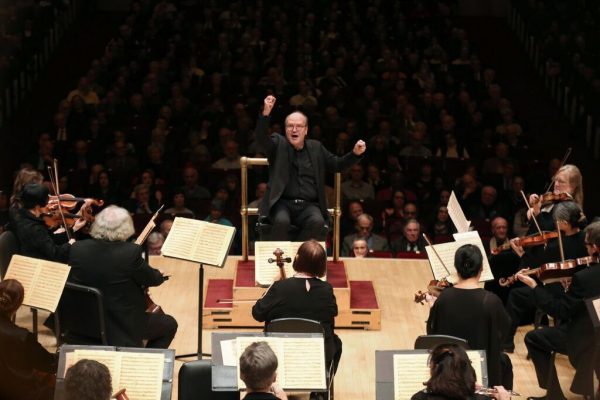 It's Not 'Historical' Music
Haydn was a prolific composer whose work more or less spans the Classical era, of which Labadie is a specialist.
An enormity of church music was written in the Baroque era, filling it with polyphony and counterpoint; and then from the secular side, music of the courts was influenced by dance. As one era flowed into the next, music was becoming increasingly accessible, culminating in a period of tremendous creativity.
"This is a moment of great transformation in humanity. It is the Enlightenment. It is the awakening of man's interest for science, for philosophy, and these principles can be seen, heard—they are embedded in the music," Labadie said. "It is a period when the music comes out of churches and courts and becomes available to a much wider community."
Haydn himself contributed tremendously to music's transformation during that time. Besides his influence on Beethoven and Mozart, who are programmed far more often than Haydn is—despite his being their equal—he was also known for having a surprising sense of humor, Labadie said.
"It's not so much on display in the 'Nelson Mass,' which is such a tragic piece, but in the symphonies it's there aplenty," Labadie said. "Amazing sense of humor and a wit unlike any other, almost a sense of pranks. He always surprises the listener: We have over 100 symphonies from him, and there's not a single one that sounds like the other one. There's always a twist. There's always something you don't expect."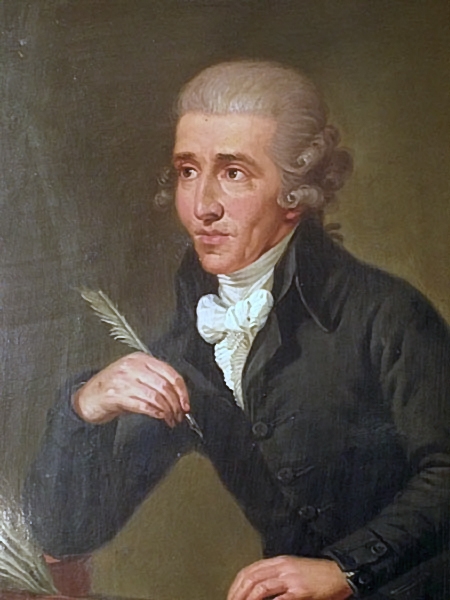 Labadie is a conductor who comes from the school of performance practice, that is, those who emphasize the importance of historical research in order to play music the way it was performed in its day.
But the point, he says, is not to do a historical re-creation. Museums are good and all, but the concert hall is not a place where people come to look at old things, Labadie said.
"It is to create a live space that is fulfilling, and that will make people richer, fuller, and have an impact."
Haydn was incredibly modern to the audiences of his day, and Labadie knows that his music can be made just as alive and new for us.
"The aim of that process [of research] is not to go to the past, but to make the music speak as directly as possible to our audiences."
There is actually a very obvious difference to even the average listener unfamiliar with classical music between the sound of an ensemble like OSL and what might still be considered a standard orchestral sound. Even just the first few bars of a Haydn symphony feel like a different language.
Performance Trends
The reason this is even an area of contention is because over the course of time, as music changed and orchestras developed, the large, lush orchestration of Romantic-era music left a lasting stamp. Over time, a lot of earlier music was republished with adaptations that rounded out the angles and elongated the shapes of this earlier music.
Then, in the mid-20th century, there was a lot of interest in historical performance, which called for using period instruments and followed the rules of playing the music as it was written for its time. However, some of the techniques or playing have been criticized as dogmatic—to the letter but not the spirit of the music.
"The way of playing the music itself was different," he said. "You can expect leaner textures, slightly quicker tempos, more transparency, more drama from the articulation, from the phrasing, looking less for things that are fluid and round and sustained, and more for something that is pulsating from the inside."
It truly makes a difference: It is as if the music is being presented in its natural language.
It's natural for Labadie as well. "As a musician, I was born into that sonic world," he said.
"I grew up, strangely enough, as a recorder player," Labadie said. That meant most of the repertoire he was in contact with was from the 16th to 18th centuries, in contact with the techniques and shapes and structures of the music from that era. Later on, he became a student singer, which did not last.
However, the two experiences culminated in his forming his own orchestra, Les Violons du Roy, in 1984 in Quebec City, and his choir, La Chapelle de Québec. Both focus on baroque and classical repertoire. He took the principles of playing this repertoire and applied it to modern instruments, which is not so unusual today but was rare enough when Labadie first started it that it put him on the map.
"This is somehow my specialty," he said with a laugh. It's Labadie's life's work.
"[Music] has been there all the time; it kept me alive when I was sick, and it keeps me going now," Labadie said. "That's the one thing that illness cannot change."
Labadie was diagnosed with Stage 4 lymphoma at age 51 in 2014, and he underwent an operation he did not know if he would wake up from. He ended up in a medically induced coma for a month. When he woke up and realized that he had "escaped by a thread," music again became his motivation in the long process of recovery.
"It's been a long process. I would say it's not over. I hit a big wall, a very big, very thick and hard wall," Labadie said. He had been out of commission for a year and a half, before slowly coming back to work. His energy levels are not the same, so he has cut back on travel significantly.
"It has forced me to really focus on the things that are essential and important," he said. Namely, the quality of the work and the people he works with. He chooses his projects now very carefully.
"Coming out of it, you live in the moment," he said. "The quality of music making has to be there. The quality of the experience, not just the quality of the music, but the quality of the human and artistic experience is actually paramount to everything I do now. And I have found in OSL a place where I can really express myself along those lines."