Alarm is growing in Washington and other Western capitals about the prospect of the Chinese Communist Party (CCP) taking control of the United Nations agency that oversees the international patent system, a development that experts say would have catastrophic economic and national security implications.
The threat of the UN World Intellectual Property Organization (WIPO) and all of the highly sensitive secrets it holds falling into Beijing's hands is so serious that, if it were to materialize, the United States should even consider withdrawing from the patent treaty underpinning much of the agency's work, James Pooley, a top former WIPO official, told The Epoch Times.
The Chinese regime's candidate, Wang Binying, currently serves as deputy director-general of WIPO for trademarks and has been with the UN bureaucracy for almost three decades.
If the Chinese regime gets its way in the upcoming March election for director-general, though, Wang will lead the entire agency.
"Giving China WIPO is like giving the world's largest fox the world's largest hen house," said Christopher C. Hull, Ph.D., a senior fellow with Americans for Intelligence Reform and former executive vice president at the Center for Security Policy.
Like all communist Chinese officials working within the UN system, the CCP expects Wang to obey the party above all else.
In fact, one of the Chinese regime's corruption charges against former Interpol leader Meng Hongwei, a Chinese official who was arrested upon returning to China, was that he allegedly did not follow Beijing's orders.
"It is absolutely not allowed to make decisions without authorization, to do or say as you wish," explained China's Ministry of Public Security, saying Meng was "totally to blame" for his legal troubles because he failed to "follow Party decisions."
At the helm of the WIPO, experts say Wang would be in a powerful position with access to an unfathomable treasure trove of secret information in patent applications. These secrets range from economic innovations that could give Chinese companies an edge over Western industries, to military applications that could give Beijing an unprecedented military advantage.
Making the matter more serious is that the WIPO director-general position means having virtually unchecked authority at the agency, with no oversight, experts said.
Some insiders have referred to the top post as being akin to a dictatorship: Nobody has the power to overrule the director-general, regardless of how out of line his actions may be.
Because the Chinese regime is almost universally acknowledged to be the world leader in stealing intellectual property, having a Communist Chinese official running WIPO would throw the global system into total disarray, experts said.
In interviews with The Epoch Times, former WIPO executives and outside analysts sounded the alarm about the CCP's ambitions with WIPO, as well as systematic problems with the UN organization that must be addressed.
They also called on the White House to do everything possible to neutralize the threat—and to prepare for the worst in case it is not stopped in time.
Ex-WIPO Leader Speaks Out
As the former deputy director-general of WIPO in charge of the international patent system, California-based attorney James Pooley is one of the world's top authorities not just on the UN agency, but also on the global intellectual property system.
"I know Wang," he told The Epoch Times in a phone interview. "She is smart but will be a puppet for China. She will have no choice as a practical matter."
The biggest problem, Pooley said, is that there is a massive storage of trade secrets at WIPO.
"There's probably nowhere else in the world with a greater concentration of cutting-edge technology than the unpublished patent applications inside the computer systems of WIPO," explained Pooley, who also previously served as president of the American Intellectual Property Law Association (AIPLA).
The UN agency receives about 250,000 patent applications each year. All of them are funneled into a computer system run by the sector that handles patents—a system Pooley used to lead during his time at WIPO.
The system itself is extremely secure, being housed in a separate building with a separate security system, Pooley explained.
"The security is very strong," he said. "But for the guy with the key, the strong security doesn't matter."
Indeed, the way WIPO is organized, the director-general has complete and total control.
"We're talking about a position that is uniquely powerful—almost unimaginably powerful—for those of us in the West who deal with normal organizations," Pooley said.
"Given that power, he or she—whoever the director-general is—will be able to get inside this computer system that contains all of that technology," he added.
Noting that it was not about Wang personally, Pooley said the U.S. government must do everything possible to prevent the Chinese regime from taking over WIPO.
"Particularly at this time of a new Cold War with China over technology, we can't afford to have a Chinese national in charge of that extraordinary global asset," he said.
The consequences of such a development would be so serious that it would demand a dramatic response by the United States.
"I think it's important enough that if we can't stop it, we need to look at the possibility of pulling out of the Patent Cooperation Treaty and starting something new," said Pooley.
While the former WIPO deputy chief recognizes the Chinese regime's surging influence within the UN, he also emphasized that the threat of Beijing taking over WIPO represents "a special kind of risk."
"If we don't act now, we may lose control over thousands of inventions, all at once," he said. "I just hope the folks at the White House appreciate the threat."
As of press time, WIPO did not respond to a request to speak with Wang about the concerns.
National Security
Perhaps the single most significant threat surrounds national security.
While American innovations have helped to improve people's lives, some of the most important technological developments also have military applications.
American inventors and innovators file more than 50,000 patent applications with WIPO each year, more than any other country.
"Among those applications are certainly inventions with important military applications," Pooley explained. "A very large number of technologies are equally useful in civilian and defense environments."
"We have a place with the most valuable inventions sitting in this computer system in Geneva," he added. "How could access to that kind of information not be a risk to our national security? It has to be."
Other experts also highlighted the national security risks.
"This is a smart move and a cunning strategy [by Beijing] because every piece of global IP would advance China's Military-Civil Fusion efforts," said James Edwards, patent policy adviser to the Eagle Forum Education and Legal Defense Fund.
"It would weaponize WIPO, supercharge China's ability to steal IP [intellectual property], and provide a perfect complement to China's efforts like the 'Thousand Talents' [science and tech recruitment] program, where China sends to or develops agents in other countries to steal IP," Edwards told The Epoch Times, adding that control of WIPO could give China "a potential checkmate-type advantage."
Indeed, before Wang became a top contender to lead WIPO, the agency and its current leader came under significant fire over national security concerns.
According to whistleblowers and congressional testimony, WIPO chief Francis Gurry provided highly sensitive dual-use American technology with clear military applications to the regimes ruling North Korea and Iran, apparently in exchange for votes.
Then he went after all the whistleblowers in what members of the U.S. Congress blasted as an outrageous abuse of power.
Numerous lawmakers and experts said Gurry's technology transfers were a violation of U.S. and UN sanctions with extremely serious implications for U.S. security and international peace.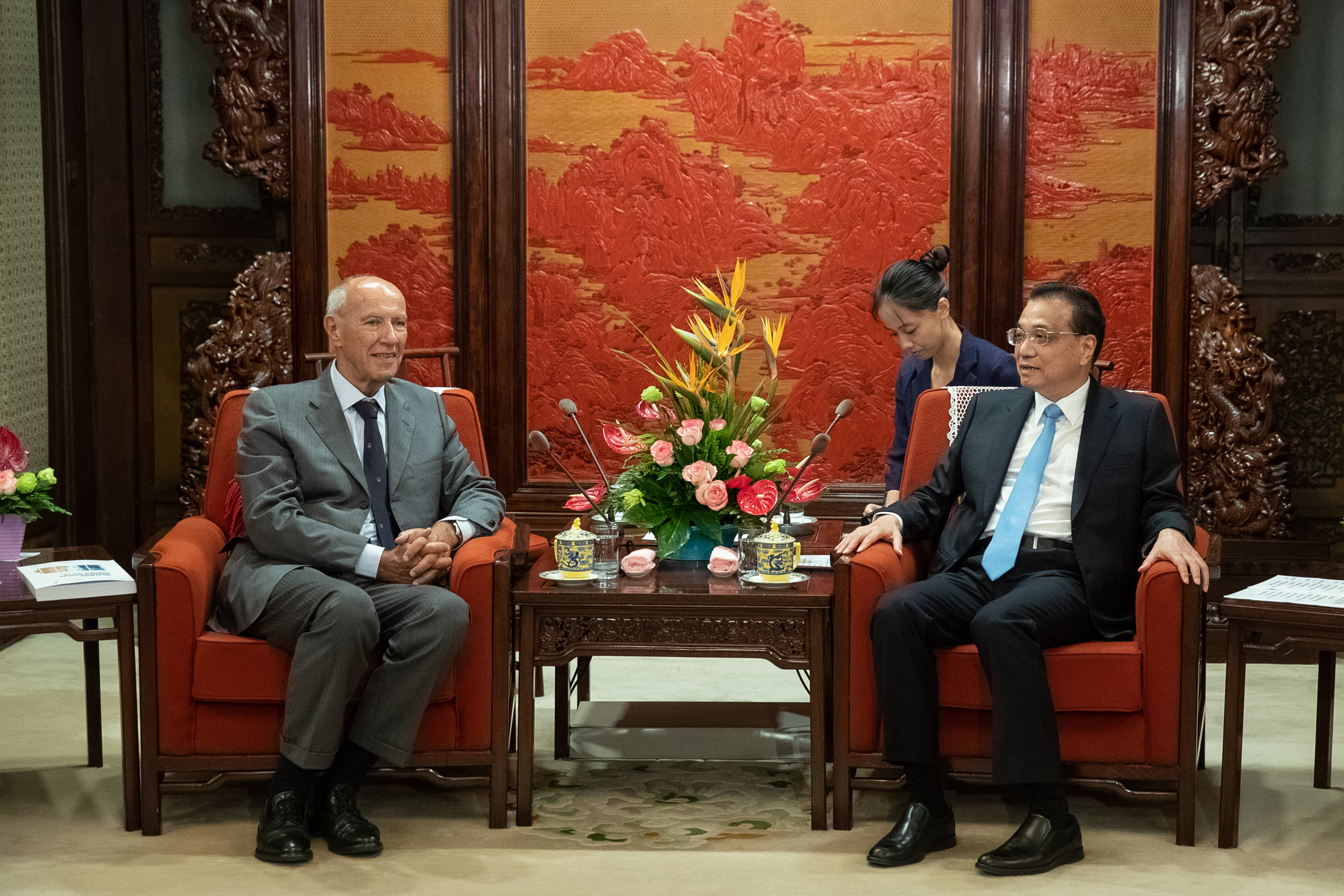 Gurry, an Australian national, also allegedly worked to secretly set up WIPO offices in Russia and in Shanghai, a mecca of global cyber-espionage.
As of press time, Gurry did not respond to a request for comment.
WIPO insiders and outside experts agreed that the threat from a communist Chinese agent in charge of the UN agency would be orders of magnitude larger.
Economic Risks
The economic risks to Western industry are also enormous, experts said.
Among other concerns, access to trade secrets could allow Chinese state-owned companies to out-compete the companies that first invented a particular technology.
Under the WIPO system, innovators and inventors are given an 18-month period of secrecy during which they make decisions.
"If a government like China could look at those applications before the period is up, unbeknownst to the companies that produced them, and then funnel that information to its own industries, that could dramatically erode the interest of the original innovators," explained Pooley.
Chinese "companies" could develop workarounds, steal the inventions, develop responses to them, and more.
"Just imagine the value of being able to take a peek, before anyone else in the world, at the world's biggest collection of cutting-edge technology," he said.
"It's similar to a weapons race, but think of it in economic terms," said Pooley. "If you got to see the other sides' weapons systems while they're still in development, you could do a lot to neutralize them."
"In economic terms, the same idea applies," Pooley continued. "From what we know of how China operates, I can't imagine that we would consider taking on that kind of risk."
Dr. Hull, of Americans for Intelligence Reform and a former professor at the Georgetown and George Washington universities, echoed those concerns.
"It should alarm every business that relies on intellectual property that a country that steals between $225 billion and $600 billion in IP annually may capture the organization heretofore devoted to protecting patent rights," he said before comparing a Chinese WIPO chief to a fox guarding a henhouse.
Voting
Despite escalating efforts to raise awareness and derail the Chinese nomination, experts say the risk that Beijing's candidate could win remains significant.
Last year, despite strong efforts by the U.S. government to block a Chinese official for the top post at the UN Food and Agriculture Organization, Qu Dongyu got the job with little resistance.
Multiple media reports and officials said Beijing had secured the important UN post through a combination of influence peddling and outright bribery.
Since the UN adopts a "one country, one vote" system, and "the industrialized world is outnumbered and out-voted by the developing world, by far," Pooley said there's a high chance the Chinese candidate can win the vote to lead WIPO.
"The Chinese, unfortunately for us right now, are in a position of power because of the Belt and Road Initiative and the other investments that China has made around the world," Pooley continued. Belt and Road, also known as "One Belt, One Road" is China's flagship foreign policy project, whereby it seeks to build infrastructure in countries throughout Southeast Asia, Europe, and Latin America.
"If they want the votes of these countries where they've been pouring in resources for infrastructure development, all they need to do is look somebody in the eyes and say 'this is what we need from you'," Pooley noted.
"Without putting a moral label on it, we need to recognize that the Chinese have a lot of leverage right now," he concluded.
Wang's background also helps, experts said, with one analyst saying it looks very good "on paper."
Before joining the UN, Wang held various positions in the Chinese regime including at the State Administration for Industry and Commerce, and at the Ministry for Communication and Transportation.
If approved, she would be one of a growing number of communist Chinese officials in top positions within the architecture of "global governance."
Already, four out of 15 specialized UN agencies are headed by Communist Chinese officials.
By comparison, an American leads just one of the 15 agencies.
Reforming the Global IP System
Beyond just blocking Wang, many experts say WIPO must be dramatically reformed.
Among the top concerns are the lack of checks and balances on the director-general's power—there is no board of directors, no stockholders, nor an external oversight mechanism.
Because WIPO is funded via fees from inventors, unlike other UN agencies which are funded by member states, the U.S. government is not able to exert financial pressure on the agency.
"It's a classical dictatorship, something the Chinese understand very well," Pooley said.
However, the former deputy director also expressed hope that, because of Beijing's efforts, there will be fresh scrutiny on WIPO and the way it is governed.
"If we're [United States] going to stay in the organization, we need to be assured of a reasonable check on the executive," Pooley added, calling for an independent board of directors or "re-organizing the whole project into some new organization with transparency and accountability."
In a phone interview with The Epoch Times, former WIPO Chief Information Officer Wei Lei said his real concern was not about who ends up leading WIPO, but rather about the institutional structure.
"Member states need to develop stronger mechanisms for oversight," he said.
Pointing to the allegations of abuse under the current WIPO chief, such as supplying sensitive technology to hostile and dangerous regimes, Wei said the problem at WIPO is systemic.
"There have already been serious problems in WIPO maintaining the integrity of secret information," he said, noting that a member of Congress had blasted WIPO and compared the corruption there with revelations of scandal in the international soccer agency FIFA: "We seem to see the FIFA of UN agencies," declared Rep. Brad Sherman (D-Calif.) during a February 2016 hearing.
"Remember, this was under an Australian—how much friendlier can you get?" Wei asked.
"We need oversight so that no matter where the director-general is from, they can be held accountable."
At WIPO, the boss has so much power and so little accountability that "even if an angel were put in charge, the angel would be corrupted soon, I guarantee you," he said.
Especially critical, he said, are protections for whistleblowers—the people who can alert U.S. authorities when something is going wrong.
"Without whistleblower protections, nobody will even find out about the problems," said Wei.
Comparing the director-general to a "king," Wei said "the member states are asleep at the wheel."
Another crucial reform would be separating all that power and introducing external oversight, a plan Wei outlined in a letter to member states. Wei said no one has responded to his letter thus far.
What Can Trump and the US Government Do?
Sources whom The Epoch Times contacted agreed that the U.S. government must be actively involved in dealing with this threat.
Wei said Congress and the president should take advantage of all this attention on the UN agency and push for strong reform.
"They really need to get a commitment from all candidates to reform the organization," he said, believing that security, confidentiality, and tech decisions at WIPO had already been damaged and compromised.
Pooley, meanwhile, said the Trump administration must give the State Department clear instructions to block the communist Chinese takeover.
If that fails, Pooley reiterated that the U.S. government must seriously consider leaving the WIPO patent system and starting a new organization for governments to coordinate the international process for patent applications.
Brett Schaefer, senior research fellow in international regulatory affairs at the Heritage Foundation, agreed that the U.S. government should withdraw from the Patent Cooperation Treaty (PCT) if Beijing wins control of the UN body.
This agreement is one of the key treaties underpinning WIPO's role in the intellectual property system, allowing inventors to apply for patent protection in over 150 nations via the UN agency without spending vast resources in each individual nation.
Schaefer told The Epoch Times that withdrawing from the PCT "would address the main concern about security of proprietary information and cause only a temporary disruption, provided that other major countries were willing to stand up an alternative to the PCT outside of WIPO."
"Since it is a relatively narrow area and would emulate a process already in place, it should not be a difficult task," he added.
In a report about the director-general race, Schaefer also called on U.S. companies and innovators to boycott WIPO's patent system if Wang wins.
From Capitol Hill, a bipartisan coalition of U.S. lawmakers including Senate Minority Leader Chuck Schumer is calling on the administration to take "necessary diplomatic steps" to block China's candidacy.
"Given China's persistent violations of intellectual property protections, including through trade secret theft, corporate espionage, and forced transfer of technology, the United States and its allies must stand firmly against Wang," they wrote in a letter to President Trump.
Multiple experts told The Epoch Times that the U.S. government should work with allies to develop a strategy to stop the communist Chinese candidate and pursue major reforms at WIPO.
Pro-U.S. experts expressed support for Daren Tang of Singapore, apparently among the preferred U.S. government choices, and Colombian Marco Matías Alemán, who leads WIPO's Patent Law Division.
Edwards, the patent adviser to the Eagle Forum Education and Legal Defense Fund, argued that Alemán would probably have the best chance of beating Wang.
Administration officials, such as U.S. Patent and Trademark Office Director Andrei Iancu, recently sounded the alarm at the Global Innovation Policy Center and has become increasingly vocal.
Speaking last week on his way to Munich, meanwhile, U.S. Secretary of State Mike Pompeo said the administration was tracking the WIPO election "very, very closely."
"The Chinese have stolen hundreds of millions of dollars of intellectual property from the United States of America," he said. "We are going to make sure that whoever runs that organization understands the importance of enforcing intellectual property rights across nations and across boundaries."
"You should know that we're engaged in lots of conversations to make sure that whoever is ultimately selected has respect for property rights and the rule of law in the context of intellectual property rights," Pompeo added.
The selection process for WIPO's next leader is already underway.
In March, the Coordination Committee will select a candidate. And in May, the entire roster of WIPO member states will vote to approve that candidate, which is usually a formality.
If Wang ends up on top, experts say to expect fireworks.
Alex Newman is an award-winning international journalist, educator, author, and consultant. He serves as the CEO of Liberty Sentinel Media and writes for diverse publications in the United States and abroad.