When choosing rosé wine, many people erroneously assume that the paler the color, the better the quality. Another common misperception is that rosés tend to be sweet rather than dry. 
However, excellent rosés come in many shades—from beige-pink to blush to garnet—across the spectrum of dry to sweet. In fact, some of the world's most gastronomic rosés are darker in color and fuller-bodied, with more depth and structure, ideal for pairing with different foods.
 "There is no correlation between color, body, and sweetness," noted Victoria James, sommelier at New York City's Cote Steakhouse and author of "Drink Pink: A Celebration of Rosé." "People see a dark rosé and think it will be heavy or perhaps sweet, but that is not true!" 
"The color speaks more to the grapes, weather, maceration process, and other factors," James explained. "Many darker-colored rosés, like Cerasuolo d'Abruzzo and rosados from Spain, are some of the most sought-after pink wines among sommeliers."
Behind the Color
A rosé wine starts with red grapes. Most red grapes have clear juice, and color is imparted to the wine when the grape skins come into contact with the juices. 
The two most common methods of making rosé are limited skin contact and saignée (French for "bleeding"). 
The limited skin contact method involves letting the grape skins macerate with the must—the pulp, seeds, and juice—for anywhere from five to 48 hours. A longer maceration time results in a deeper shade of pink. 
The saignée method is a byproduct of making red wine. Grapes are first pressed, and a portion of the pink juice is extracted, or "bled" off, at an early stage to make rosé. The remaining juice may be vinified into red wine.
In rare instances, rosé is made by blending red and white wines. This practice is illegal in France except in the region of Champagne, where tradition allows for adding a small amount of still red wine into the blended cuvée to make rosé champagne.
Many winemakers aim for paler rosés, which are popular in the marketplace, but color does not always reflect quality. A well-made rosé in any hue should express the fruit, spice, and other characteristics of the grapes used, and taste refreshing on the palate.
Choosing a Rosé
As the weather warms, bottles of rosé flood store shelves. Choosing can be confusing. 
Rosés are produced around the world using both international and local grapes. Here are a few examples of regions known for their world-class rosés.
Rosé should be served chilled, between 45 and 55 degrees F. Drink young; look for 2018 and 2019 vintages now.
Rosés From France
Provence: The pale, dry rosé wines of Provence in southern France are considered the benchmark for many wine drinkers, and they represent more than 40 percent of French rosé production. Provence's Mediterranean climate delivers rosés with a pleasant essence of salinity and soft herbal notes, amid flavors of fresh citrus and wild red berry fruits. 
The three largest AOCs (appellation d'origine contrôlée) for making rosé wines are Côtes de Provence, Côtes d'Aix-en-Provence, and Coteaux Varois en Provence. The smaller AOCs Bandol, Cassis, and Palette also produce highly regarded rosés. 
Try: 
Château de Berne Inspiration, Côtes de Provence, 2019 ($20): A classic Provençal rosé, a blend of grenache, syrah, and cinsault, delivering wild strawberry and soft herbal notes. Château de Berne is an historic estate, now a Relais and Chateaux hotel with a Michelin-starred restaurant.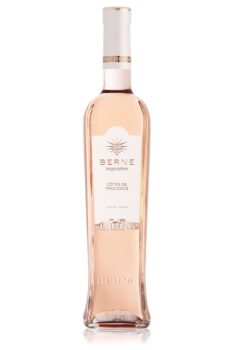 Château Barbebelle Cuvée Madeleine Rosé, Côtes d'Aix en Provence, 2018 ($21): A crisp, pale rosé with a hint of spice, thanks to a 50 percent grenache blend. The balance of syrah and cinsault add subtle pear and raspberry notes.
Domaine Tempier Bandol Rosé, Provence, 2018 ($50): From one of the premier Bandol rosé producers, this wine contains 50 percent mourvèdre, a full-bodied grape that adds complexity. The remaining blend is 25 percent each of grenache, adding spice notes, and cinsault, contributing a soft floral bouquet.
Rhône Valley: The Tavel AOC, northwest of Avignon, exclusively produces rosé. Spicy grenache noir is the dominant grape for Tavel rosés, which are all blends using other Rhône varietals such as cinsault, mourvèdre, and carignan and syrah. Tavel rosés range from deep salmon pink to peony in color; they are aromatic and fuller-bodied with dense fruit, ideal for pairing with meatier dishes, spicy foods, and even baked fruit pie. 
Like Provence, the southern Rhône Valley benefits from a dry, sunny Mediterranean climate. The rosés of Luberon, Ventoux, and Costières de Nimes AOCs all deliver light fresh fruit and floral notes, a touch of salinity, and fresh minerality. Pair with seafood, goat cheeses, and salads.
Try: 
Domaine Maby Tavel Prima Donna Rosé, Rhone ($15): This wine has ripe fruit with a touch of spice and soft tannins, and pairs well with lighter main course dishes.
Domaine de la Fondrèche Rosé, Ventoux AOC, 2019 ($18): A blend of 50 percent cinsault with equal parts grenache and syrah, this refreshing rosé has essences of fresh-picked wild strawberries, orange zest, and wildflowers. (The 2018 is currently available in the U.S. market.)


Loire Valley: Rosé de Loire AOC and Rosé d'Anjou AOC are both produced in the middle Loire Valley and range from dry to semi-dry. They can be made from the local grolleau noir, pineau d'Aunis, and gamay, as well as international varieties cabernet franc, cabernet sauvignon, and côt (the region's name for malbec). AOC Rosé d'Anjou wines tend to be medium-sweet.
Try: 
Alain de la Treille Rosé d'Anjou, Loire ($16): A dry rosé, 50 percent gamay and 50 percent grolleau noir, with aromas of strawberry and raspberry. Producer Jean-Claude Bougrie named this wine after his best friend.


Rosato From Italy
Lake Garda: Chiaretto, which translates to "pink," is Italy's most popular dry rosé. Chiaretto di Bardolino is exclusive to the Lake Garda region. Here, the rosés are crisp and dry, much like those of Provence, thanks to Lake Garda's Mediterranean microclimate. 
Wines made on Lake Garda's Lombardy coast to the west are made with sangiovese and groppello, which add spice notes to the fruit. The Veneto side to the east uses local corvina, rondinella, and molinara grapes, delivering more floral-style chiarettos. Pasta, pizza, charcuterie, and sushi all pair well.
Try:
Costaripa Rosamara Chiaretto, Valtènesi DOC, 2018 ($30): A silky blend of groppello, marzemino, sangiovese, and barbera from the Lombardy side of Lake Garda. 


Le Fraghe Ròdon Bardolino Chiaretto, Veneto, 2018 ($16): From the Veneto side of Lake Garda, this chiaretto is a blend of two local grapes, 80 percent corvina and 20 percent rondinella, with a deep strawberry hue and savory herbal notes.
Abruzzo: Cerasuolo (Italian for "cherry") d'Abruzzo DOC is a dark garnet-colored rosato produced from the montepulciano grape. These are fuller-bodied wines with flavors of pomegranate, cherry, strawberry, and anise. Chill and enjoy as you would a red wine, paired with hearty pasta dishes, pork, or other meats.
Try:
Torre dei Beati Rosa-ae Cerasuolo d'Abruzzo, Abruzzo, 2018 ($20): Italy's premier wine guide, "Gambero Rosso," named this wine its 2020 Rosé of the Year.
Rosado From Spain
Rioja, Navarra, and Cigales all produce refreshing rosés the color of blushing cheeks, with ripe wild strawberry and herbal characteristics. Most are made from tempranillo or garnacha (grenache in France). These wines pair well with a range of popular Spanish dishes, such as paella, tortilla española, jamón, and stuffed peppers.
Try:
Bodegas Muga Flor de Muga Rosé, Rioja DOC ($35): A garnacha-based wine from a historic family producer that makes outstanding Rioja wines.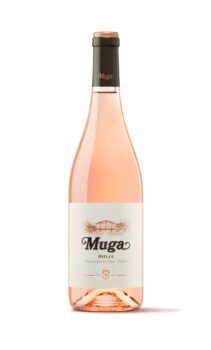 Melanie Young writes about wine, food, travel, and health. She co-hosts the weekly national radio show "The Connected Table LIVE!" and hosts "Fearless Fabulous You!" both on iHeart.com. Twitter@connectedtable