Choteau, Montana—In the basement of Trinity Lutheran Church in the small town of Choteau, Montana, several ladies of Norwegian descent gather together to show me their family recipes from the old country. The smell of warm spices from a pot of sot suppe—a bubbling, syrupy fruit "soup"—fills the air, mixing with the scents of butter, potato dumplings, and sweet pastries in a dusty cloud of flour.
This Norwegian subculture exists throughout the American Midwest. 
From 1810 to 1920, the United States saw two million Scandinavians come through its borders, most of them settling in Wisconsin, Minnesota, North Dakota, and Montana. Today, almost as many Norwegians live in the United States as in Norway: 4.5 million and 5.2 million, respectively. About one in every 10 Montanans claims Norwegian ancestry. 
While traditional clothing and holidays from Norwegian settlers have since been mostly lost in assimilation, one cultural icon remains: food.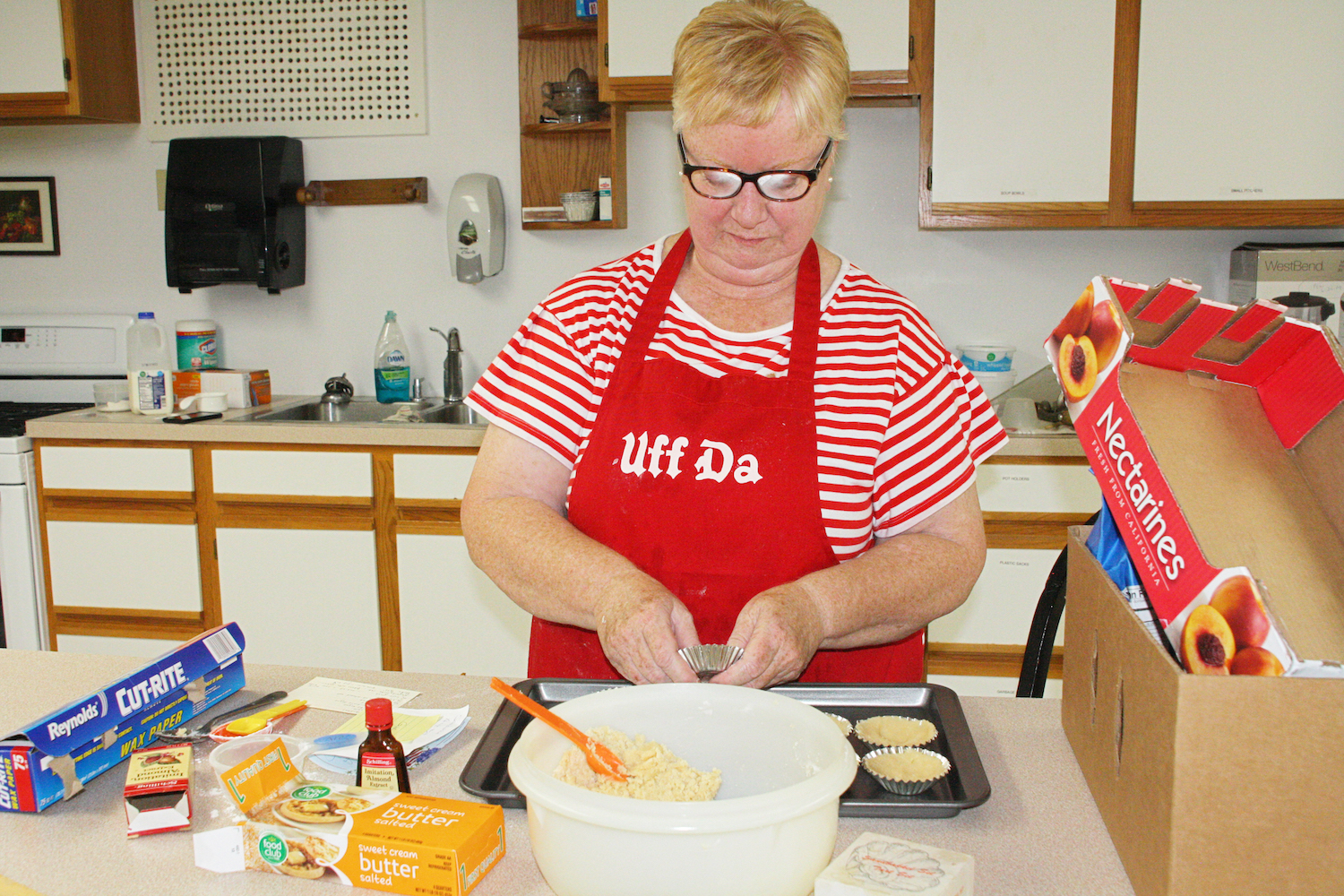 Coming to America
Many Scandinavian immigrants to the United States were looking to escape harsh wartime conscription laws. Danes were forced to serve in the German army during World War I, helping a nation with which for years they shared long-standing mutual contempt, while Fins were later drafted to fight in the Winter War against Russia.
Norwegians, on the other hand, were mainly looking for financial opportunity. 
From 1814 to 1914, Norway had enjoyed a century of relative peace. Peace begat prosperity. Famines from harsh winters were solved by the introduction of the powerful potato, a main staple in Nordic food still to this day. Then, smallpox vaccinations were developed, saving even more lives. Soon, Norway had too many people and not enough land. 
Escape from religious persecution was a second reason for leaving Norway. From the 1500s until 1845, all Norwegians were mandated to be members of the state Church of Norway, a Lutheran denomination. A sect called Haugeanism rose up in the late 18th and early 19th centuries, and followers began reading and interpreting the Bible in their own homes, which was illegal at the time. The Church began trying to put an end to independent worship.
America seemed to be an easy escape. England's Canadian colonists were charged with bringing heavy lumber to Europe, but they didn't have much cargo to bring on their return trip home, so they'd offer cheap rides to Canada and the Great Lakes in order to make a little bit of money on the side.
Community Through Food
In Choteau today, the Norwegian community is held together by the institution that drove some of their ancestors to split from the homeland: the Lutheran church. 
Aside from being a center of worship, the church is also a preschool, a club meeting space, and a place to connect with one's neighbors. Some evenings, that communion comes through food. 
Every October, for instance, Trinity Lutheran hosts a lutefisk dinner. A Norwegian classic, lutefisk is a smelly, gelatinous fish entree that divides families: some people love it, and others gag at the thought of it. 
To prepare it, whitefish is soaked in cold water for five days, with the water changed daily. It then sits in an unchanged solution of water and lye for two days. This process strips the fish of half its natural protein, hence the jelly-like texture.
After being treated in lye, the fish is caustic, with a pH level of 11 to 12, comparable to bleach. If marinated too long in the lye, the fish fats can turn into soap or alcohol. To make it edible, the fish must be soaked in cold water again for another four to six days, with the water again changed daily. 
For the cooking party I've joined, however, the ladies working tirelessly in the church basement have made everything but the lutefisk, perhaps to save this unsuspecting dinner guest from too much of a culture shock.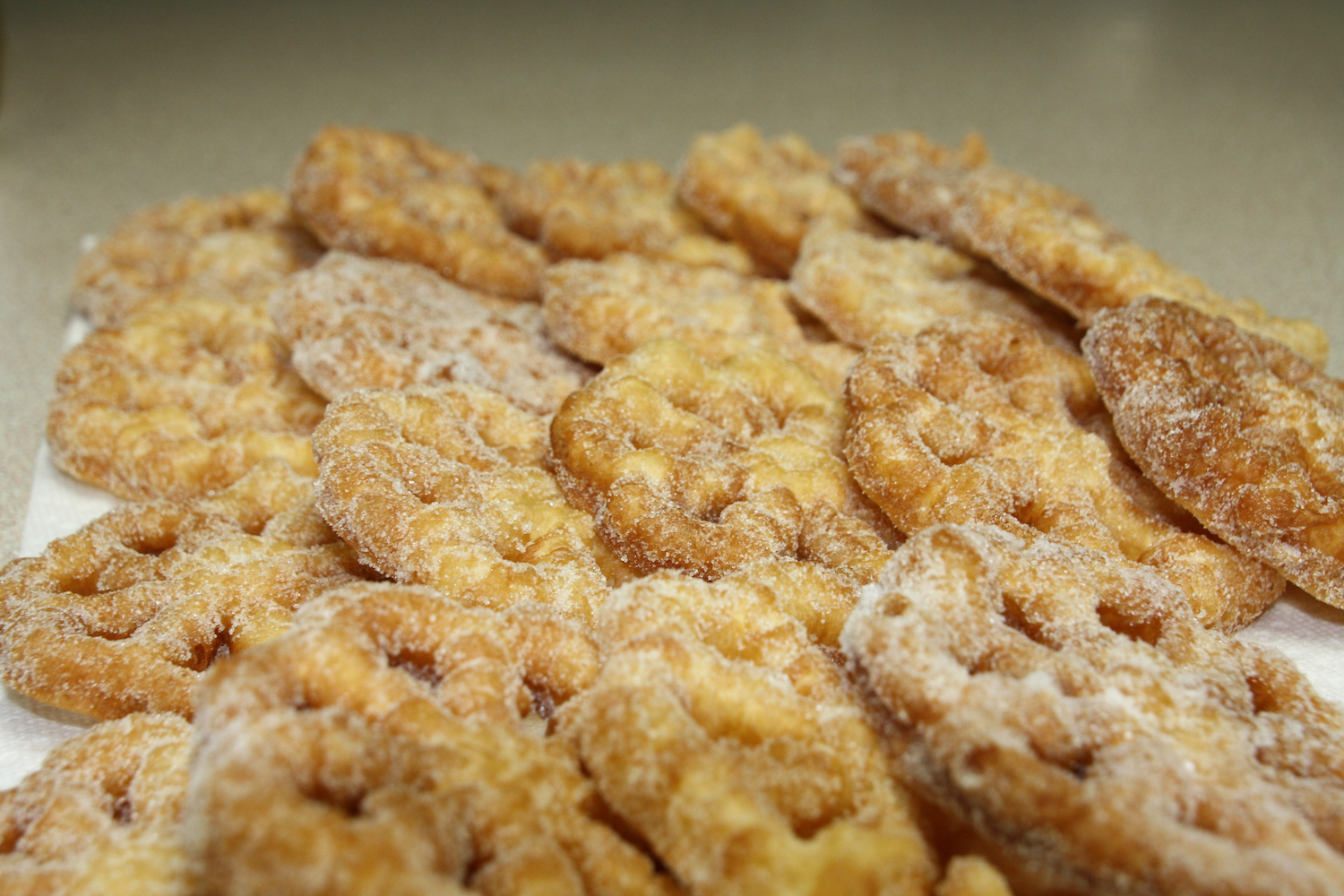 Family Recipes
Reidun Erickson has prepared sot suppe, a "sweet soup" resembling jam, made with an assortment of dried fruit soaked and then slow-cooked in fruit juice and spices. The warm air wafting from the Crock-Pot evokes memories of wassail or hot cider, and of running home for a snack on a cold, snowy day. 
"My dad came from Norway at 15 years old on a freighter," Erickson tells me. "Farm plots were very small over there, and he could get a lot more here. He homesteaded and built quite a large grain operation."
Next to her sot suppe, she has a pot of hot oil for frying rosettes. To make this delicacy, she uses special "rosette irons," which look almost like animal branding irons, but with a decorative daisy-like shape blooming at the end.
She heats the irons in the oil, dips them in batter, and quickly returns them to the oil to fry. Once done, they're dipped in sugar and left to cool. The result is a beautiful tray of golden, airy flowers with a sparkly sugar crackle.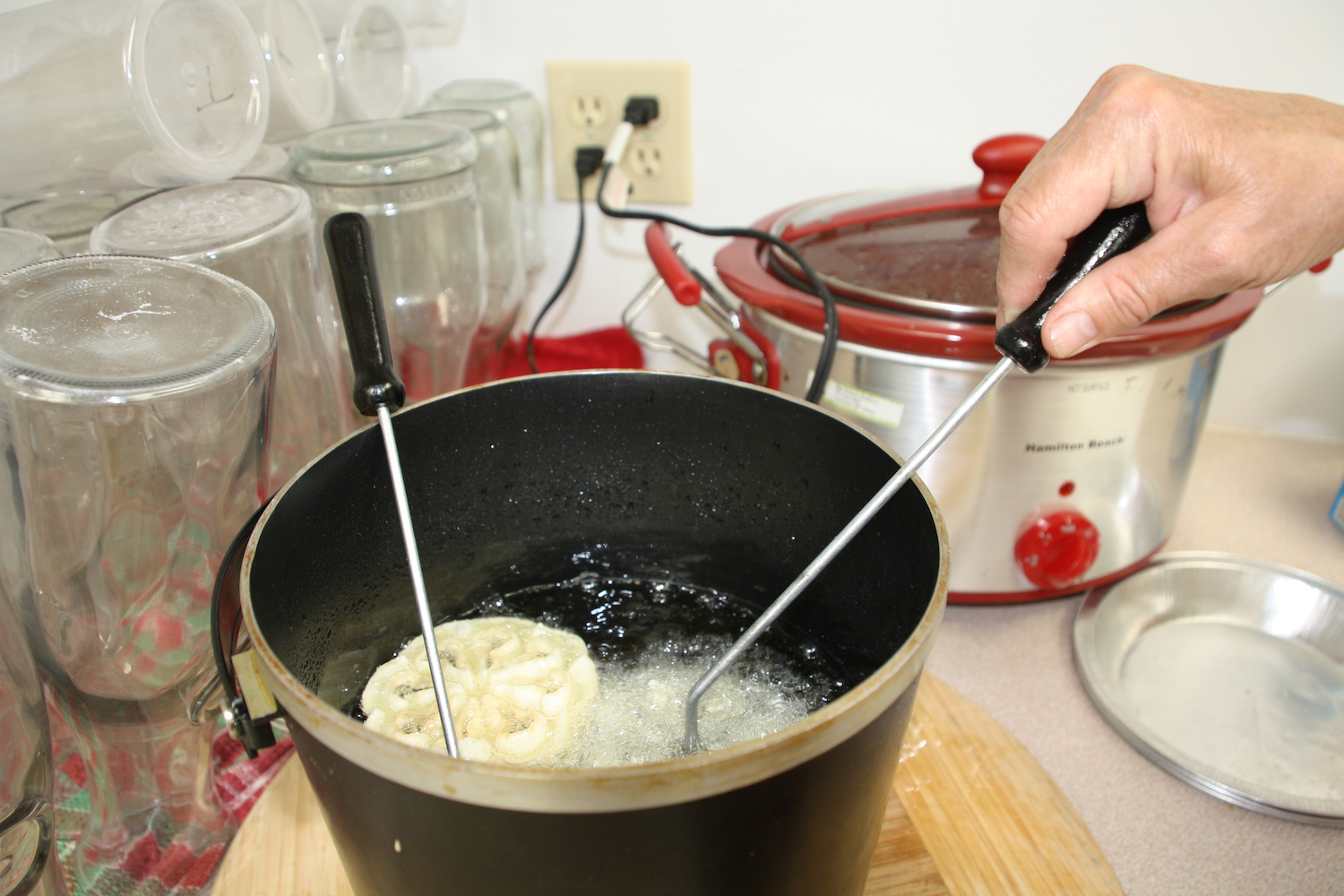 Next in line is Eva Anseth, with a major Norwegian staple: lefse. Lefse is a soft, thin flatbread made from Norway's lifesaving tuber, the potato. 
"My favorite memory with Norwegian food is making lefse with my mother," Anseth says. "It was always fun, and we always used real potatoes. When I got married, she gave me a griddle so I could make my own lefse. My husband is Scandinavian, and my recipe now is a combination of his mother's and my mother's." 
To make lefse, the potatoes are peeled and boiled until soft, then riced into a fine consistency and kneaded with butter and flour. They're then shaped into patties and rolled into flat, tortilla-shaped discs, which are taken from the rolling board to the griddle, flipped, and removed with a "lefse stick"—a smooth, flat wooden stake. The flatbreads are kept warm under a cloth, and can be eaten like tortillas to hold sweet or savory fillings.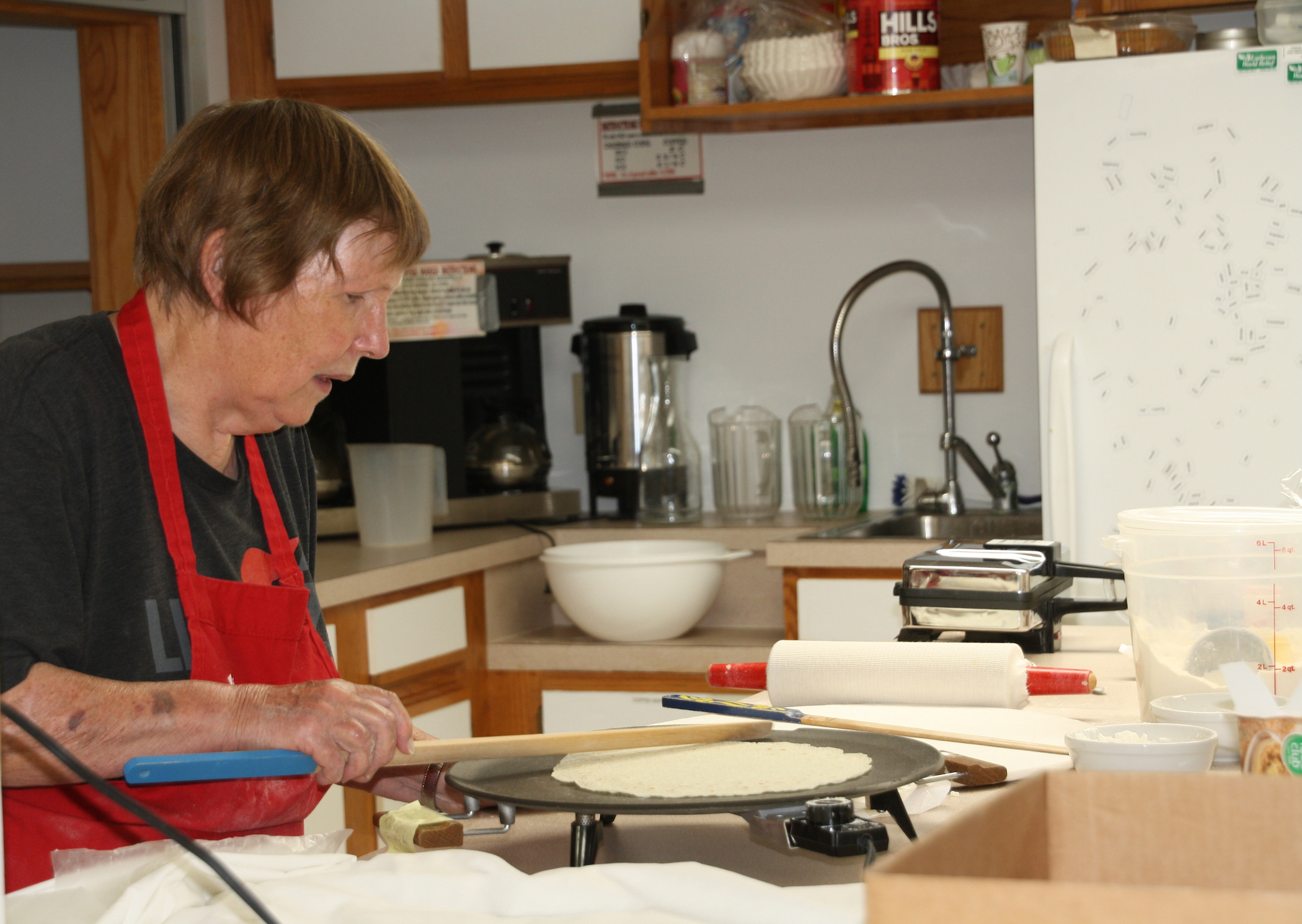 Gloria Lannen, another woman at the church, also has fond memories of lefse. 
"My grandma and her sister—we called her 'Auntie'—used to make lefse on a coal and wood stove. It was so good, it would just melt in your mouth. They would always chat and laugh while they made it, and they had pet names for us kids. It was always special," she says.
Lannen made sandbakkels, crunchy shortbread-like cookies baked in little tins shaped like Reese's Cups. "You can eat them plain, or use them as a crust for little tarts," she explains.
She also made klub, another potato creation. Raw potatoes are processed through a meat grinder or a grater, mixed with a light breading, and formed around a small chunk of cooked ham. The potato dumplings are then placed in simmering water—and sometimes fried afterward—and doused with a generous shower of melted butter.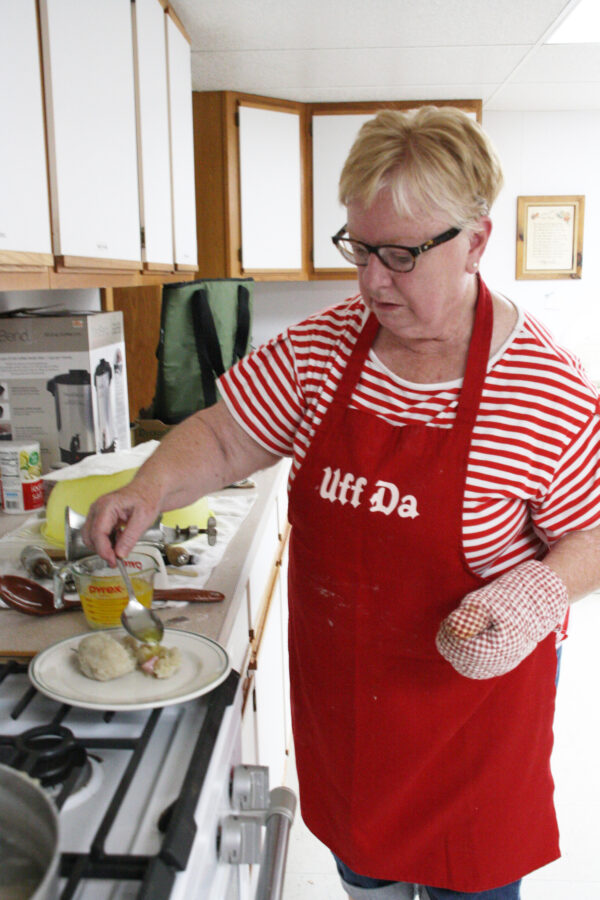 Sharing another family tradition is the mother-daughter duo of Kayla and Alisha Breen, making rommegrot, a thick pudding made with cream or milk, butter, flour, and sugar, and sprinkled with cinnamon and more sugar.
"In the old days, rommegrot was given to new mothers after they delivered babies. I don't know if it was to give them extra energy, or if the fat was somehow good for the mom or baby, but that's what they supposedly did," Kayla says.
Kayla learned the recipe from her grandmother and passed the recipe down to her own children. "We used to beg mom to make rommegrot, especially during any holiday," adds Alisha.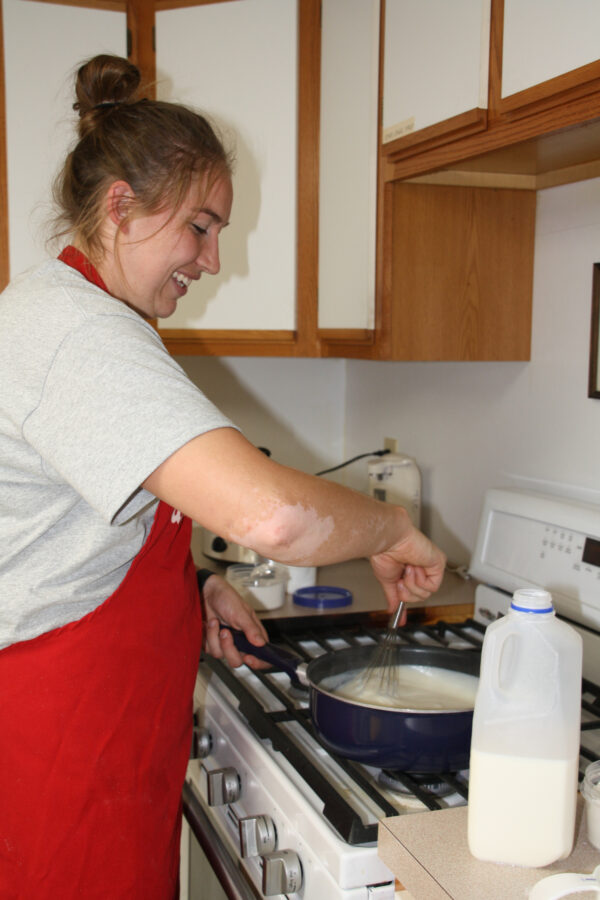 The final icing on the literal cake is Anseth's kransekake, a Norwegian wedding cake made with thin, iced rings stacked into a tall cone. The dough is hand rolled into long cords, which are then wrapped into circles in a special kransekake pan. After briefly baking in the oven, the rings are iced and stacked, largest to smallest. 
"I taught my daughter how to make this, but she doesn't make it often, except on birthdays. Her daughter, my granddaughter, is 13 this year, and always asks for kransekake on her birthday," says Anseth.
"The tradition at weddings is that the bride and groom pick up the cake from the top and shake it a bit, and the number of rings that fall off is the number of children they supposedly will have," she adds, smiling. 
No matter the number of children predestined by the kransekake, one thing is for sure: those children will learn the same culinary traditions that have been passed down through their family for generations.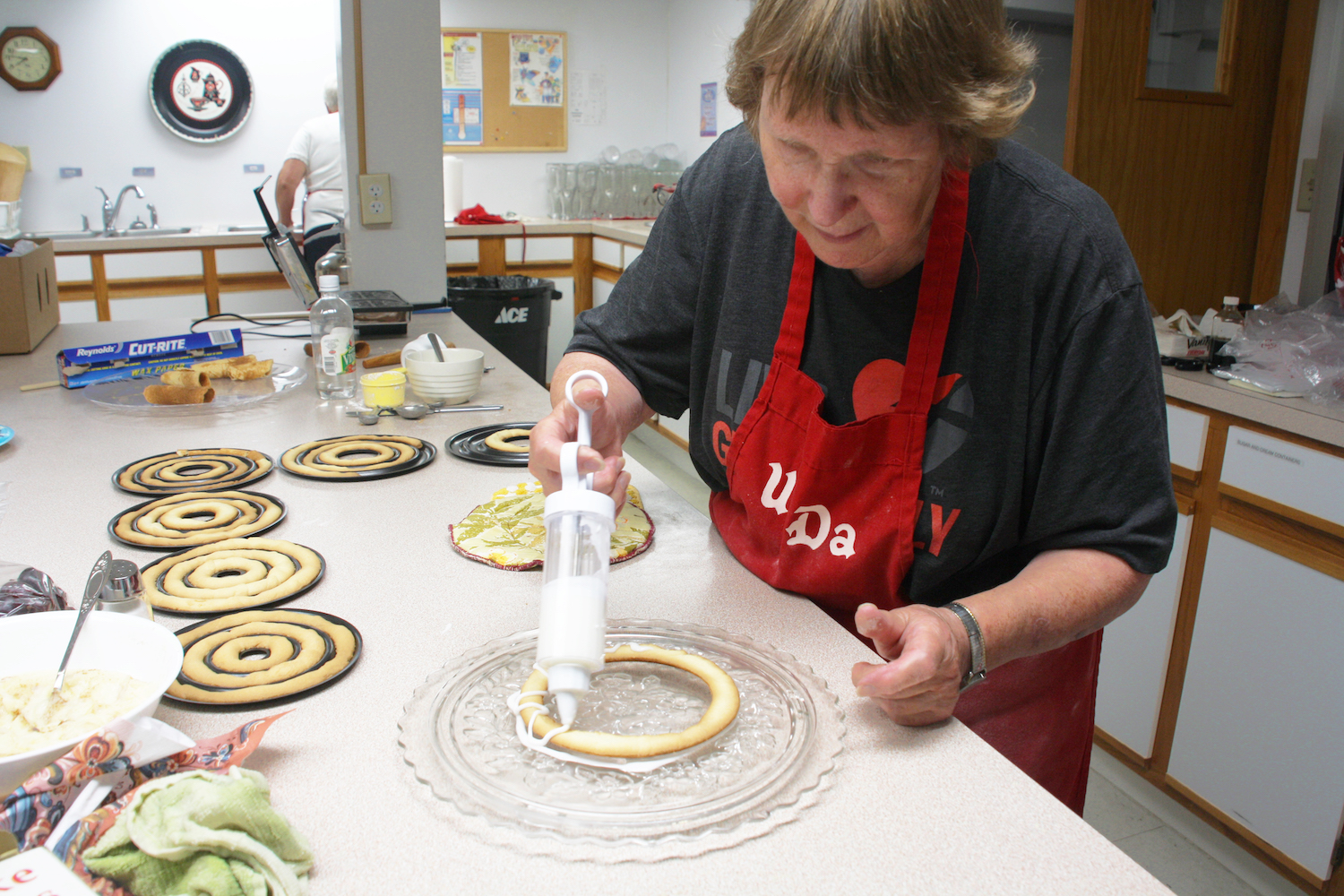 RECIPE: Reidun Erickson's Rosettes
Makes about 18 rosettes
2 eggs
1 tablespoon sugar (plus more for coating afterward)
1/2 teaspoon salt
1 teaspoon vanilla extract
1 cup milk
1 cup flour
Special equipment:
Heat rosette irons in a pot of hot oil. Oil should be hot enough so that when a drop of water is added to it, it sizzles. 
In a large mixing bowl, beat eggs slightly. Add all other ingredients, and beat until smooth.
Take heated iron out of oil, and dab on paper towel to remove excess oil. Dip iron in batter, and then return to the hot oil. Fry until golden brown. 
Carefully remove rosette from oil with a long pair of tongs. Shake excess oil off onto a paper towel, then dip the rosette into a bowl of sugar (granulated or powdered) to coat. Let cool.
Repeat with remaining batter.
Note: Do not clean irons with water between batches. If you need to remove batter caked on the iron, do so by rubbing the iron on a pad of paper towels.
RECIPE: Eva Anseth's Lefse
Makes a dozen 10-inch lefse flatbreads
4 cups potatoes
1/4 cup butter
1/2 cup milk
2 teaspoons sugar
1 teaspoon salt
1 1/2 cups flour
Special equipment:
Potato ricer
Lefse griddle
Lefse stick (can use regular spatula if needed)
Grooved rolling pin with cloth cover
Cloth-covered pastry rolling board
Peel potatoes and boil until tender. Let cool. 
Rice the potatoes into a large mixing bowl, and combine all ingredients. 
While still warm, form the dough into golf ball-sized balls, and then flatten into patties. Make all the patties while the dough is still warm.
Sprinkle extra flour on pastry board. Roll the rolling pin through the flour to coat it as well. Roll out a patty until it's as thin as a crepe, and approximately as wide as a dinner plate. 
Slide the lefse stick under the dough, and carefully lift the lefse from the middle, letting the sides drape off either side of the stick. Transfer the lefse to the griddle, and flatten out any folded edges. 
Cook until the bubbles slow or cease to pop, then flip and cook through. 
Use the stick to transfer the lefse from the griddle to a towel or cloth. Fold the cloth over the top to keep the lefse warm. 
Lefse may be eaten as a dessert, with butter and sugar, or can be used as a tortilla to hold savory fillings. 
RECIPE: Gloria Lannen's Sandbakkels
Makes 24 sandbakkels
1/2 cup white sugar
2 tablespoons brown sugar
2 tablespoons powdered sugar
1/2 cup lard or margarine
1/2 cup butter
1/2 teaspoon vanilla or almond extract
1/2 teaspoon salt
2 cups flour
Special equipment:
Mix all ingredients together in a large mixing bowl.
Scoop out dough by teaspoons and roll into balls. Chill in refrigerator for one hour.
Press dough into forms until even and thin. 
Arrange forms on a cookie sheet and bake at 375 degrees F for 8 to 10 minutes, until golden.
Once molds have cooled, flip over and press on the centers to pop the sandbakkels out. Sandbakkels may be eaten by themselves, or can be used as tart crusts. 
RECIPE: Gloria Lannen's Klub
Makes about 10 dumplings
2 cups flour
1/2 teaspoon salt
1/4 teaspoon baking powder
Pinch of black pepper
4 cups raw potatoes, peeled
8 ounces cooked ham, cut into 1-inch cubes
1 cup melted butter
Mix flour, salt, baking powder, and pepper together in a bowl.
Process the potatoes through a meat grinder or a grater. Combine potato pieces in flour mixture and knead with hands until dough is thick. Add more flour if too sticky. 
Form a ball of dough around each ham piece. Simmer in a pot of water. Dumplings will float at first, slowly sink to the bottom, and then pop up again. Once they pop up, they're ready to be taken out.
Optional: Brown dumplings in a frying pan with a bit of butter.
Serve with melted butter poured on top.
RECIPE: Kayla Breen's Rommegrot
Makes 12 servings
8 cups milk (fat percentage will determine how rich the pudding is)
1 1/2 cups flour
1 cup butter
1 teaspoon salt
Cinnamon and sugar, for sprinkling
Mix butter and flour on the stove over medium heat. 
Microwave milk in a bowl until hot. Gradually add the hot milk and salt to the butter and flour mixture. Boil for 5 minutes, stirring consistently. There should be no lumps.
Once rommegrot reaches a proper pudding consistency, it is ready to serve. Divide into bowls or cups and sprinkle cinnamon and sugar on top.
Courtney Duke Graves is a newspaper journalist and freelance writer/editor who frequently moves around the United States. Her first book, "The God Gap," is set to be published in November of 2020. Email her at courtd6@vt.edu