Mention the Florida Everglades and the mental image that comes to most minds is of vast and swampy wetlands with miles and miles separating the ecosystem's diverse critters from any sign of civilization—a wild "River of Grass," as the nickname describes.
And while that caricature is mostly accurate, alligators and all, it's also possible to visit the Everglades and get a little sprinkle of culture on top of the hearty dose of untamed wilderness.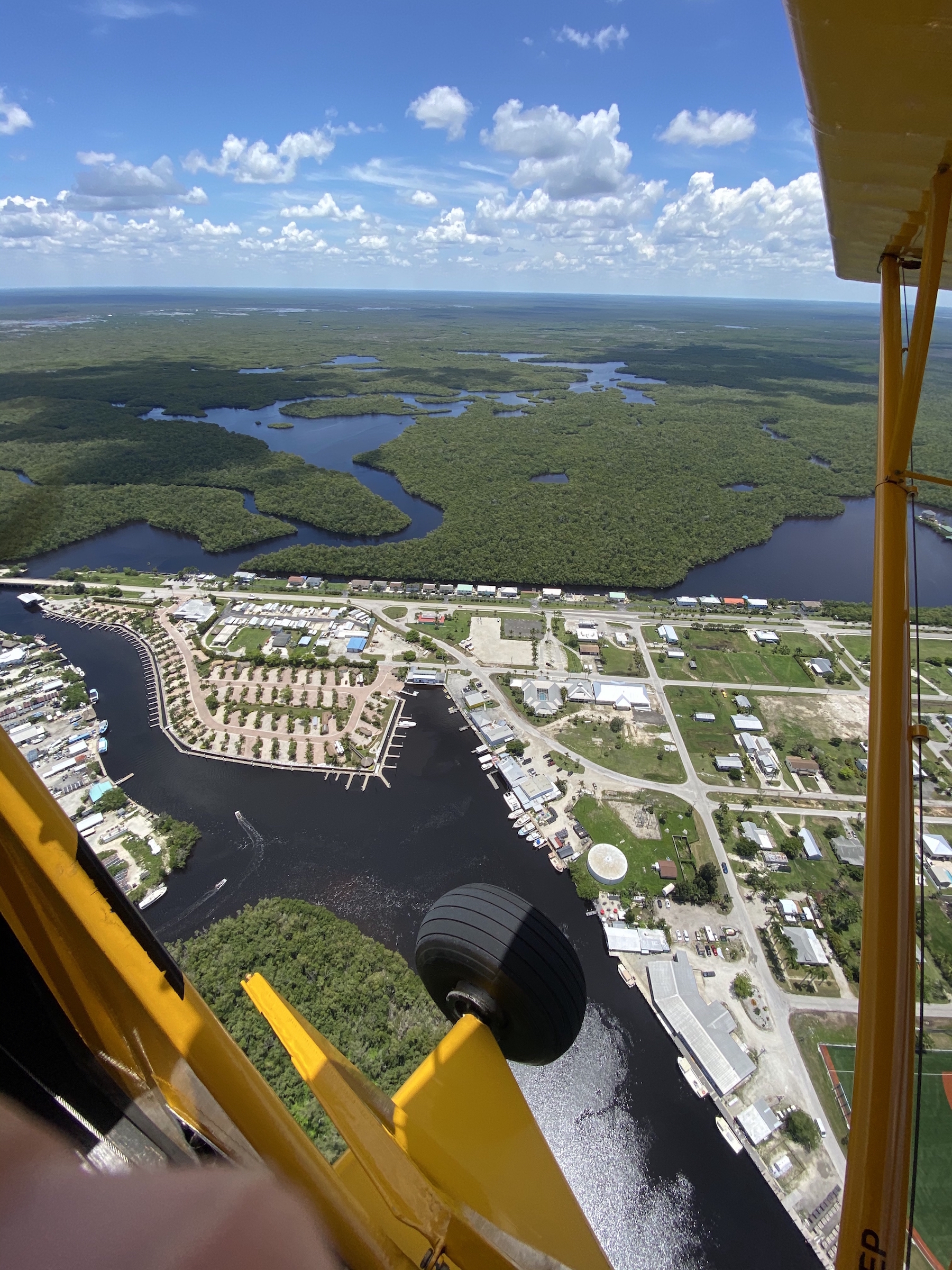 Small-Town Florida
Tucked away near the southwest tip of mainland Florida, Everglades City—population 400—is easy to miss. Located on Chokoloskee Bay at the mouth of the Barron River and separated from the Gulf of Mexico by the northern end of the Ten Thousand Islands, Everglades City spans just over one square mile in total area. Its main claim to fame is the Everglades Seafood Festival, which has been celebrated every February for 50 consecutive years since its founding in 1970—but if you love funky Florida, small-town hidden gems, and one-of-a-kind nature experiences, you'll find that Everglades City is worth visiting for reasons outside the annual event, too.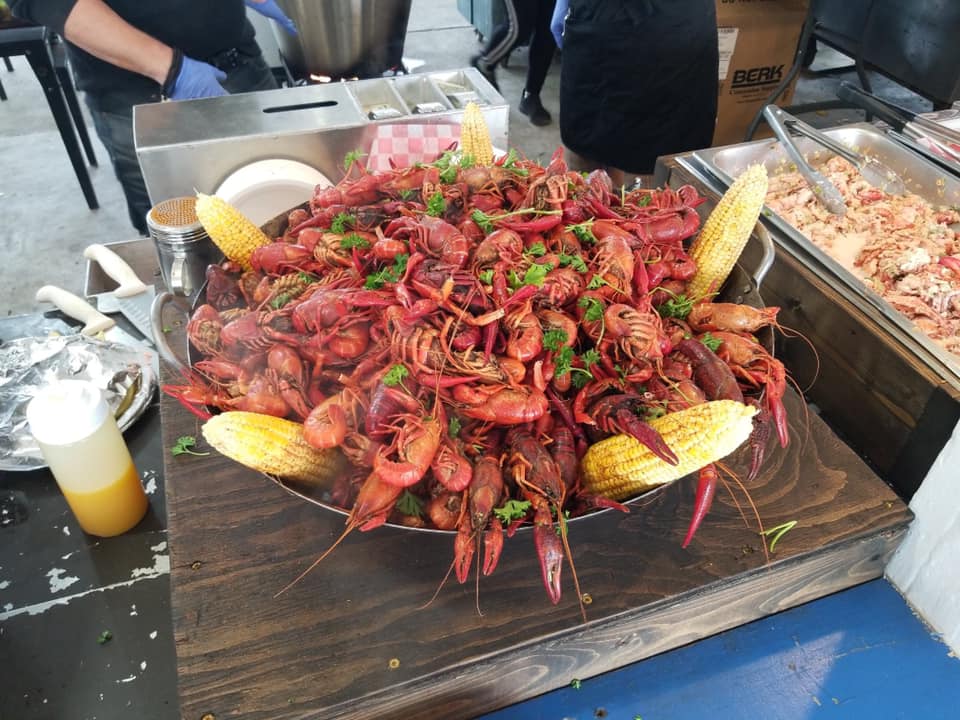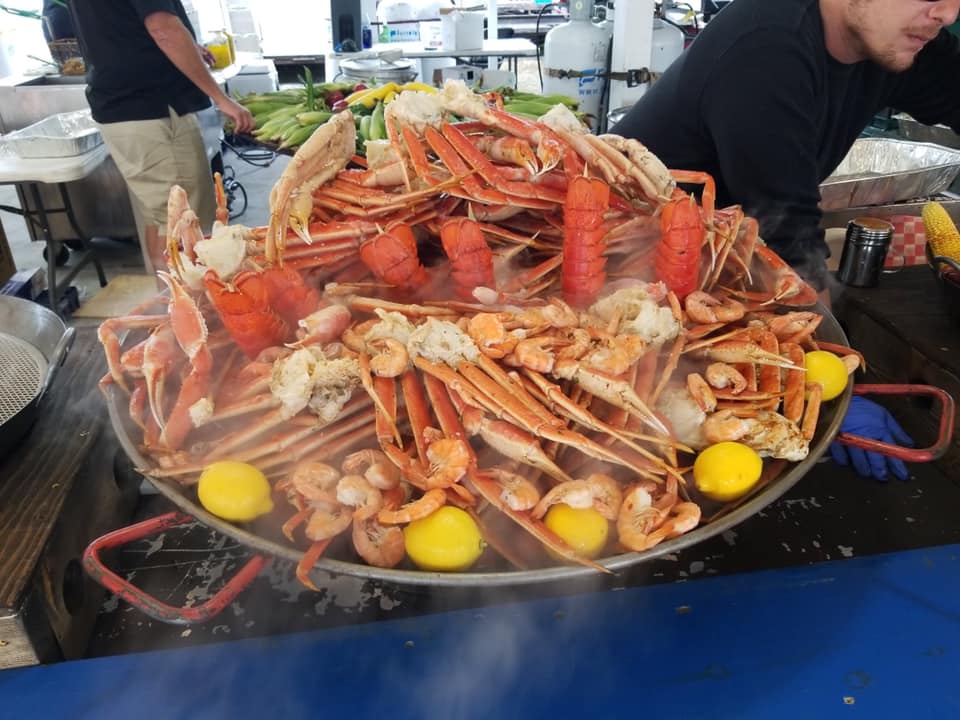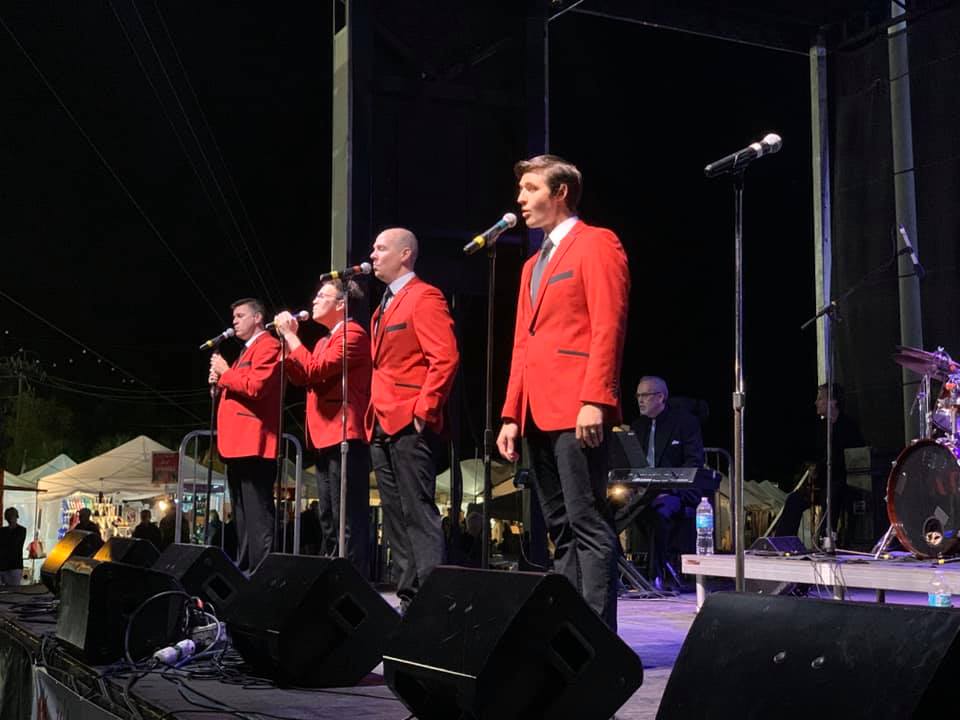 In Everglades City, visitors can explore via airboat or airplane and eat their fill of fresh seafood. At the handful of restaurants in town, you can count on two menu items without fail: locally caught grouper and gator bites (yes, eating fried nuggets of alligator tail is a totally normal Florida thing).
Thanks to the small airstrip on the waterfront end of town, Florida's aviation community likes to fly in for lunch—but those without wings can get a taste of the Everglades from the air, too, thanks to Wings Aero Tours, open in Everglades City from November to May (they're in Alaska the rest of the year—a real change of scenery).
Tours by Boat and Air
Wings Aero Tours departs from Everglades Airpark (X01) and there are a variety of tour options, at varying lengths and price points, to choose from. The most basic tour covers the local area around Everglades City, including the Ten Thousand Islands, Gulf of Mexico, Everglades National Park, Big Cypress National Preserve, and Chokoloskee Island, an ancient Calusa shell mound. Lengthier tours expand out from there to take in sights as far as Marco Island and Key West, but on every flight, you can expect to see mangroves, marshland prairies, and possibly even wildlife sightings—keep your eyes peeled and look out below for sharks, dolphins, gators, and beyond.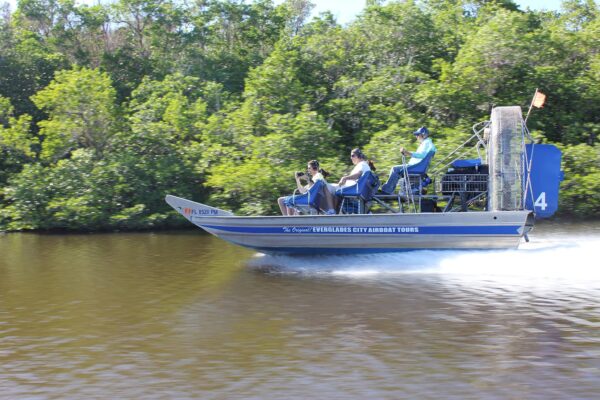 Want an up-close, on-the-ground encounter with Florida's famous backcountry after you've seen it from above? Book a tour with Everglades City Airboat Tours, a third-generation family-owned tour company that offers the only fully narrated airboat tour in the area, plus two-way headsets so passengers can communicate with each other and the captain during their ride. There's nothing like the thrill of riding in a deafeningly loud "boat" propelled by a giant fan that lets you skim the surface of the water past wildlife such as alligators, manatees, and various species of birds.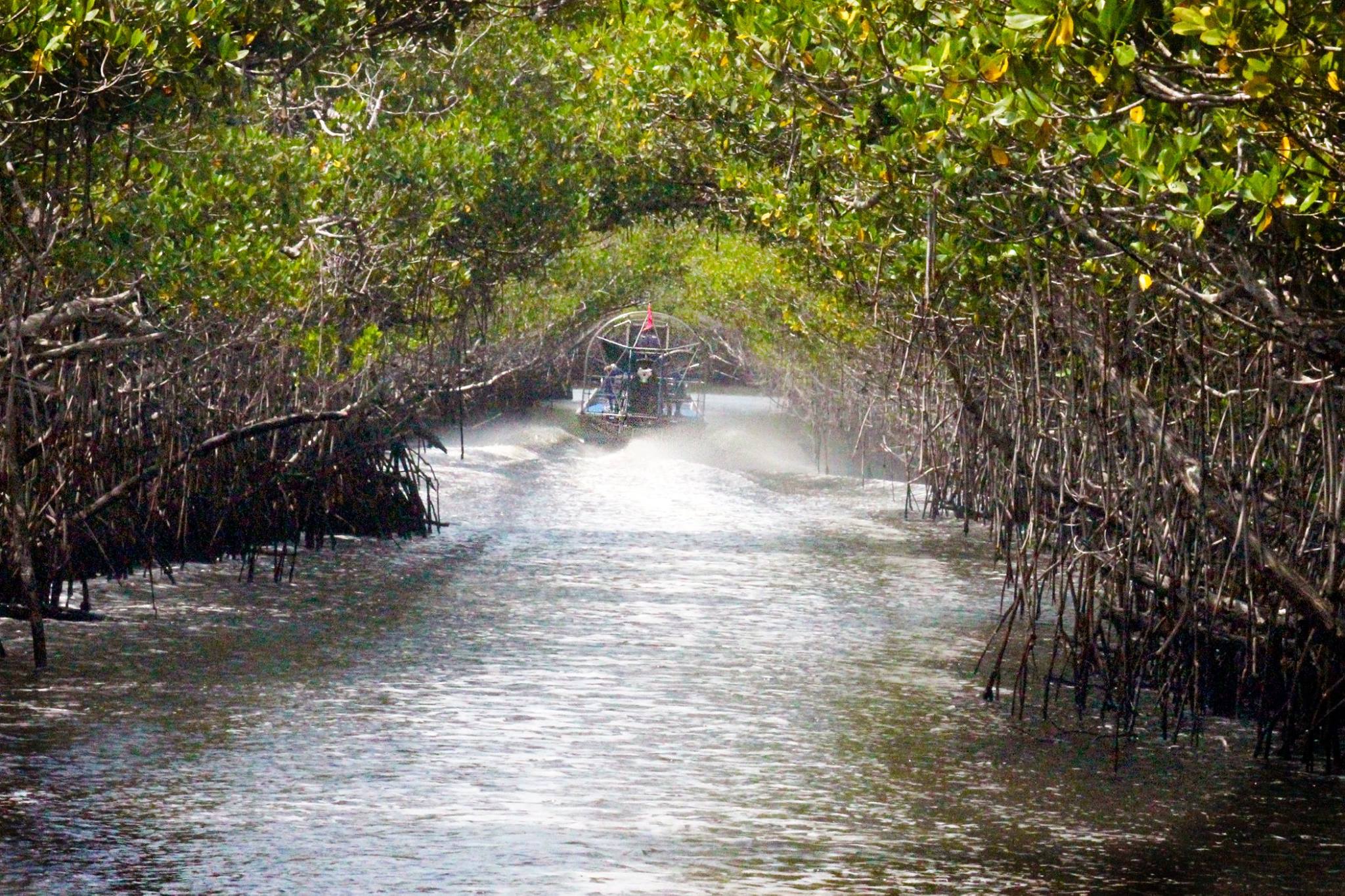 Where to Eat
Once the wild country of Everglades City has helped you work up an appetite, you'll want to grab a bite to eat. Your options are limited but, luckily, sufficient. Island Cafe is open for breakfast, lunch, and dinner and sports a homey diner feel with laid-back island vibes. Triad Seafood Market & Cafe and Camellia Street Grill, on the other hand, both offer a waterfront location on the Barron River, just a few doors down from each other. Both are fully outdoor eateries with screened-in options.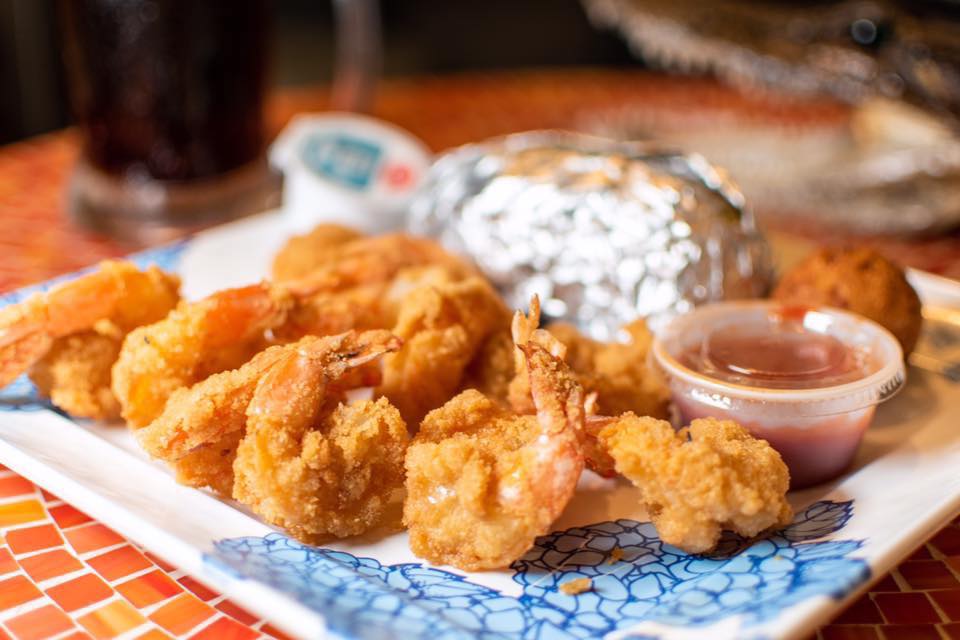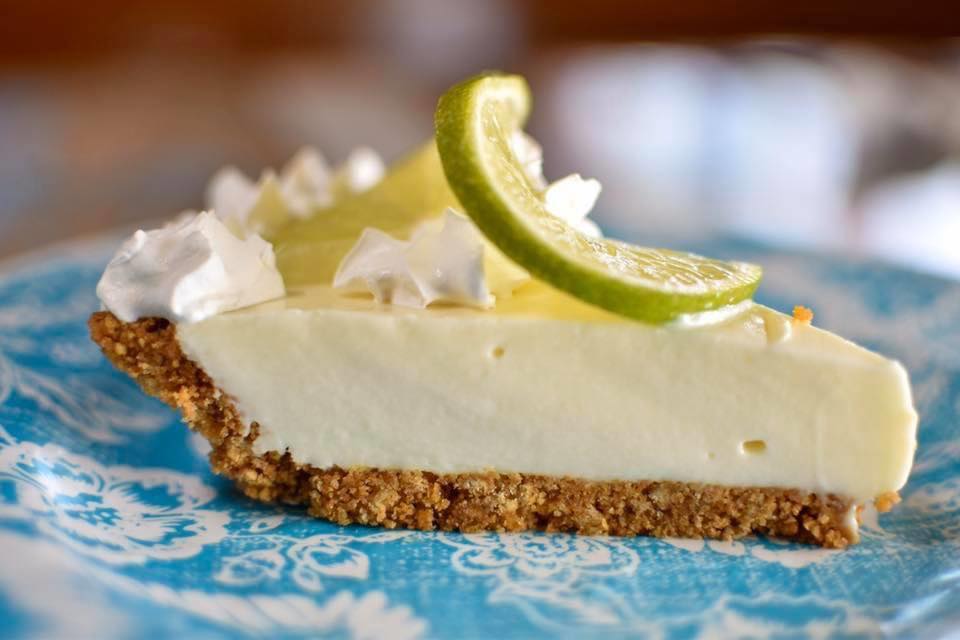 Triad Seafood is a small, family-owned restaurant best known for its mounds of reasonably priced stone crab claws (in season), while colorful Camellia Street Grill—also known for stone crab—offers not just tasty seafood but also a charming ambiance, thanks to an eclectic collection of antiques and knickknacks peppering the property.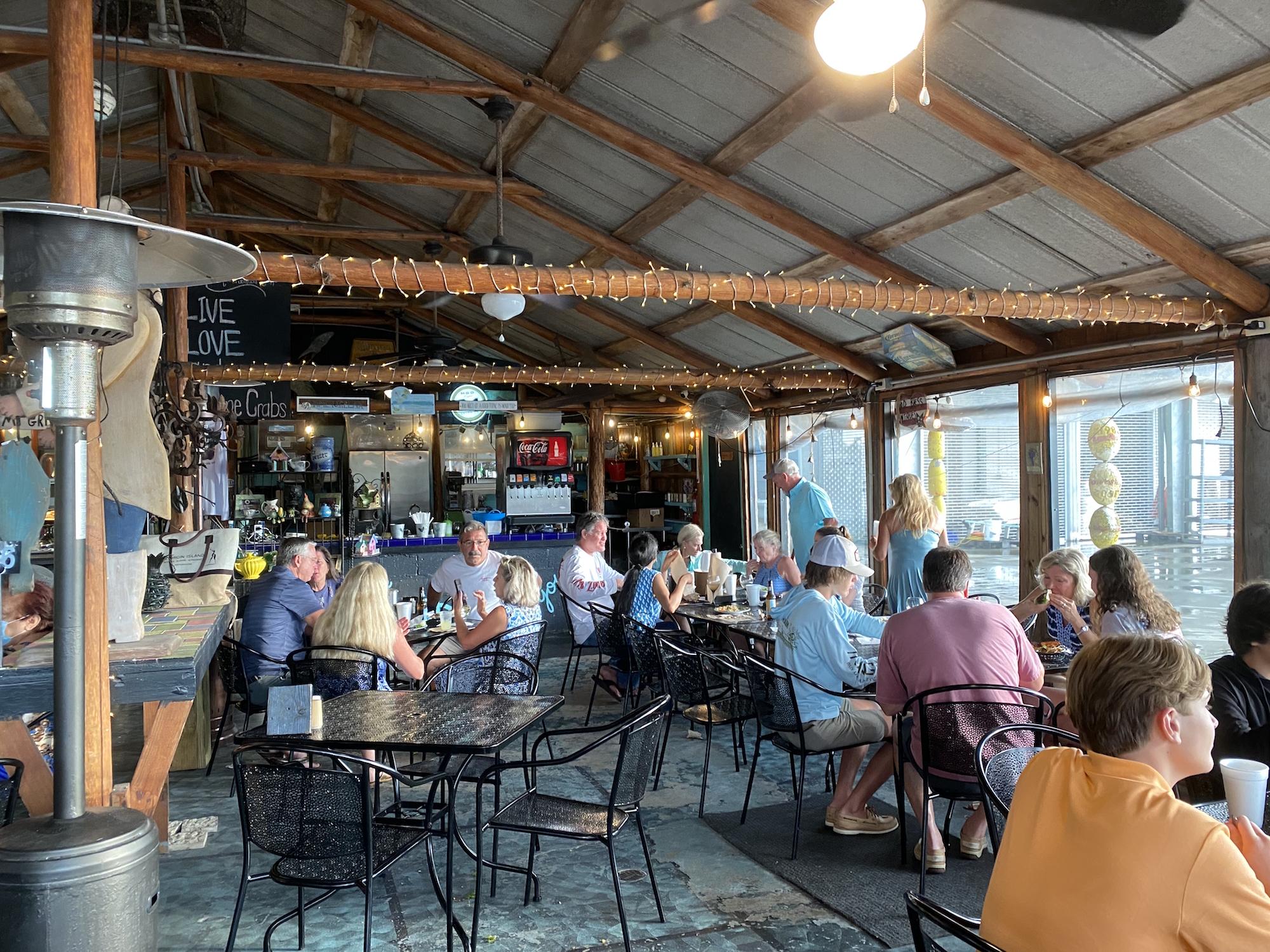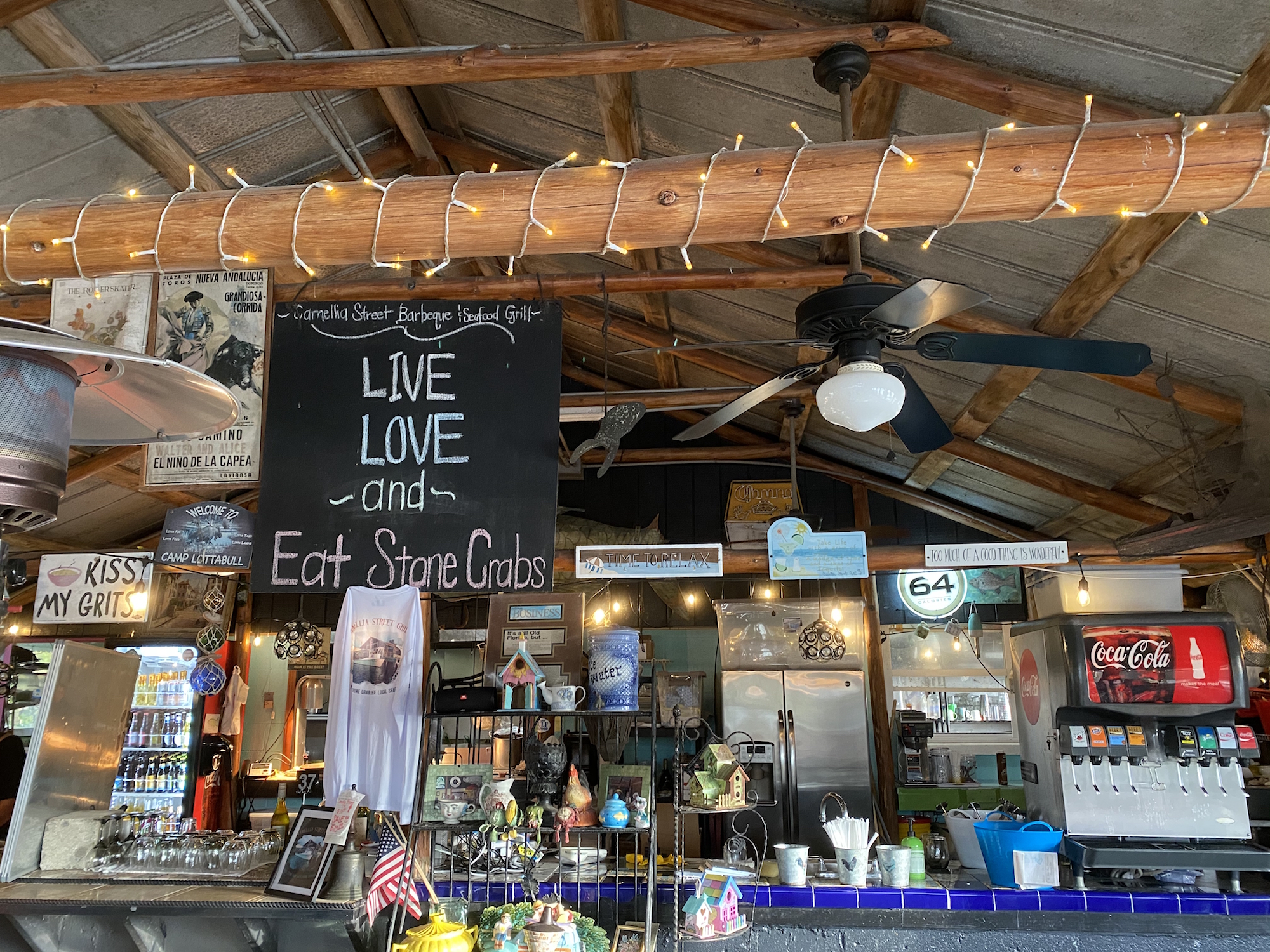 Make sure to spot the antique U.S. Post Office 34141 sign proudly displayed toward the back of the restaurant—the Ochopee Post Office, located just a few miles from Everglades City, is the smallest post office building in the United States, a 61-square-foot shack on U.S. Route 41. The building was an irrigation pipe shed on a tomato farm until 1953, when it transformed into a tiny post office overnight as Ochopee's existing general store and post office burned down.
The post office has remained in continuous use ever since and serves Native American Seminole and Miccosukee tribes living in the region, among others in the tri-county area. Buy a postcard in town and send it from Ochopee for one of the most unique postmarks to ever grace your snail mail.
Where to Stay
As far as accommodations in Everglades City, you can't beat the quaint, cozy, family-run Ivey House. The hotel is open year-round and is home to 18 colorfully painted rooms encircling a screened-in courtyard with tropical landscaping plus a waterfall and pool. The accommodations are basic, but no-frills and unfussy is the name of the game in Everglades City. Ivey House is walking distance to Triad Seafood and Camellia Street Grill—and the rest of the town, too, depending on how ambitious you are.
Nearby Adventures
While there's plenty to keep you entertained for a weekend in Everglades City, the town is also a convenient jumping-off point for other Everglades adventures. You can book any number of nearby airboat tours, sure, but fishing, canoeing the mangroves, and hiking Big Cypress National Preserve are other popular options in the area. Book a backcountry excursion during your stay in Everglades City for a side of Florida that most tourists never see, a glimpse of delicate land both uncultivated and untouched by time.
Other Everglades City attractions include the Gulf Coast Visitor Center, Ernest Hamilton Observation Tower—the closest thing you'll see to a high-rise near Everglades City—and the Museum of the Everglades, housed in a historic building with exhibits dedicated to regional Native American tribes, early pioneers, and the history and culture of the area.
The building is sometimes referred to as the Old Laundry Building because when it was completed in 1928, it served as the community laundry building. In 2001, it was added to the U.S. National Register of Historic Places.
It's off the beaten path and under the radar, but Everglades City is authentic Florida.
Skye Sherman is a freelance travel writer based in West Palm Beach, Fla. She covers news, transit, and international destinations for a variety of outlets. You can follow her adventures on Instagram and Twitter @skyesherman