NEW YORK—The coolest new show on Broadway in 2019 is the revival of a 1943 musical. Social media mavens have hashtagged this production #SexyOklahoma. This, despite traditionalists who think the Rodgers and Hammerstein Organization should be ashamed for "giving permission to produce this gimmicky travesty."
I sat next to a couple of boys who didn't look old enough to cut up their own meat. I ventured to ask them what the appeal of the current incarnation of "Oklahoma!" is.
"It's, like, so politically correct and politically relevant in every way. And, like, the music is amazing!"
Politically relevant is, of course, code for hatred of everything that America stands for.
"Oklahoma!" was the first collaboration of Richard Rodgers and Oscar Hammerstein II, and it catapulted the pair to prominence.  The duo went on to write many of Broadway's most famous mid-century musicals. Since it opened in 1943, "Oklahoma!" has been performed countless times all over the world. The movie adaptation in 1955 won an Academy Award.
The Fish-y Production
In his Broadway debut, director Daniel Fish has taken on a musical that brought joy and a sense of pride and identity to an American nation that, 75 years ago, was at war with foreign powers. Fish has reconceived a work whose hallmark is optimism; he wishes to transmogrify it into a mirror for our age of doubt and anxiety.
The American way, according to the Book of Political Correctness, is that long-standing American legacies such as patriotism and tradition must be exhumed and re-examined with beady-eyed skepticism, if not downright disgust. (Aunt Eller, after all, makes her corn bread not from scratch but out of a box! Onstage!)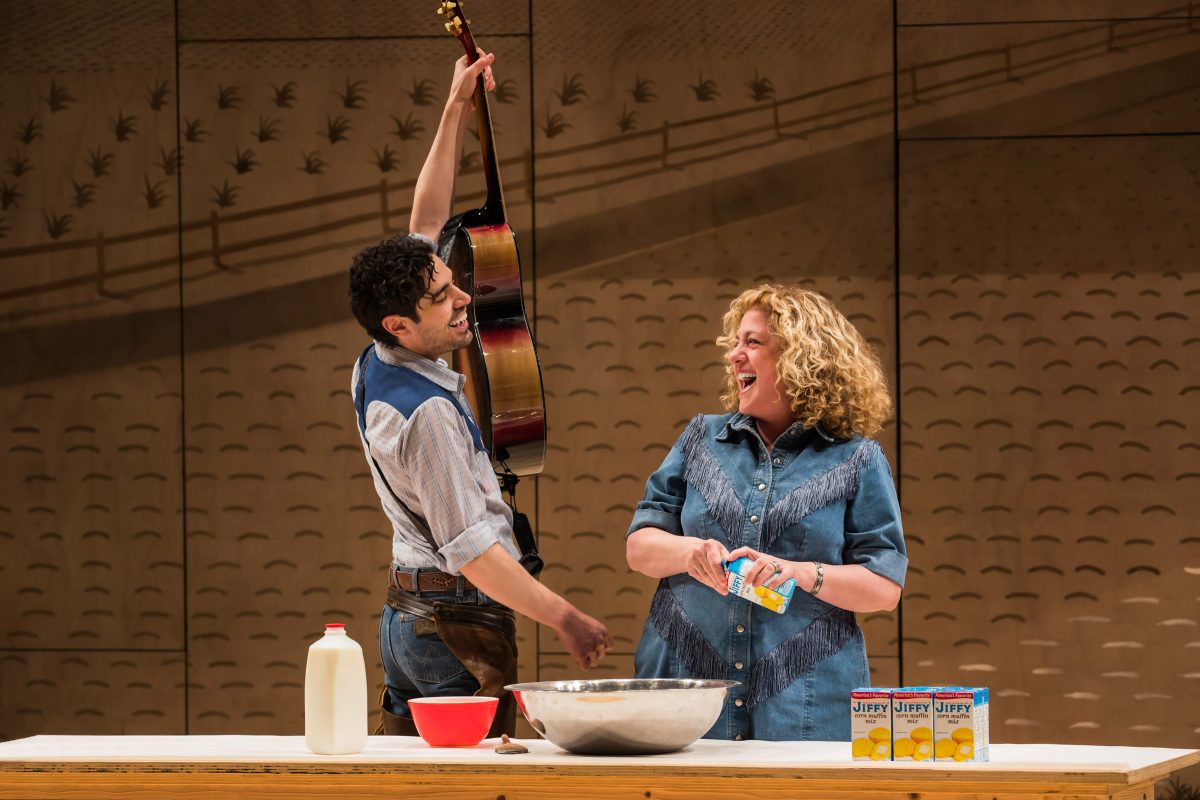 The production takes place under a blaze of glaring house lights that designer Scott Zielinski keeps on most of the time. When we are required to be disturbed, the dialogue occurs in Stygian darkness.
Set designer Laura Jellinek has nailed blond plywood panels to the theater's walls and the floor of the thrust stage. The seven-member orchestra sits in a shallow pit cut out of the floor. It's an Ikea-type set. The walls feature serried ranks of shotguns. There's chili cooking in red slow cookers on the refectory tables that parenthesize the stage. The ceiling beams are bedecked with dollar-store bunting.
The cast members are licorice allsorts—all sizes, shapes, and colors—wearing denim (Terese Wadden did the costumes) and cowboy boots.
All this is part of the Fish-ified deconstruction: to strip everything down, to dismantle the Americana, and show us rag-mop reality. The cerebral remastering is intent on showing us that the bright golden haze on the meadow Curly sings about was delusional. Worse, it was probably based on white privilege.
More Fish Bait
"Oklahoma!" which Rodgers and Hammerstein adapted from Lynn Riggs's 1931 play "Green Grow the Lilacs" revolves around two love triangles. In one, a cowboy and a farmhand vie for the affections of a farmer's daughter. In the other, a cowboy and a Persian traveling salesman are both involved with Ado Annie, one of Laurey's friends and the town's good-time girl.
The action takes place in Oklahoma Territory, just before official statehood.
Now, just when I was thinking that Fish scarcely changed a word of Oscar Hammerstein II's original book and lyrics and perhaps this wasn't an act of plunder, but of reclamation, I was slapped in the face with a wet fish, as it were.
In the central romantic triangle, among the lovers Laurey (Rebecca Naomi Jones) and Curly (Damon Daunno), and the outsider Jud (Patrick Vaill), Fish presents us with a plot twist that departs dramatically from the original script.
I won't divulge this blasphemous liberty taken here, but the lines between sex and violence, already blurred in this gun-toting universe, are now redrawn to reflect Fish's political ideology. It is obviously designed to cast Curly and the other pioneering folk in a klieg light that is not only deeply unpleasant but also clearly shows their hatred for outsiders, the appalling way they treat women, and how they eschew justice for kangaroo courts, and so on.
But the Remaining Lyricism Prevails
The play opens and closes with "Oh, What a Beautiful Mornin'." At the end of the musical, Curly and Laurey are married, Jud is dead, and the whole cast is singing "Everything's goin' my way."  The theatrical actions that unfold between those joyful moments of dawning light one could describe as Daniel Fish trying his darndest to dislodge, if not entirely dismantle, the American myth.
Yet the show's lyricism is what works beautifully.
Damon Daunno's Curly, for example, shines when he is allowed to sing a ballad more slowly and melodically.
The star of the show is an adorable, dimpled, blond beauty, Ali Stroker, who plays Ado Annie. Her voice has a rare sweetness, and her comic timing is perfection.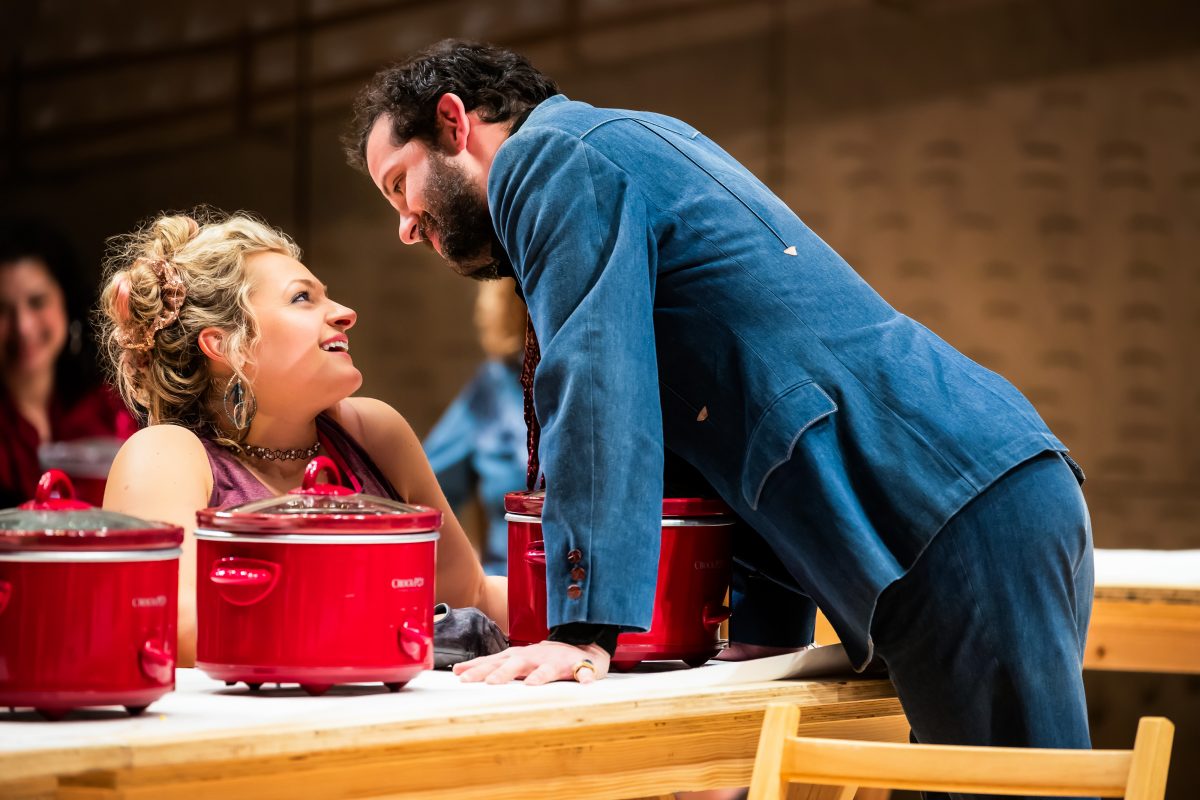 Physically, Ali Stroker may be in a wheelchair, but handicapped she isn't. She rides her wheelchair as though she was riding herd on a pony. She has so much charisma that she could sell it by the pound. When she belts out "I Cain't Say No," there is no heart left uncaptured in the theater.
There are those who complain bitterly that this "vulgarized" version of "Oklahoma!" was designed for kids who have never heard of the old-fashioned "Oklahoma!" and ticket buyers who hate musicals in general. Whatever. This "Oklahoma!'' is a box-office phenomenon.
Sometimes cynicism is an inoculation that just doesn't take: The cast got a standing ovation. It may not have been Fish's intention, but I think he has introduced a whole new audience to the joys of mid-century musicals.
Frankly, I put it down to the music. No matter what Fish's political message may have been, in the end it was the music that captivated theatergoers.
As the boys said: "Like, the music is amazing!"
'Oklahoma!'
Circle in the Square Theatre
1633 Broadway
New York
Tickets: 1-800-Broadway or OklahomaBroadway.com
Running Time: 2 hours, 45 minutes (one intermission)
Open Run
Jani Allan is a South African journalist, columnist, writer, and broadcaster.