TALLINN, Estonia—There is no denying it: Estonians love singing. Starting June 30, the country will see nearly 35,000 youth participate in its Youth Song and Dance Celebration.
The small north European country with a population of 1.3 million has 1,000 years of choral tradition, one of the largest collections of folk songs in the world, as well as 1,422 choirs, 132 orchestras, and 1,500 dance groups.
"The song tradition is natural for us like the sauna is for the Fins, and the American football is for the Americans," said Sten Weidebaum, communication manager of the Estonian Song and Dance Celebration Foundation, as he sat in his office in Estonia's capital, Tallinn, in May.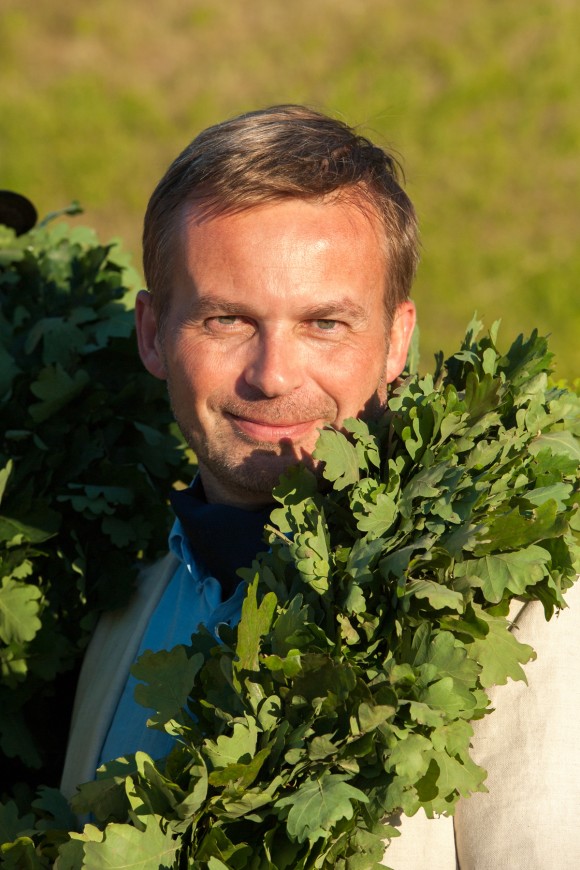 The song and dance tradition in Estonia has been an institution since 1869. The General Song and Dance Celebration is held in Tallinn every fourth and ninth year of the decade, and the Youth Song and Dance Celebration every second and seventh year of the decade.
The General Song and Dance Celebration (Laulupidu in Estonian), brings together 30,000 singers and 8,500 dancers on stage, and about 80,000 people attend. (In 2003, the Baltic song and dance celebrations of Estonia, Latvia, and Lithuania were included in UNESCO's Intangible Cultural Heritage of Humanity.)
But for Estonians, singing is not just about getting together and preserving the culture. It has saved them several times in history: from the German conquerors in the 13th century, from the Russian tzar Peter the Great in the 18th century, and in recent history, from the Soviet Union, which for 50 years had occupied the country, until Estonia's independence in 1991.
"If you take a book with the history of Estonia and take the song and dance celebration part out of it, there will be only covers left," Weidebaum said.
"It has had such a huge importance for this country, for being Estonian. It helped us survive during the Soviet occupation, kept our culture and language," he said.
After the fall of communism, Estonia experienced a cultural gap.  People focused on trying to survive and trying to understand what a free life could be, so there was little time for cultural events. Some people even thought, "Why do we need song musical festivals? We have our independence now. The song festival was a weapon for independence," Weidebaum explained. In those days the song festival grounds were empty. Even though the festival continued, in many people's minds it was connected only to politics and to fighting for freedom.
But then in 2007 the Estonian government decided to remove the monument, the Bronze Soldier (also called Alyosha), from central Tallinn. Erected in 1947, it was originally called "Monument to the Liberators of Tallinn," but later its name was changed to "Monument to the Fallen in the Second World War." The act of removing the monument reminded Estonians that they needed the song celebration because living in peace and independence is not a given.
"The song movement became important for people again, this time not as a tool against someone, but to protect our values and keep our culture and tradition. People started to come together and feel this patriotic feeling again," Weidebaum said.  
Almost all Estonians (96 percent) regard the celebration as important, and almost half of them have participated on stage at least once, according to a 2013 survey conducted by Marju Lauristin, a professor of Social Communication at the University of Tartu at that time and currently a member of the European Parliament.
That same year, in 2013, American filmmakers James and Maureen Tusty documented the celebration. Both the film and the celebration theme that year were titled "Breathe as One." 
Song and Dance Celebrations
Preparing each song and dance celebration takes about three years, because every celebration's program is brand new. First composers compete around a particular theme. Once they are chosen, they then start to provide new music, dances, and texts. Then the Song and Dance Celebration Foundation provides song- and dance-books to choirs and dance clubs. It takes about a year for the choirs and dancers to learn the repertoire.
Then, a year before the celebration, regional rehearsals begin; the main conductors and dance leaders drive around Estonia to teach the repertoire. Two months before the celebration, all choirs and dancers undergo auditions, and the artistic directors select participants. Usually, most choirs who sing the pieces correctly are admitted. For dancers, it is a tougher competition because the dance ground has limited space.
Sten Weidebaum notes that this year, between June 30 and July 2, the Youth Celebration will be held. It's motto "Here I'll stay" aims encourage youth to take over and preserve the traditions of Estonia.
"As a young person, you should go out and see what is happening around the world. But when you come back, you should understand your [own] culture, tradition and songs— that makes you who you are," Weidebaum said.
For the upcoming celebration, decisions have already been made: about 800 choirs, comprised of 25,000–28,000 singers and 8,500 dancers will participate on stage.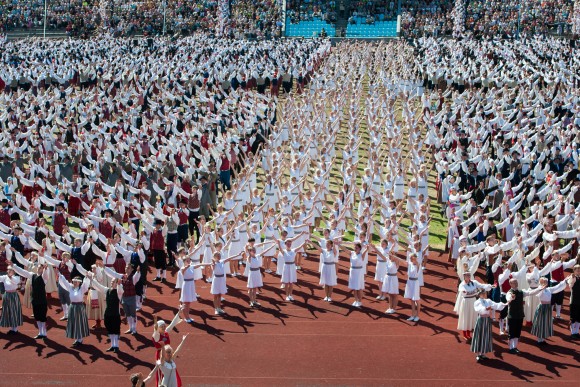 The celebrations usually begin with dance shows, this year on Friday, June 30 and Saturday, July 1.
"Dance groups will be 'telling' stories centering on a legend about dusk and dawn, illustrating how the younger generation will take over the daytime and take care of the sunshine; it is about the values and traditions," Weidebaum said.
On Saturday, there will also be a folk musicians' concert. Then on Sunday, July 2, after an over three-mile parade from the city center to the song festival grounds, a six-hour-long concert, with all choirs on stage, will commence.
"What is unique is that this year 40,000 children born in free Estonia will come together. This is the first time in history," Weidebaum said.
Weidebaum cordially invites everyone from around the world to join the song and dance celebrations in Tallinn, Estonia, on June 30 through July 2.
"You will see the best of Estonia during these days."
Kremena Krumova is a Sweden-based Foreign Correspondent for The Epoch Times. She writes about African, Asian, and European politics, as well as humanitarian, anti-terrorism and human rights issues.