Esteemed Shen Yun Launches Fifth Season in Ottawa
September 9, 2010 8:46 pm Last Updated: September 11, 2010 10:10 pm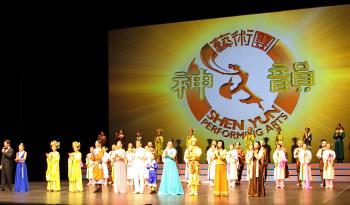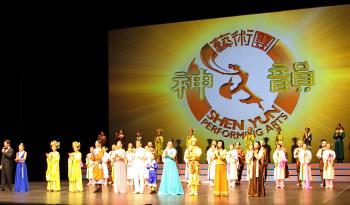 OTTAWA—Following continuous sold-out successes in Ottawa since 2007, world-renowned Shen Yun Performing Arts celebrated the launch of its fifth season in the nation's capital on Tuesday.
As part of the New York-based dance company's annual global tour, there will be four shows at the National Arts Centre over the December holiday season, said Dr. Jean Zhi, speaking on behalf of the Ottawa local presenters.
The high demand for the premier classical Chinese dance and music production is clear, Ms. Zhi noted.
"We had sold-out shows every year for the past four years in Ottawa. This year we'll be bringing back this excellent show with another all-new program that will charm the audience."
For last season's three-show run in January 2010, by Christmas Eve 99 percent of the tickets were sold to see the non-profit cultural arts extravaganza in Southam Hall, the NAC's largest performance space with a capacity of 2,323 seats.
One day before the opening, after all three shows sold out but the box office continued to receive requests from the public, the NAC made a rare exception to begin selling "standing room" tickets at the back of the theatre that are normally not offered for sale until 30 minutes before showtime.
"Shen Yun presents 5,000 years of traditional Chinese culture and history through beautiful dance and music and an uplifting spirit," Ms. Zhi said. "It is a precious ancestry that emphasizes virtue and kindness, but it has been lost in China today."
Ms. Zhi noted that Shen Yun has grown to three full performing arts companies, each featuring over 100 artists, including winners of international competitions, along with a live orchestra that combines Western and Chinese classical instruments.
At the same time, the production showcases high-tech digitally animated backdrops that coordinate with the costumes, lighting, and even the storyline, choreography, and original musical score of every dance, she said.
Audience feedback has commended the high calibre of the show year after year.

Senator Elizabeth Hubley, a veteran dancer and dance instructor who continues to serve as artistic director and principal choreographer of Stepping Out, her own dance studio in Prince Edward Island, spoke at the VIP reception for the January shows in Ottawa.
"The show was absolutely stunning," she said in an interview at the reception. "It was just astonishing in its exuberance and its colour, in the choreography, in the music. It was enjoyable from the beginning to the end."
She added that the show has a "very special spiritual aspect" to it that she found moving. "Moved to tears, absolutely … The show far exceeded my expectations."
Vanessa Harwood, former principal dancer of the National Ballet of Canada and an Officer of the Order of Canada, has seen the show four times in Toronto.
"[The performers] are so elegant and beautifully rehearsed. It has passion, but yet it's calm and beautiful. It's not just pretty, it's serious pretty—there's a lot of depth to it, and a lot of meaning," she said.
The Shen Yun performers have "transcended the technique … they're performing through their spirit," said Olympic figure skating medalist Elvis Stojko. "It's a breath of fresh air. I felt a sense of happiness and a sense of peace," he added.
"The most extraordinary cultural show I've ever seen and experienced," said award-winning writer, poet, and professor Cyril Dabydeen, who teaches at the University of Ottawa. "The nation's capital is not an ordinary city anymore, but a top-class, world-class city."
Launched in 2006, Shen Yun has graced many of the world's great stages, including London's Royal Festival Hall; Palais des Congrès de Paris; Kennedy Center Opera House in Washington, D.C.; and New York's Radio City Music Hall.
In addition to Ottawa, Shen Yun will visit several other cities in eastern Canada this winter, including Montreal, Hamilton, Kitchener-Waterloo, and Toronto.
In February 2007 when Shen Yun, then known as the Chinese New Year Spectacular, came to Ottawa for the first time, tickets for the single show sold out five weeks in advance.
"Many Ottawa audience members have made it a holiday tradition to see Shen Yun with their family and friends," Ms. Zhi said.
Shen Yun will play four shows at the National Arts Centre in Ottawa: 7:30 p.m. on Thursday, Dec. 23; 2 p.m. on Friday, Dec. 24; and 2 p.m. and 7:30 p.m. on Sunday, Dec. 26.
For more information, please visit ShenYunPerformingArts.org.