Mitzi Perdue represents over 280 years of the American Dream. She's the daughter of one business titan—her father, Ernest Henderson Sr., founded the Sheraton hotel chain—and the widow of another—her late husband was the magnate behind Perdue Farms, Frank Perdue. The Henderson Estate Company was started in 1840, while Perdue Farms was started in 1920. Mitzi is also a powerhouse businesswoman in her own right, starting her own wine grape business, Ceres Farms, that supplies some of California's largest wineries.
She was surrounded by the world's most successful entrepreneurs for most of her life, yet she is as unpretentious as she is charming. Mitzi credits her humble aura solely to her parents, who were instrumental in the shaping of her character. Reflecting on her childhood, Mitzi fondly recalled her parents' desire to establish a household that valued character over commodities. Frugality was—and still remains—an undeniable value of the Henderson clan. "My parents put a lot of effort into having their children not be spoiled," she said. "They didn't want us to grow up in a bubble of wealth. I value that endlessly."
At the start of World War II, the Hendersons made the decision to relocate the family from Boston, Massachusetts, to an idyllic farm 30 miles away in Lincoln. This decision came as a result of their desire to immerse their children in a lifestyle that valued hard work, self-respect, and togetherness. It deviated from the society living that the family was used to, but Lincoln became the setting where many of Mitzi's most cherished childhood memories would be made.
Farm life, albeit simple, certainly wasn't easy. When not in school, Mitzi and her four siblings were responsible for daily chores like mucking (removing manure); feeding the cows, pigs, and ducks; and cleaning the home.
In an effort to provide their children with a well-rounded upbringing, the Hendersons enrolled them in both public and private schools. As a result, Mitzi developed friendships with debutantes and daughters of dairy farmers alike. Having a foot in both camps was, as Mitzi described it, "the most beneficial upbringing."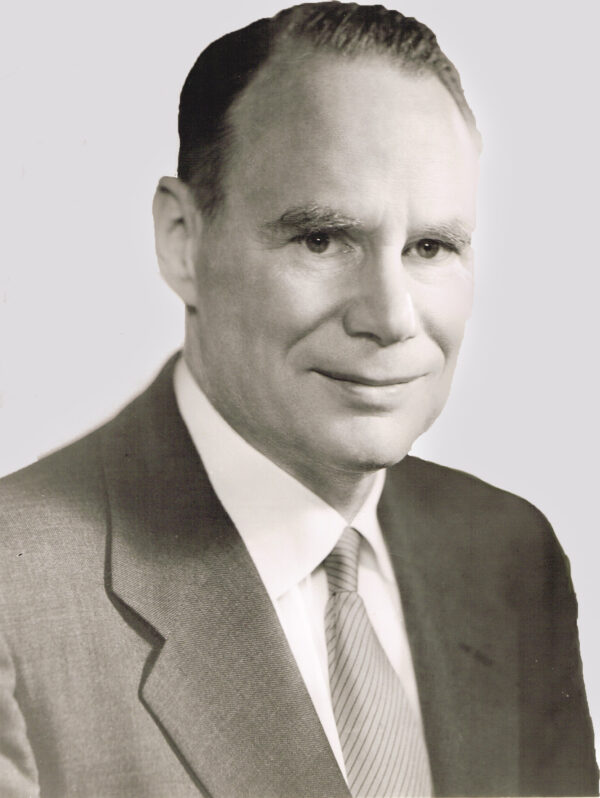 Until she reached her teens, Mitzi was clothed in hand-me-downs from her siblings. "The idea of getting my identity from buying designer clothes—not going to happen," she said proudly. Instead, the Hendersons stressed the importance of forming one's identity through service. "The best life isn't lots and lots of money; it's lots and lots of values."
There is no doubt that the most important influence on Mitzi's life was her father. Besides instilling extraordinary values in his children, Ernest was a business pioneer with incredible foresight; at the time of his passing, he owned 400 hotels. Despite the family's incredible wealth, Mitzi recalled: "If I ever wanted anything, my father's answer was always the same: 'Earn it.'"
In the 1930s, the real estate business was an absolute catastrophe; hotels were filing for bankruptcy daily. In an effort to transform them into successful organizations, Ernest purchased many of the failing properties. Upon acquiring the assets, his first task would be to gather the entire staff—who most likely feared losing their jobs to new hires—into the hotel's ballroom. "The first words out of my father's mouth would always be, 'Every one of you gets to keep your job. I believe in you,'" Mitzi recalled. As a further testament to Ernest's devotion to his employees, the first areas of the hotel under renovation would always be the employee dining hall, lockers, and other areas that the public would never see. "My father always felt that a leader's job was to give people a better vision of themselves."
Mitzi remembered a moment she shared with her father that, as she described, "deepened [her] soul." It was a Saturday afternoon, and she was no more than 10 years old. Mitzi wandered into her father's home office to see him fully immersed in ledgers, books, and paperwork. On such a beautiful morning, her father should have been enjoying a day on the golf course like his friends. When Mitzi asked what he was up to, her father revealed that he was reviewing requests for charitable donations. "He said the most pleasure his money ever gave him was in giving it away."
In addition to a devotion to charitable giving, the Hendersons also have a deep respect for legacy. As a result, they, as Mitzi put it, "never air their dirty linen in public." Though the Henderson family has been around since the 1800s, it is nearly impossible to locate a story, or even a rumor, of a public family spat. When asked how this is possible for a family of such stature, Mitzi answered, "One of the things that our parents instilled in us was that jealousy didn't play a part in how we interacted with each other. Our job was, if someone did well, to rejoice for them, not to be jealous for them. When one was doing well, it enriched all of us."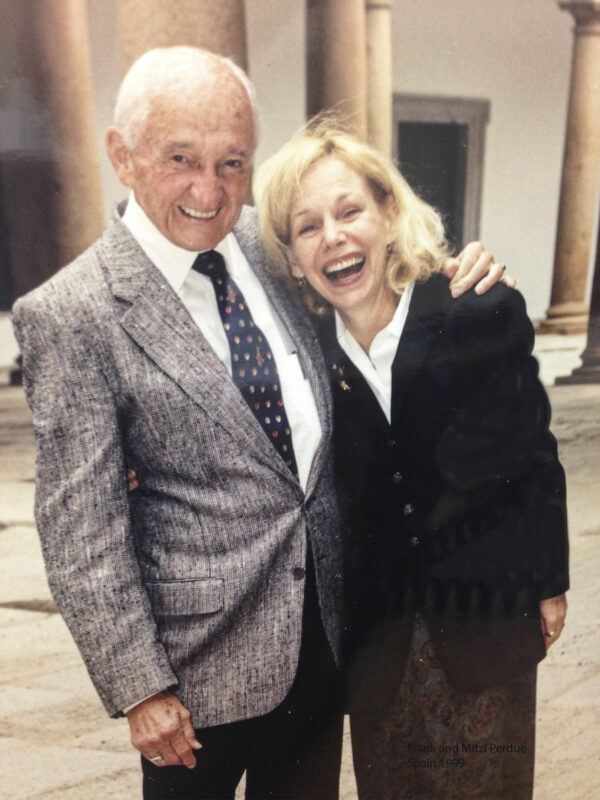 In 1988, at a Washington, D.C., party, Mitzi's life forever changed. Frank Perdue arrived late and Mitzi arrived early; their schedules overlapped by only 10 minutes. Those 10 minutes soon became the start of an iconic love story that spanned over two decades. At the time, Mitzi lived in California and Frank was based in Maryland. The pair was immediately drawn together; the connection was instant. They found similarities in the trust issues that stemmed from each of their past relationship woes. In the middle of their conversation, Frank's demeanor changed. He studied Mitzi's face and paused. Frank said he believed he could trust her. "And I looked up at him," Mitzi remembered, "and said, 'I believe I could trust you.'" They spent the remaining four minutes of their conversation discussing what their marriage might be like. Their decades-long marriage grew into the most loving relationship Mitzi had ever experienced.
Today, Mitzi's focus is to carry on the legacy of both the Henderson and Perdue families. She has written a handful of books based entirely on the lessons she learned from her father, husband, and friends. Once a woman with a debilitating fear of public speaking, Mitzi has grown into a powerhouse presenter, and she has been commissioned to speak across the globe.
If you ever have the pleasure of crossing paths with Mitzi at the airport, don't expect all of the pomp and circumstance that comes along with being an heiress. "When flying internationally, you'll find me in coach [class]," Mitzi said. "I'd much rather donate the thousands of dollars for a first class upgrade to charity."
This article was originally published in American Essence magazine.