Seniors' Club Brings 47 Members to Shen Yun
April 17, 2009 5:16 am Last Updated: October 1, 2015 9:53 pm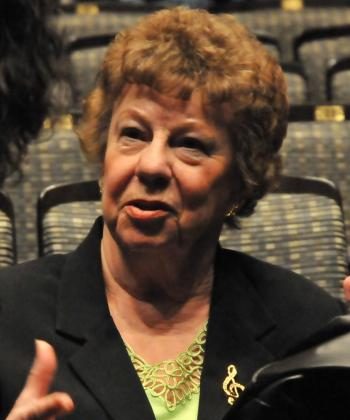 EDMONTON, Alberta—Ms. Martin brought 46 friends to Shen Yun Performing Arts' matinee show on Thursday, April 16, at Edmonton's Northern Alberta Jubilee Auditorium.
This is the second year in a row that she has brought a big group of friends to see the premier classical Chinese dance and music production.
"It's excellent, very nice, very good," she said.
The retiree used to work in the human resources department at Canada Post and now organizes events for seniors. Her group, Club 55, is open to everyone 55 years of age or older and is run by volunteer members. The oldest members are in their 90s.
To keep the mind alert and the body active, "We do all kinds of events for seniors," said Ms. Martin.
She included Shen Yun on her list as a cultural activity that would prove not only entertaining but also educational.
"I think it's very good culturally for my people, because they're all from different backgrounds. This way it gives them a little bit of the insight of the Chinese background, what Chinese do, their type of dance. I think that's very good for my people."
New York-based Shen Yun focuses on the authentic cultural heritage of traditional China, bringing to life ancient myths and legends and stories from modern times. Integral to the performance numbers are the themes of virtue, courage, compassion, and faith that lie at the heart of classical Chinese culture.

Ms. Martin particularly enjoyed the drum performances.
"The drums are very exciting, very different, and very nice. It shows Chinese culture—very knowledgeable and educational," she said. And the dances were "very good, very elegant."
One of the members of Ms. Martin's group was Mr. Pengelly, a retired mechanic who used to work as a foreman/supervisor for General Motors. Mr. Pengelly enjoyed every part of the show. "Everything is good," he said.
After its three-show run in Edmonton, Shen Yun continues on to Regina where it will stage the final show in the Canadian leg of its 2009 World Tour.
The Epoch Times is a proud sponsor of the Shen Yun Performing Arts 2009 World Tour. For more information please visit ShenYunPerformingArts.org