MONTEGO BAY, Jamaica—The Blue Mountains protect the island, locals told us. The towering peaks block strong winds and turn away hurricanes.
I landed in Jamaica as Hurricane Irma was headed toward the Caribbean in early September. News of the impending destruction swirled around me, but here, all was calm. The skies were clear and the air thick with warmth. From the first moment, Jamaica seemed exceptional.
Undoubtedly, its physical beauty is as extraordinary as you'd expect: tropical lushness teeming with life by the turquoise sea. Many natural attractions dot the island; geckos scurry about, and goats can be seen casually roaming the streets and highways.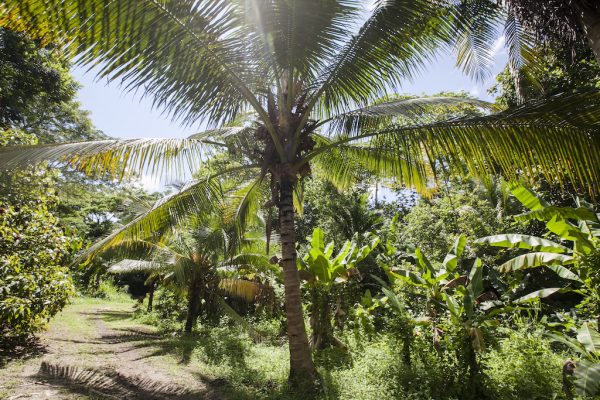 But it is the people of Jamaica that make the island stand out. Whether at the tourist spots or the food market where they shop for their groceries, the locals you meet will win you over with their affectionate charm. A greeting of "blessed" or a witty joke is often the icebreaker, and it's hard not to be infected by their sunny attitude, too.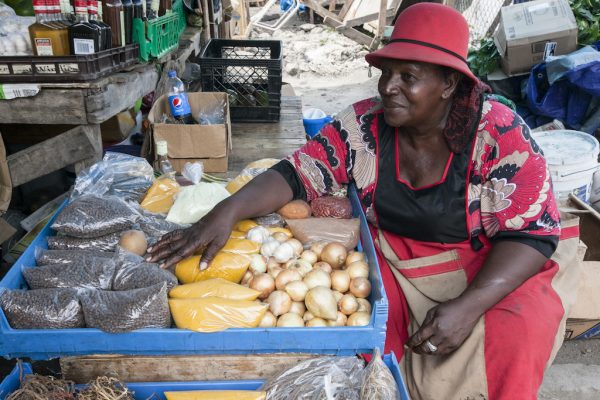 There is resilience and strength in the way Jamaicans go about their day with a carefree spirit, no matter what besets them. Their philosophy is perhaps illustrated by an incident that happened while I was dining with fellow travelers at a hotel restaurant. The waiter accidentally dropped our wine bottle on the floor, prompting us to relocate. The waiter apologized profusely, but our driver, a local, said, "There's no problem. Just a situation."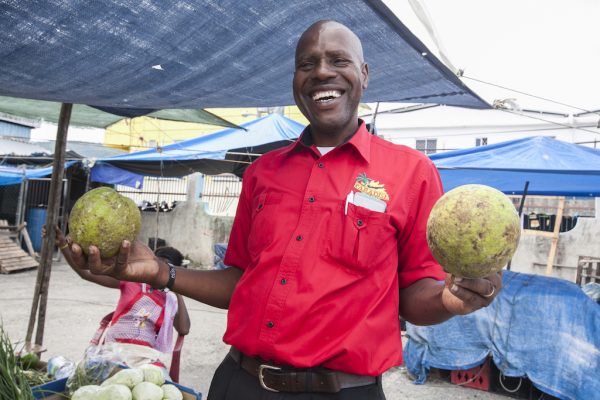 It's a frame of mind we can all benefit from. More than the appeal of the scenery, this will stay with you long after you return home.
Attractions
Adventure Parks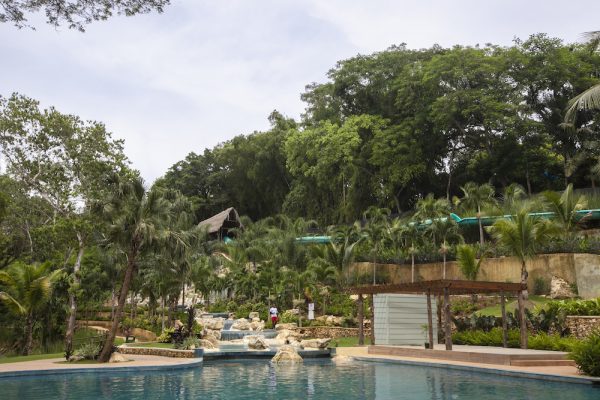 Chukka is a Caribbean tour operator that converts unused land into adventure parks. At the Good Hope estate, a former sugar plantation has become an expansive landscape for thrilling outdoor activities. Lush jungle greenery—towering bamboo stalks, coconut trees, and dangling vines—swishes by as you zipline through the canopies. River tubing on the Martha Brae provides a soothing repose.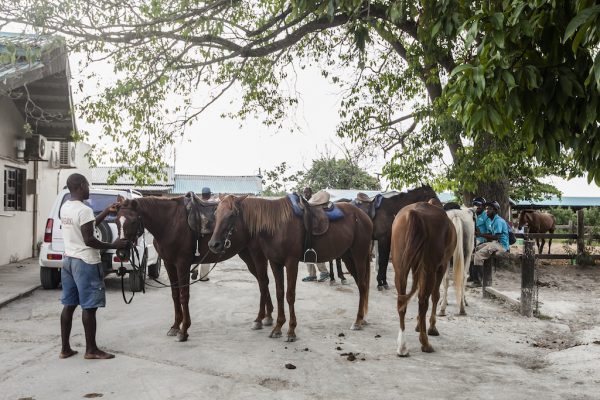 In Ocho Rios, Chukka's Horseback Ride 'N' Swim tour takes you along trails leading to Papillion Cove, where the ocean meets billowing clouds sitting low on the horizon. There, you hold on tight as your horse enters the water and goes for a swim.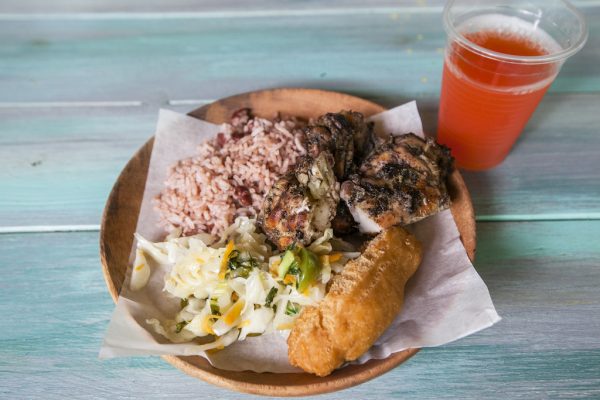 Good Hope Estate Ultimate Thrill Seekers Pass: $149; Horseback Ride 'N' Swim: $79.
Glistening Waters (Luminous Lagoon)
At this lagoon, the convergence of the Martha Brae River and the Caribbean Sea creates the perfect environment for bioluminescent microorganisms, which glow in the dark when the water is disturbed. A boat regularly goes out on tours, with an option for you to swim and see the radiant waters shimmer around you. Only a blanket of stars and the moonlight the darkness here, making the effect spectacular.
Scotchies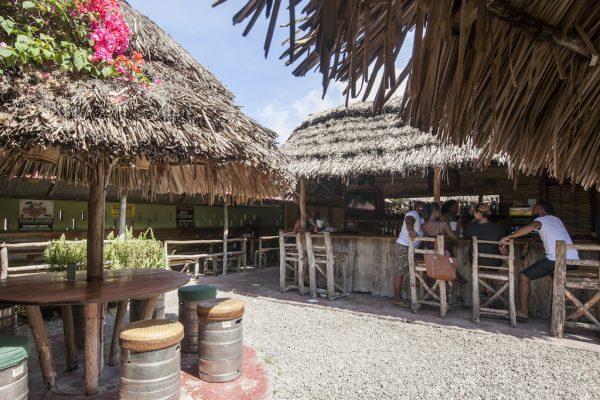 For a down-home spot to sample all things jerk, head to Scotchies in Montego Bay. Smoke fills the air at this open-air shack, along with the aromas of pork, chicken, sausages, and ribs cooking over pimento wood. The hint of heat in the seasoning in dishes like the roast silver snapper filet, cooked escovitch style with a piquant sauce, keeps you yearning for more.
Scotchies.RestaurantSnapshot.com
Where to Stay
Hotel Riu Palace Jamaica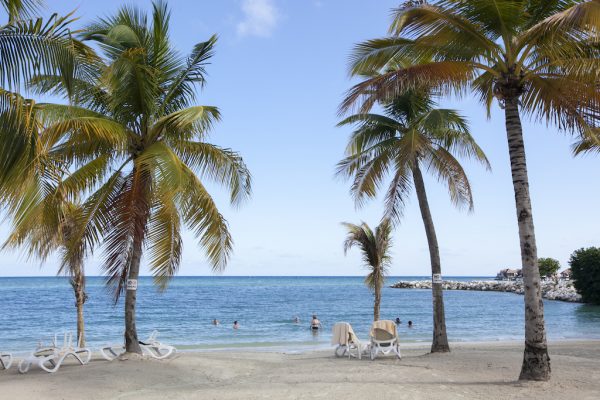 Located within minutes of the Montego Bay airport, this adults-only, all-inclusive resort by the Spanish chain Riu Hotels is the postcard-perfect Caribbean getaway you always imagined. There are hammocks, lounge chairs, and daybeds aplenty facing the tranquil, turquoise-blue waters. You can relax not just on the private beach, but in multiple pools equipped with swim-up bars.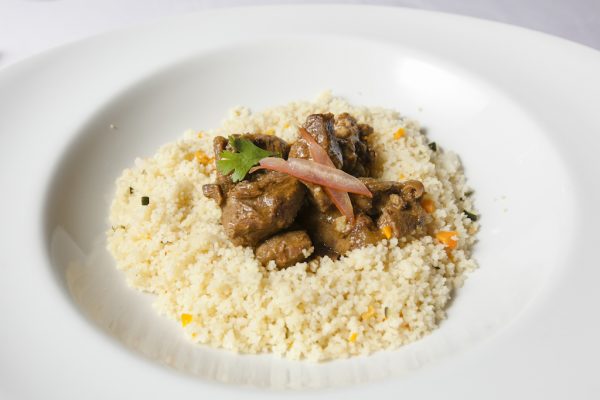 The resort has several restaurants on site, including a fusion spot offering modern twists with Jamaican ingredients, such as lamb with couscous in a warming yellow curry. The friendly staff here will readily tend to your needs—and serenade you—as you're fetching your breakfast omelet or enjoying your dinner.
Starts at $192 per person per night, double room occupancy.
Moon Palace Jamaica
This sprawling, luxurious, all-inclusive resort in Ocho Rios has more than enough to keep you entertained. Local musicians fill the air with upbeat music every morning in the lobby and every night on the outdoor stage. There are also a nightclub and a piano bar on the premises. If you want some exercise, the property includes a water sports area complete with a FlowRider surfing simulator.
There are many dining options to choose from, among them a sushi bar, an Italian fine dining establishment offering familiar Western fare prepared with care, and a buffet highlighting Jamaica's amazing tropical fruits and local dishes, with an irresistible array of seafood, vegetables, and meat in moreish stews and gravies. A 24-hour boulangerie can cater to all your sweet-toothed needs, with chocolates, pastries, crepes, and ice cream.
After a long day of exploring, a spa treatment is the ultimate way to relieve those aching muscles. Moon Palace has a spacious hydrotherapy center with saunas and a cold plunging pool. Treatments utilize natural oils, like rosemary, lavender, and verbena.
Starts at $434 per room per night, double occupancy.
This trip was arranged by the Jamaica Tourist Board. For more information, see VisitJamaica.com