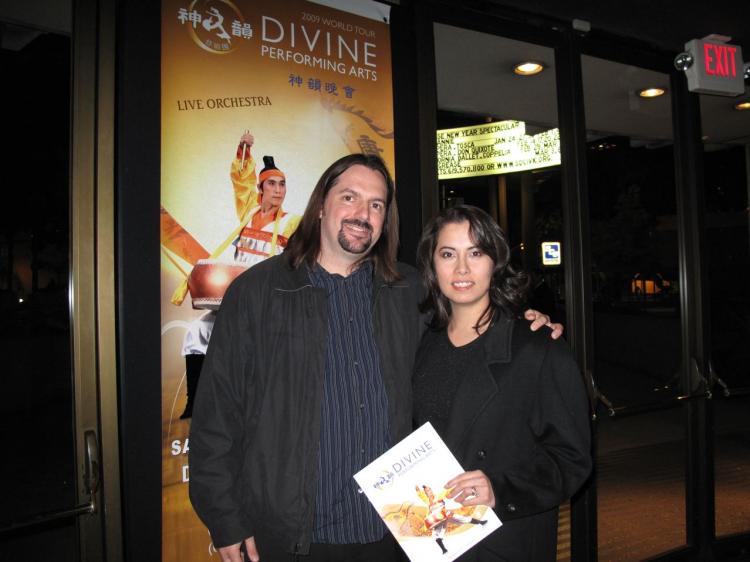 SAN DIEGO—Mr. Rasmussen, publisher of No Cover music magazine, attended the Divine Performing Arts (DPA) show at the San Diego Civic Theater on the evening of 26 Dec. His magazine gave the first cover story to Linkin Park, Ziggy Marley, Big Bad Voodo Daddy, Ben Harper and more.
"I thought the show was amazing, thought it was intense, I loved the colors. The performance was right on," he said.
"I've been to many many great performances … So I know talent, I see talent, and this is by far the creme de la creme.
"I would say that this is one of the top shows. I would definitely recommend it to all my friends."
Mr. Rasmussen spoke of music as a language, " Music is obviously a big one, and that translates across any language, yes it is universal.
"The Chinese culture, it is the first time I have come out to experience it myself. I am glad I did. Definitely."
Mr. Rasmussen's fiance, Ms. Garcia, enjoyed the precision of the DPA, saying, "Very interesting, very precise, that's what I liked about it. The precision, the dancing, the coordination, wonderful."

"It has a different feeling to it. How would you describe it?" asked Ms. Garcia.
Mr. Rasmussen said: "Very peaceful, very relaxed. Chinese music is more medicine. I feel it. I feel like I've experienced it, I feel a little more relaxed."
Ms. Garcia said her favorite performance was the "flowers in the spring. The flowers were beautiful, so nice."
Mr. Rasmussen said: "The tenor, the guy was amazing."
San Diego will be host to three more shows over the weekend.

Please see DivinePerformingArts.org for more information.