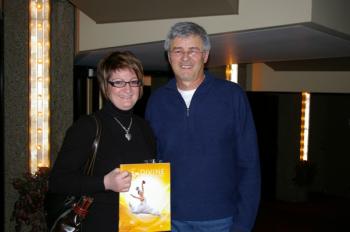 OTTAWA—"Fantastic." That was the first comment by Mr. Piché after taking in the Canadian premiere of the Divine Performing Arts 2009 World Tour in Ottawa Friday night.
The retired director-general of a hospital in nearby Gatineau lauded the "softness" and "delicate" nature of the dance movements. "You feel the compassion in the gestures, in the movements," he said.
Mr. Piché came away with messages beyond the dance gestures, too.
"I'm particularly impressed with the honesty of this show. We see the real spirit of the Chinese . . . The artists are not worried about what the government of China thinks of them. They are representing the true feelings of some people in China, and that's nice."
Mr. Piché singled out one performance, Persecuted on a Sacred Path, in which a Falun Dafa practitioner is persecuted by police of the communist regime in China. Fantastic scenes unfold conveying the Chinese belief that good people are ultimately rewarded, even if not in this lifetime.
"Why did I like that?" Mr. Piché said. "Perhaps because I believe that there's a better world after this one. It brings you lots of hope, and it inspires me a lot to see the representation of that."
Mr. Piché added that the show gave a broad view of Chinese culture, touching on Buddhist, Tibetan, and other traditions.
"It's not just focused on one particular aspect of the culture," he said. "I mean the culture is lots of things in China of course and we could feel that; there're many aspects that we can feel in the show."
Mr. Piché also commenting on the costumes, all designed exclusively for this show, highlighting the outstanding colours.
"Again we find softness is all that," he said, striving to find an adequate word in English. "In French, its 'douceur' [a word that conveys both smoothness and grace]," he said.
Divine Performing Arts will play for two more days in Ottawa before moving on to Waterloo and Toronto.
The Epoch Times is a proud sponsor of the Divine Performing Arts.
For more information, please see DivinePerformingArts.org