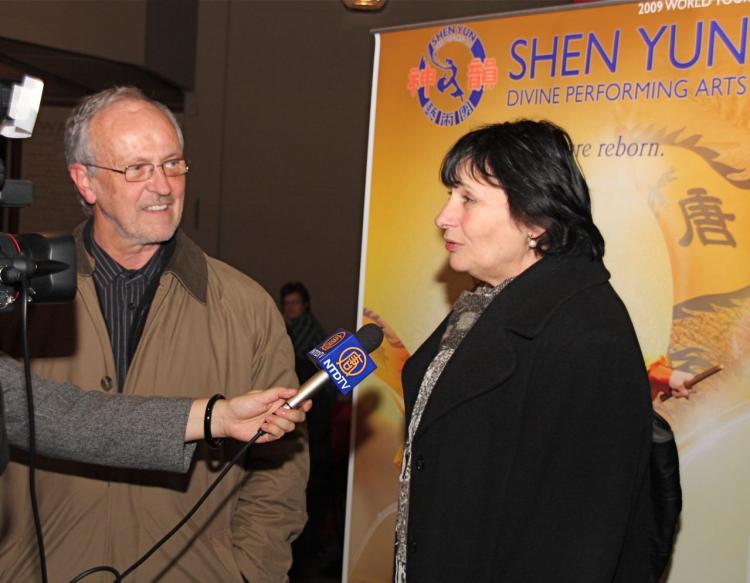 ANTWERPEN,Belgium—The Divine Performing Arts (DPA) 2009 World Tour, featuring world class performers, presented the second of four shows at the Antwerpen's famed venue, Stadsschouwburg, on Feb. 24.
In the audience were Mr. Meersschaut, a former industrial designer, and retired teacher, Ms. van Hoofsadt, who thoroughly enjoyed the performance.
Mr. Meersschaut said, "I really appreciated the refinement of the execution, the refinement of the hands and the feet, especially the feet, I really like the girls walking out that way."
Classical Chinese dance is a unique cultural art form millennia old. An integral part of DPA performance is its story-based dance that explores a range of themes from grand processions to ethic and folk dance—of ancient legends of heroism to modern tales of courage.
Ms. van Hoofsadt thought the stories were "really beautiful … all the Chinese stories. I have a daughter who went to China, and she was always telling the stories. And now we have seen them all. That was magic." Her daughter, a French teacher, was in Changchun in northern China.
"That was really beautiful, I liked it. That was a dream … one could understand the stories that were displayed, and the music and dance were telling the story."

The couple enjoyed the finale Knowing the True Picture Offers Ultimate Hope, where cosmic and earthly merge in a powerful vision of renewal.
"When one gets a bit older, one starts to think," Ms. van Hoofsadt said, and her husband interjected, "A bit older? She is young. I am a bit older than my wife, and I think that sooner or later we will have to leave everything. With age one learns to be wise, so this is a synonym."
His wife said, "I really like the delicate feet movements, and all the dancers, they have such a joy on their faces. One could say it was their pleasure to dance for us."
Mr. Meersschaut added, "I also liked the colors and the flowers, the colors that were so contrasting, and it gives a magnificent view."
Ms. van Hoofsadt bid DPA a successful journey ahead.
NTDTV contributed to this report.
The Epoch Times is a proud sponsor of the Divine Performing Arts. Please see DivinePerformingArts.org for more information.