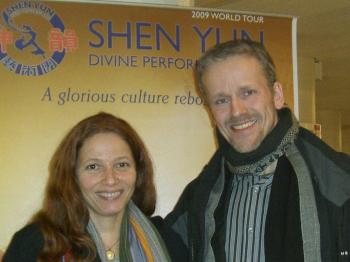 AARHUS, Denmark—Shen Yun Performing Arts inspired the audience, at Aarhus Musikhus in Denmark for the second night. Throughout the performance the audience were warm and applauded spontaneously and gave standing ovations when seeing the classical Chinese performance.
Aarhus is situated by the east coast of Jutland. The city has an atmosphere of Scandinavia, with European style and is well known for being a pleasant place for holidaymakers and where musical events are thriving.
Ms. Lottie Joyce, a psychologist, and Mr. Staffen Zacher, an engineering and multimedia graphic artist from Arhus, says that Aarhus is called for "The city of smiles" where people are known to be very friendly.
Mr. Zacher and Ms. Joyce are very interested in Chinese traditional culture and appreciated the Shen Yun's performance very much.
"I think it was fantastic, the choreography was just wonderful, and all the dances and movements were fantastic, I was very impressed by the dances. The very timing was also perfect and so elegant at the same time," said Ms. Joyce.
Mr. Zacher says he is interested in the spiritual way.that they had in the past in China.
"I like Taichi, qigong, and martial arts, which I practiced when I was young.
"I think it was amazing and a very colorful performance—the images [backdrops] they were showing were very beautiful, you could see how the flowers were blossoming—it was very well performed and very beautiful," said Mr. Zacher.
Shen Yun is showing 5,000 years of Chinese culture siince the time of the Yellow Emperors. Mr. Zacher thinks it is sad that the traditional culture is not present in China today.

"It is good to connect Chinese daily life with the [traditional] culture, I also think this is not what you can see in China today. What they [Shen Yun] is performing is outside of China, and that is very sad," says Mr. Zacher.
"If they were using the way of living in China that they [Shen Yun] is showing in the performance, they would be much more balanced," said Mr. Zacher.

"I think this show tonight exhibits some of the very old traditions in the culture from China. … I think the way everything is connected, so to say through the collective mind, I think this part is still living in China in people's minds. But it is hidden … [and] not allowed to be expressed. This is my impression", says Ms. Joyce.
Mr. Zacher valued having the chance to see the Shen Yun Performing Arts show here in Denmark.
"When you look at this show, you see so many beautiful things coming from the [traditional] Chinese culture that has been hidden and repressed so much for the last 60 to 70 years. It is so wonderful to be able see it here [outside China]. … You can not see these performances in China," said Mr. Zacher.
The Epoch Times is a proud sponsor of the Shen Yun Performing Arts 2009 World Tour. For more information please visit shenyunperformingarts.org