Northern Door County's charming White Gull Inn is on Main Street in Fish Creek, Wisconsin, but not on the main drag—a key distinction. Rather, it's tucked away on a quiet road in an idyllic location bordered by parks that provide a restful space to view the inviting waters of Green Bay.
So when a guest and I shared a recent weekend at the hotel, which dates to the late 1800s, we were well away from the traffic that flows through town on Highway 42, which also doubles as Main Street. That meant we could sit on our veranda, sip coffee that was delivered to our door, and enjoy birdsong, butterflies, and children's laughter instead of vehicle noise.
Much more attracts visitors to the White Gull Inn, which dates to 1896, such as its location beside the Episcopal Church of Atonement's lovely grounds and nearby Sunset Park.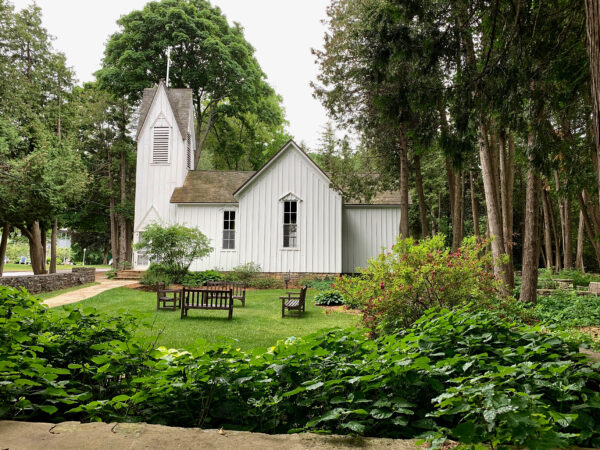 The inn consists of several buildings for a total of 17 rooms. The main structure, a hotel built by German doctor Hermann Welker, was originally named after his wife, Henriette. He also owned a casino down the street, now a hostelry known as the Whistling Swan. The inn, crowned with a broad second-story balcony, has a cozy feel and beautifully landscaped surroundings that give guests a feeling that they've stepped back into a slower time.
It's been updated in an understated way, though, so bathrooms are now en suite, no longer requiring a trek down the hall in the main building. Many rooms have gas fireplaces. And the four-suite Welker building—which was erected 20 years ago but looks like it could also be from 1896—even has two-person jet tubs for those seeking a bit of warm luxury.
The food here is excellent. The inn gained fame in 2010, when "Good Morning America" named its Cherry Stuffed French Toast the best breakfast in the country for that year. The inn's fish boils are also popular, as are the candlelight dinners offered several nights a week.
I had the inn's signature and delicious cherry-topped French toast with Door County maple syrup both mornings, and the evening meal of baked salmon graced with string beans ended with a delightful finish of ice-cream-topped fruit crumble.
"That 'Best Breakfast Challenge' award really put us on the map nationally," said Meredith Coulson-Kanter, whose parents owned the inn from 1981 until 2018, when she and her husband, Chris, bought the property.
Meredith and her two sisters grew up at the inn, helping their folks with various tasks.
"I worked as a busser, my mom's retail assistant, and a prep cook," Meredith said. But that fell off when she went to college and veterinary school because her summer jobs needed to be related to her chosen career.
She toiled for seven years as an emergency room veterinarian, often working night shifts at a clinic in Madison, Wisconsin. But the inn drew her back six years ago after a year's sabbatical at the University of Wisconsin, during which she received a master's degree in sustainable agriculture and food systems.
"Even though I became a vet, I always envisioned myself being here eventually," she said. "However, I wasn't quite sure how that would work out after going to school for 12 years for something else and having all my student loans."
When her parents began talking about selling the inn, Meredith and her siblings were alarmed.
"We didn't want that to happen, but we couldn't just drop what we were doing," she said. "As it turned out, my folks lost their longtime kitchen manager around the same time. I filled in, and after six months, it became clear that this was where I wanted to be long term."
Her husband, who was working on his doctorate thesis in dairy economics at the University of Wisconsin–Madison when they moved north, signed on, too. In 2018, they bought the inn.
When we visited Fish Creek, the inn was relatively busy, with travelers beginning to come out of their pandemic shells. All of the staff at the hotel and restaurant wore face masks, and tables in the restaurant were at least six feet apart.
One evening, we ventured north a few miles to Sister Bay, where we boarded the Edith Becker, a 65-foot sailboat that's a replica of a late 1800s merchant schooner, for a sunset outing. With Capt. Andy Hallett at the helm, we sailed past forested hillsides and rocky shores. He told us that Herb and Doris Smith, authors of "Sailing Three Oceans," built the ship in the early 1980s and named it Appledore III.
In 1984, the couple and some paying crew members set off to circumnavigate the globe. They then sold the ship to Peder Nelson, a former Chicago school teacher and avid sailor who renamed it for his great grandmother, Edith Becker, who spent her entire life in Door County.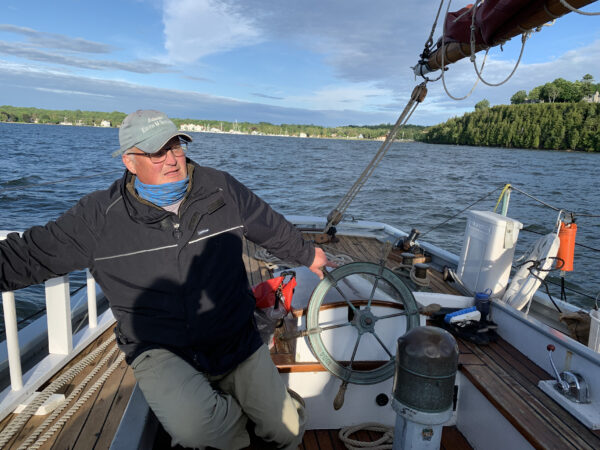 At sunset, we headed back to the marina, with the deckhands firing a small cannon to announce our return.
"It's fun to captain this boat," said Hallett, a science teacher at Gibraltar High School when he's not sailing. "She really does feel like a piece of history, even if she isn't 130 years old."
When You Go
White Gull Inn: WhiteGullInn.com
For more information on Fish Creek, Sister Bay, and Door County: DoorCounty.com.
Brian Clark is a freelance writer. To read features by other Creators Syndicate writers and cartoonists, visit the Creators Syndicate website at Creators.com. Copyright 2020 Creators.com