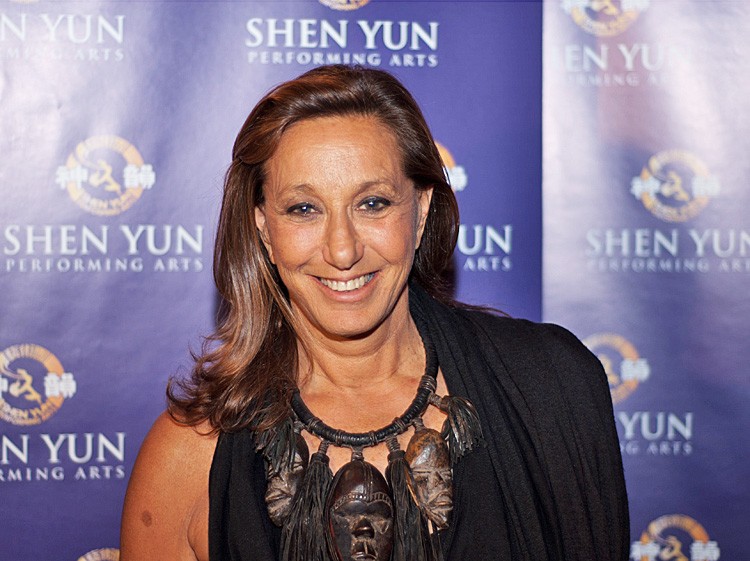 NEW YORK—Shen Yun Performing Arts brought a culture of wonder and grace to a packed theater at the David H. Koch Theater, Lincoln Center on June 23. The opening night performance in New York City received warm accolades, with standing ovations lasting through a curtain call.
Donna Karan, chief designer of DKNY and founder of the Urban Zen charity initiative, said "What I loved about the show was the authenticity of it. It was taking me on a journey to the many aspects of China."
Shen Yun brings together award-winning talents in Chinese classical dance and music, drawing their inspiration from China's 5,000 years of culture. The dance company has three performance companies, and the Shen Yun New York Company took to the stage for Thursday's performance.
Ms. Karan, who both sponsored and attended the VIP reception following the show, noted an auspicious harmony within the performance. "When I saw the dance and the beauty of the synergy and the movement, there was not a singular person," she said. "It moved in unison, which was so beautiful."
"The voices were extraordinary, absolutely extraordinary, and so were the dances, but what I loved the most was that—even in the costumes—[they] were all in one," she said.
Classical Chinese dance is a vast system with hundreds of movements, intricate poses, and a deeply expressive quality. The performers of Shen Yun bring the dance a step closer to its roots, holding the belief that in order to create true art, there must first be inner beauty, according to the company's website.
"I love the Asian aspect of the grounding, and seeing their energy was completely aligned was beautiful," Ms. Karan said.
Ms. Karan added that when she founded Urban Zen, for herself, it was to "find zen in humanity … I think tonight was an example of urban zen."
"It was like taking a journey to China, here in New York," she said.

Shen Yun Performing Arts New York Company will perform at Lincoln Center's David H. Koch Theater in New York City, June 23-26. For more information, visit ShenYunPerformingArts.org


Correction: The Epoch Times previously identified Donna Karan as the owner of DKNY; she is in fact the chief designer of the fashion house. The Epoch Times regrets the error.