Christian Stevenson, aka DJ BBQ, cooked his heart out and was mostly sold out at the Grillstock London weekend food and music festival on September 5th and 6th.

Grillstock was born out a deep love for American BBQ and the culture that surrounds it: taking big hunks of meat then smoking them "low 'n' slow" fresh and on site every day. Punters enjoyed the Grillstock festival, mixing tasty slow-cooked smokehouse food with live music featuring the likes of Fun Lovin' Criminals and Razorlight.

DJ BBQ , clad in American flag spandex, had growing queues outside his stall at the festival. He took time out to share his favourite Iowa Flank Steak recipe with me:
This is the best thing my father makes for me. He's from the west coast of Iowa, and this is his recipe so hence the name, Iowa Flank Steak

"This is the best thing my father makes for me. He's from the west coast of Iowa, and this is his recipe so hence the name, Iowa Flank Steak.
"I left home for the University of Maryland at the age of eighteen. I spent summers working at the Beach in Ocean City, Maryland. Then I got the travel bug and started bouncing around the planet. I reckon for about seven years, I never lived in the same place for more than six months. I was always going off somewhere but eventually I'd find my way back home. And, whenever I came back to my Dad's house in Gaithersburg, Maryland, he always had two or three flank steaks marinading in the fridge waiting for my arrival so he could get grilling.
"Grilled flank steak with a baked potato and a nice salad is the taste of home for me. It does not get any better than this and it's the easiest recipe out there 'cause you get to cheat a little. The key to the marinade: just get a cheap bottle of italian dressing.
"Now in America, the flank steaks are quite prevalent in the supermarkets but I've found them harder to come by in the UK, so I tend to hit up the local butcher for a flank cut. I've also tried it with skirt and it works just as good.
"This is a tough cut of meat, which is why marinading in the italian dressing is essential. The vinegar helps to tenderise the meat. The flavours in the italian dressing work so well with this cut, I promise you.
"Throw the cuts into a ziplock bag. Shake the bottle of italian dressing then pour it into the bag. Close the bag shut and then massage the meat and marinade. Work it in baby!
"Now, throw that bag of awesomeness into the fridge overnight. My dad will sometimes go for two nights on the marinade to up the flavour and tenderisation.
"Fire up the grill. I prefer to work over live fire – locally sustainable lump wood or charcoal – but this meat is easy to cook on a gas grill.
"You need a hot heat on this and I think the best way to cook this is medium. The way the flank steak works, the middle is a bit thicker than the ends, so if you have people that like rare and others that like medium to well done then you can almost cater for the lot if you nail this right. My Step-mom likes rare, I like medium rare, and my father likes well done. So we grill the steak for about 7–10 minutes each side and we always come up trumps.
"Let it rest then slice her up. Go against the grain at a slight angle and I prefer to slice fairly thin."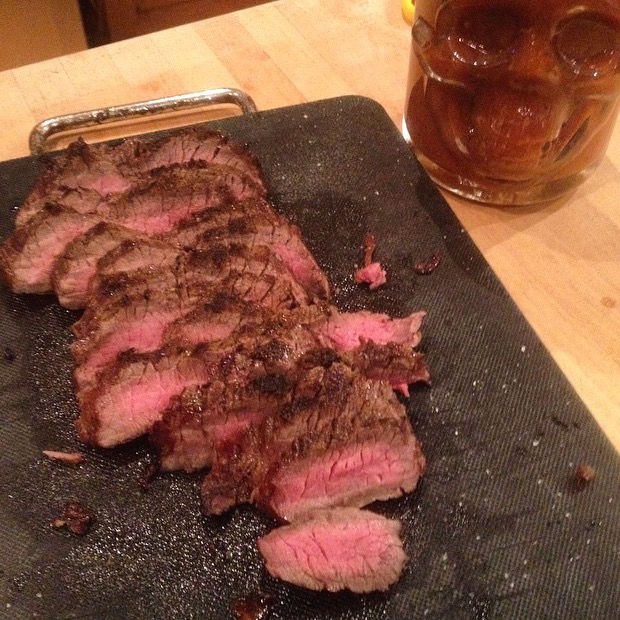 Christian Stevenson is a man of many talents. Whether he's dj-ing at Bill Gates' latest Microsoft party or acting in feature films, Christian is not easily pinned down.
His alter ego DJ BBQ has been cooking up a storm and caught the eye of Jamie Oliver, who swiftly signed Christian up to present on his YouTube television channel Food Tube. DJ BBQ has rapidly gained subscribers from all over the world and in 2014 released his first cookbook.

Summer 2014 also saw him take his "catertainment" live at SXSW in Austin Texas, Meatopia, The Big Feastival, Grillstock, Bestival, and Jimmy Doherty's Sausage and Beer Festival, as well as the BBC Good Food Show.