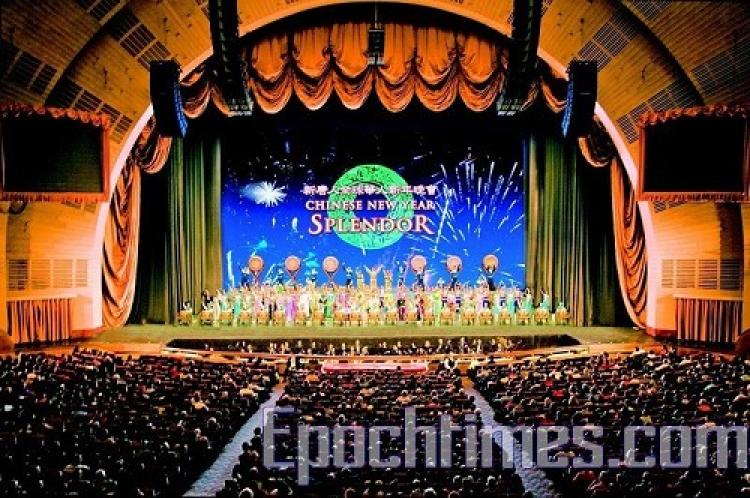 PHILADELPHIA—Tonight marks the season opening of the Divine Performing Arts (DPA) world tour. Three touring groups— the New York Company, the Touring Company and the international company, will premiere in Philadelphia, Atlanta, and Ft. Lauderdale respectively for a series of performances during Christmas and the Chinese New Year.
DPA is an artistic phenomenon that transcends different ethnic backgrounds and cultures. DPA presents extravagant dance and vocal performances, east-meets-west orchestra, colorful and dazzling costumes, and grand three-dimensional high-tech backgrounds. DPA takes audiences from around the world back through time to witness China's five thousand years of culture.
For 141 days in 2008, DPA's New York Tour company graced 66 cities, presenting 215 performances, reaching more than 600,000 audience members worldwide. Its performances have been met with critical acclaim, and impressing people from all walks of life around the world.
In addition to its New York Company and Tour Company, DPA established an International Company and an additional orchestra. The three DPA companies and two orchestras will tour over 80 cities in North America, Europe, Asia, and Oceania. Overall, there are about 30% more performances than last year's 215 performances.
DPA's media spokesperson, Ms. Vina Lee said that DPA will break its record in 2009 in terms of the number of shows performed, the total amount of audience members who will see the show, and the length of the tour. In Taiwan alone, DPA will feature 37 shows in 2009, compared with 25 shows in 2008, and will reach potentially 90,000 audience members in Taiwan alone, Ms. Lee said. She added that the DPA continues to receive invitations worldwide and the number of scheduled performances is continuing to increase.
According to Ms. Lee, DPA has put a lot of effort into intricate costume designs, the lighting, its content, and the sound effects. The performances include three dimensional digital backgrounds including a surreal heavenly realm and a natural landscape with thousands of flowers blossoming. The live orchestra marries eastern and western instruments and features an original musical score.
This year, Ms. Lee said that the DPA will feature a brand new program that will give its audience an entirely new feeling. She emphasized that the performance will give audience members a sense of pure compassion and beauty that can cleanse and elevate their spirits.
Ms. Lee explained that DPA emphasizes traditional culture, focusing on the true culture of mankind. It will present pure benevolence, pure beauty, propriety, and righteousness while placing emphasis on China's traditional cultural and moral values. The performance utilizes classical Chinese dance, folk dance, ethnic dance, and music as its vehicle.