In the balmy waters of the South Pacific, marine conservationist, ocean photographer, and diver Renee Capozzola drifts gently through the blue. She's waiting for something to cross her path, whether it be ambling sharks, sage sea turtles, or even a looming whale. Life in the ocean, after all, is always just around the corner—or rather, just around the coral fringe.
In September, Capozzola was honored with the first ever Female Fifty Fathoms (FFF) Award, a distinction created by a recent partnership among Oceanographic Magazine, organizers of the Ocean Photography Awards, and Swiss luxury watch manufacturer Blancpain. Capozzola was chosen out of 100 nominees as the female photographer who best embodies hope and inspiration in marine conservation. The shutterbug wasn't always capturing our finned neighbors, but the ocean holds a treasured place in Capozzola's heart. A So-Cal native, Capozzola was plenty used to sand between her toes when her parents started taking her to Hawaii on work trips. Capozzola fell in love with the archipelago's luscious green ecosystems, but she didn't officially don scuba gear until a 2004 trip to Maui.
Despite her growing interest in diving, Capozzola still hadn't picked up a camera. That came later, when the diver wanted to share what she was experiencing with others. A longtime artist, she knew plenty about color and composition, but she needed hours of research, reading, and picking experts' brains to teach herself the technical aspects of photography.
"It was more of a casual hobby at first, to take pictures and share them with my family and friends," Capozzola said, recalling how she used to take images with the simplest of setups: a compact point-and-shoot, no fancy flashes or lenses. "[I wanted] to show them what I was seeing underwater because everything was so amazing."
By 2016, Capozzola upgraded to professional-grade equipment and embraced her career trajectory change. Since then, she's been featured in Ocean Geographic, National Wildlife Magazine, and Scuba Diving Magazine. Earlier this year, Capozzola was the first American and first woman named Underwater Photographer of the Year 2021 by the UK-based Underwater Photographer of the Year competition, and she was dubbed the USA Photographer of the Year by the 2019 World Shootout.
A Love for Marine Life That Runs Ocean-Deep
Lounging with sharks and sea turtles is not what Capozzola pictured for herself a decade ago. But as a self-proclaimed animal lover and seeker of adventure, she feels quite at home bobbing in the waters off the French Polynesian shore, waiting for one of the underwater beasts to cross her path. The ocean is where Capozzola finds her peace. Maybe it's the heavy underwater silence, or the in-no-hurry way that many sea creatures meander around, or how the waves and currents play with the sunlight. In any case, the ocean is where she goes to let her stresses dissolve away.
Capozzola is fond of sea turtles, even-tempered creatures used to the presence of divers. She and the turtles have been up-close and personal, even once capturing a rare image of turtles in mating after a long wait for the creatures to surface. The shot was taken half underwater and half above, a tough frame to secure because the turtles could move in a split second.
"I think that was one of my favorite encounters because, number one, I wasn't expecting the behavior. It's very rare to actually witness. And then, I decided to go with the tougher shot, and was able to pull it off."
Sharks are also one of the photographer's greatest muses. They're more complex than a toothy, flint-eyed movie trope, are far less likely to attack boats than certain Hollywood story lines suggest, and are just as deserving of protection as their more widely-beloved counterparts. Many would argue that cozying up to an animal whose reputation largely consists of maulings and murders is risky, especially for a vulnerable human laden with diving gear and photography equipment. While she's certainly not advocating for jumping into water infested with great whites, sharks are the least of Capozzola's worries. In her first encounter with a shark, Capozzola attempted to take a picture of it resting in the sand. Afraid, the shark swam away.
"Sharks, I think, are often misunderstood by the public. I think this is mainly due to the media and movies like 'Jaws,' where they're portrayed as these really dangerous man-eaters. What I try to do with my pictures is to change that negative perception and show sharks to the public in a positive light."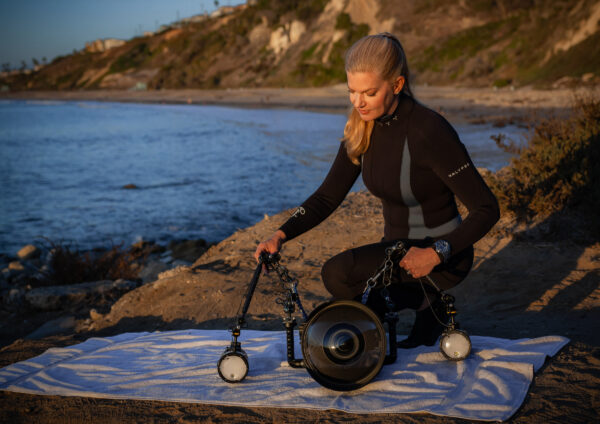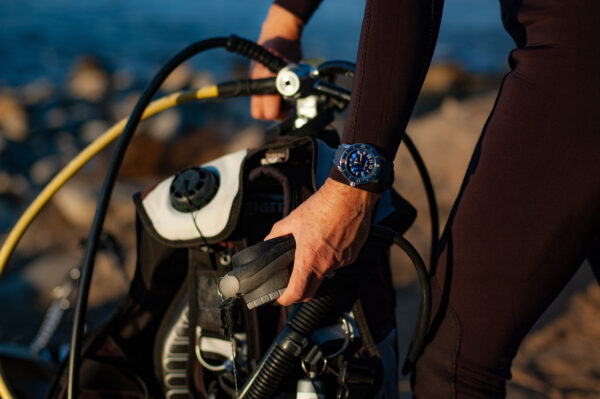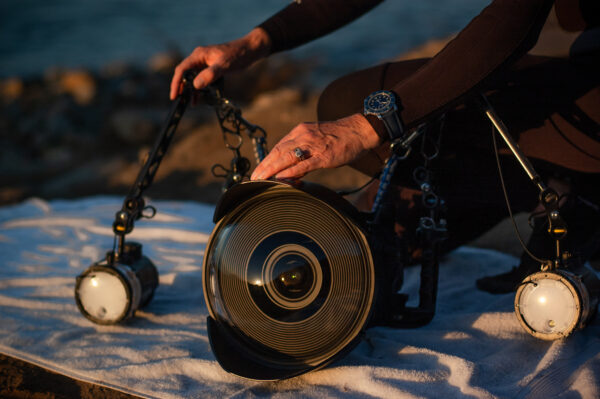 In almost two decades of underwater photography, Capozzola has had more unpleasant experiences with human error than sharks; once, while diving in a remote area off the Indonesian coast, the dinghy scheduled to pick up Capazzola's group never arrived, forcing them to swim for hours across open sea to the nearest uncivilized island, where they waited until a fishing boat passed by.
"Getting left by a boat is more dangerous than worrying about a shark. That's actually been the scariest thing that's ever happened to me in all of the dives I've done in my life."
Capozzola's image that captured the hearts of the FFF Award judges, "Sharky Sunset," features a shark swimming just beneath the surface as an island sunset blazes in the background. "Sharky Sunset" was Capozzola's first image to gain international recognition, and it embodies the main goal in her imagery: to connect something that people are familiar with—like a sunset—with something they may fear. The resulting photo is far less affronting than, say, the "Jaws" poster with its iconic open-mouthed, blood-thirsty killer. "Sharky Sunset" is in Capozzola-trademark split-shot style, where the camera is half-submerged to capture both the underwater action and the scene above the waves. This can be difficult as the shooter attempts to tread water, track the animal, catch the perfect timing of the waves, and maintain an interesting scene in the background.
"[Split shots] capture two worlds simultaneously," Capozzola said. "You can capture a beautiful island in the background with the palm trees, and then you can show the animal in that environment, underwater. It's a very unique perspective, because the human eye cannot naturally see above and below the waterline."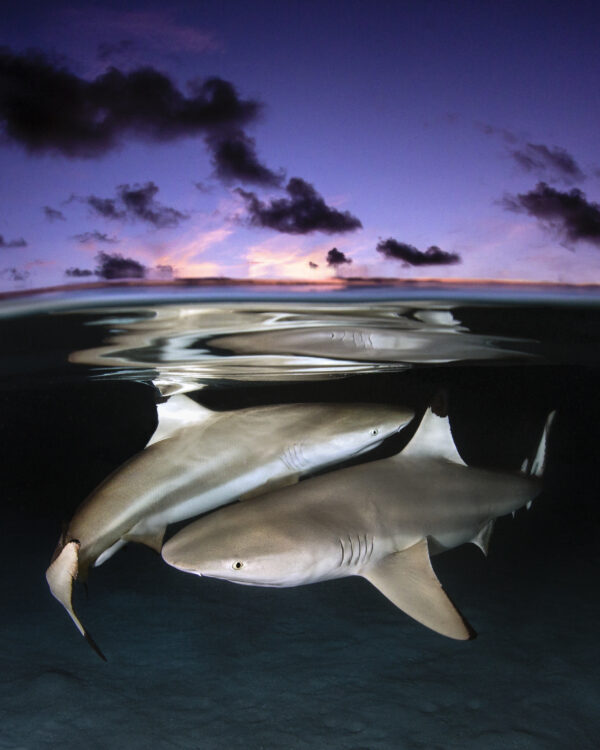 By showing this perspective, Capozzola hopes her viewers see a sea creature's environment as more of an ecosystem than just water. With her artistic background and fierce love for marine life, she stitches two worlds together to offer humans insight into the personalities of animals that are much more impacted by our everyday actions than we may think.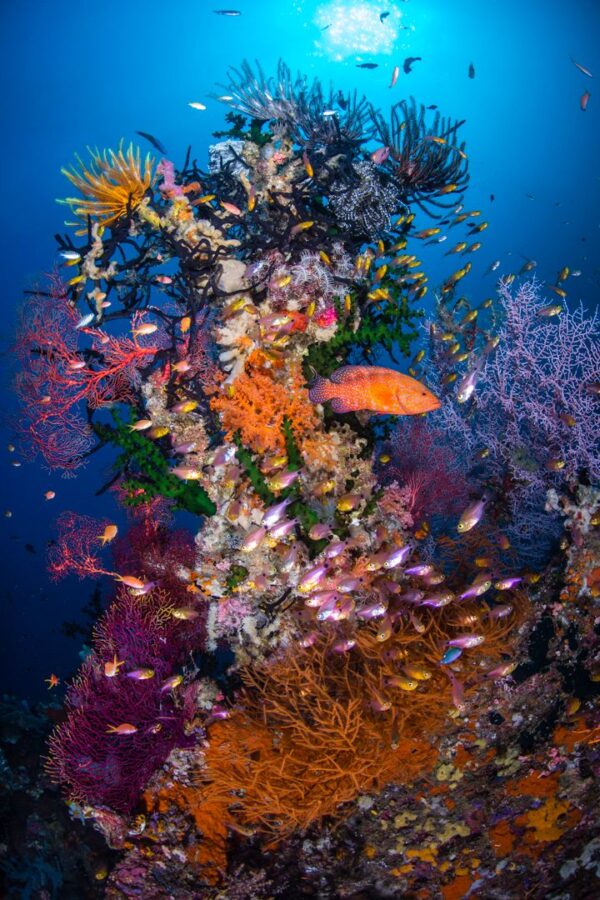 At War With Pollution
Whether watching schools of fish dart through coral reefs or wander through a kelp forest, Capozzola is awed by oceanic scenes time and time again. The impact of human behavior and debris hurts. After traveling to waters in all corners of the world, she has personally witnessed the consequences of overfishing, pollution, coral bleaching, and dynamite fishing on marine ecosystems far and wide. While visiting Indonesia, Capozzola saw fishermen put toxic cyanide powder in the water, instantly killing all nearby fish. As the fish would float to the surface, the fishermen scooped up their harvest.
"It was obviously a very destructive practice," she recalled. "We did the dive with all of these fish that were dying or dead, which was really sad."
Capozzola remembers searching fruitlessly for days off the coast of Thailand for a zebra or leopard shark to photograph, only to dock next to a boat heaped with sharks that had been hunted. Being a marine biologist, Capozzola has read about and seen the human impact on underwater life firsthand. She hopes her images instill the same desire to protect oceanic wildlife that she has.
"[I] try to use my images to connect with the public, because I think by showing people beautiful images of the ocean and its inhabitants that I'll inspire people to take better care of our oceans, be better stewards of our planet," Capozzola said. "I hope that my images will raise awareness for the added protections that marine ecosystems need throughout the world, so our oceans remain healthy and fully functional for future generations."
After all, we need our oceans like we need air in our lungs—in fact, we need oceans so we can have air in our lungs. Earth's oceans provide at least half of the planet's oxygen and are major managers of carbon dioxide. The ocean is also a major source of food.
Less than 10 percent of the planet's ocean-covered surface is considered MPA, or Marine Protected Area, by the International Union for the Conservation of Nature. The group hopes to increase that amount from the current level of roughly 7 percent to 30 percent by 2030, but there are many obstacles in the way, including enforcement.
Going to the Deep South
In 2023, Capozzola will join an expedition going far south: Antarctica. The expedition—seeking to bring government and public awareness to the importance of the Antarctic region and its warming climate—is led by legendary oceanographer Dr. Sylvia Earle of Ocean Geographic's Mission Blue. Earle is a renowned marine biologist, author, and conservationist who was Time magazine's first "Hero for the Planet" in 1998. She was the first female chief scientist of the U.S. National Oceanic and Atmospheric Administration. Earle's expedition will include scientists, photographers, and other oceanic luminaries from across the globe.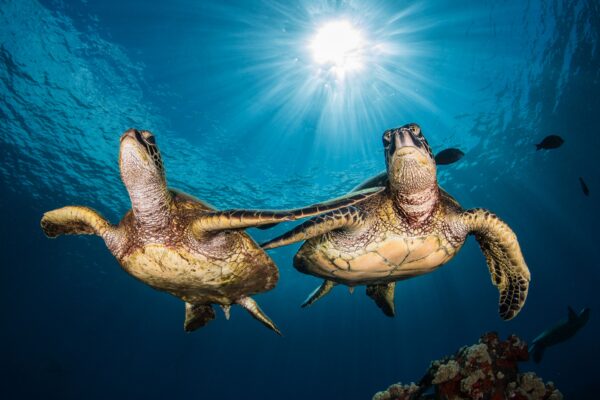 Capozzola is now preparing for diving in near-freezing waters. She will be photographing anything from icebergs to leopard seals and penguins. The trip is harmonious with Capozzola's goal for the last nearly 20 years: awareness, hopefully that will inspire action.
"I think that for all wildlife photographers, it is one of our jobs to raise awareness for the environments that the animals are found in, because as a photographer you fall in love with the animals that you're photographing and therefore you want to protect their environments, because otherwise the animals would be gone," she said.
This article was originally published in American Essence magazine.