A recent trip to the Catskill Mountains, located 100 miles north-northwest of New York City, turned out to be a delightful discovery of idyllic parks, forests, rivers and streams, and, of course, mountains.
While towns like Woodstock get most of the attention, a little more probing and you'll be rewarded with 35 mountain peaks over 3,500 feet tall, farms and distilleries, plus the massive 700,000-acre Ashokan Reservoir, which quenches the thirst of millions of metropolitan New Yorkers.
The Catskills ("kill" is Dutch for "creek") are also a world-famous fly fishing destination, particularly due to the 65-mile Esopus Creek and its pure water, which gives aquatic insects—rainbow trout's favourite food—a perfect place to hatch. These waters have been fished by the likes of Mark Twain, Babe Ruth, Herbert Hoover, and Jimmy Carter.
The Catskills have long been a haven for artists, musicians, and writers, especially in and around the towns of Phoenicia and Woodstock. The Hudson River School, the first native school of painting in the United States, was established here in the mid-19th century. The scenic landscapes, dotted with rustic towns and villages, was a paradise for Romantic landscape painters like Thomas Cole, a Brit who settled in the Catskills and helped establish the region as a world-class destination for nature lovers.
A great way to get acquainted with the Catskills is to stay at the recently renovated Emerson Resort & Spa in Mt. Tremper with its nostalgic appreciation for the Boston-born American poet and essayist Ralph Waldo Emerson. Emerson was so inspired by the serene beauty of the area that he penned his essay "Nature" in 1836. The hotel is tastefully decorated and accented with quotes by Emerson, which are hand-written on many of the walls in the public spaces.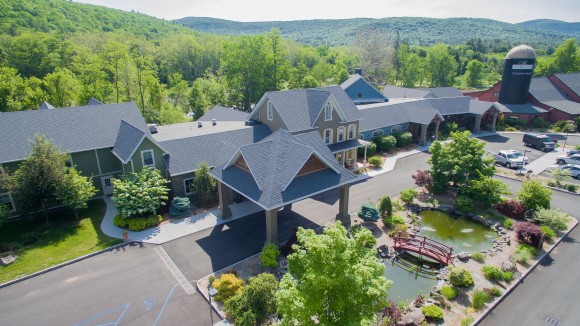 Even more compelling is the contemporary art collection curated by owner Emily Fisher and which is spread throughout the resort and in each guest room.  The art is a nod to local artists and their accomplishments in fine art and sculpture. Allison Berry's "Watershed" is the centerpiece, a series of seven adjoining panels spanning 49 feet in length that describes the history of the Catskills from the Big Bang through to the present day.
The Catskills have long been a haven for artists, musicians, and writers, especially in and around the towns of Phoenicia and Woodstock.
Although we were unable to visit the Catskill Fly Fishing Center & Museum in nearby Roscoe, we made a phone call to Glenn Ponter, the museum director, whose passion for fly fishing makes him an authority, to get some background information on why fly fishing is so popular in the region.  
Then off went my fly fishing-fanatic companion with fly fishing guide Mark Loete from the Catskill Mountain Angler, while I spent most of the day enjoying spa treatments and fitness classes.
More Catskill delights
By dinnertime we were both famished. The short drive to Big Indian's popular Peekamoose Restaurant  turned out to be an unexpected dining delight with Chef Devin Mills, whose culinary experience includes New York City's world-class Gramercy Tavern and Le Bernardin. Mills and his wife Marybeth have been catalysts of farm-to-table cooking in the Catskills since 2004, and judging by the crowd in the main dining room as well as the tap room and lounge, this place rocks.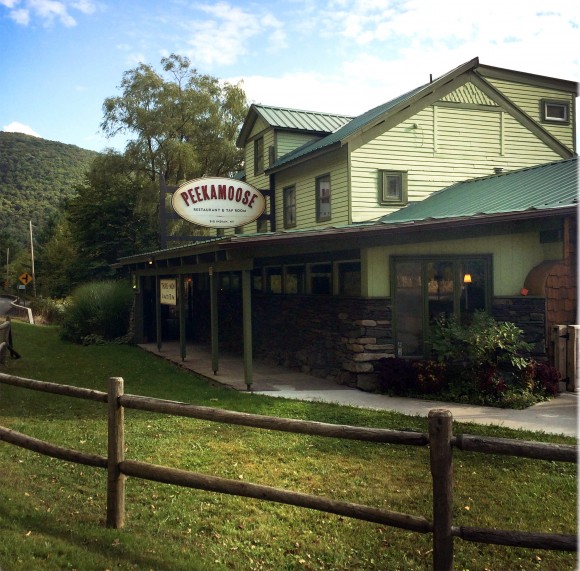 Before we checked out of the Emerson the next day to continue our Catskills discovery, we did two different "backyard" walking paths around the hotel and visited the indoor retail "streetscape" located adjacent to the resort in the Risely Barn, circa 1841. The Barn is home to the World's Largest Kaleidoscope, charming shops, and a café.  Leave time to experience the kaleidoscope show, a trippy 20-minute ride through space.
For Sunday morning breakfast, we arrived early at the bustling Phoenicia Diner, a 1962 diner that was moved to the Catskills in the early 1980's. Seasonal and fresh ingredients are used to create classic diner dishes infused with specialties like locally smoked trout and cider braised duck.
After our meal of eggs and smoked bacon, we went for a leisurely stroll around the Ashokan Reservoir, which has two promenades that give exceptional views of the landscape.
Our next stop was Wild Arc Farm in Pine Bush, an experiment in biodynamic viticulture and permaculture owned by Todd Cavallo, who recently moved here from Brooklyn. We sampled Todd's very good first release of red and white wines, along with apple cider, while he outlined his plans to turn Wild Arc Farm into a sustainable farm for not only wine production but also honey, vegetables, flowers, and eventually adding livestock and chickens. 
Who knew that less than two hours from New York City, which many people consider the centre of the world, is a profusion of discoveries.  There's so much more to explore, and during our next visit, we're going to make time to sign up for a mushroom foraging tour with Catskill Fungi!





 Isabelle Kellogg is a writer and public relations consultant in the luxury sector, with a passion for diamonds, jewelry, watches, and other luxury products, including travel.