It became obvious looking through the window as the amuse-bouche was served and the bus passed Napoleon's landmark Arc de Triomphe that I had found the best way to see Paris.
Yes, I said bus. Not only was I aboard a luxurious, double-decker sightseeing bus, but I was also in a restaurant.
Bustronome, a portmanteau of bus and gastronomy, has several daily seatings for lunch and dinner. They also offer brunch on Sunday.
Admittedly, I was skeptical. Anyone who reads my travel dispatches will know I avoid all things kitsch—the rip-off activities and excursions that too many tourists are duped into buying. Yet, I went ahead and booked a table for dinner.
There are two options for the four-course lunch and six-course dinner: One with alcoholic drinks and one without. This being France, that means wine. Dinner itself starts shortly after the scheduled 7:45 p.m. and 8:45 p.m. departures.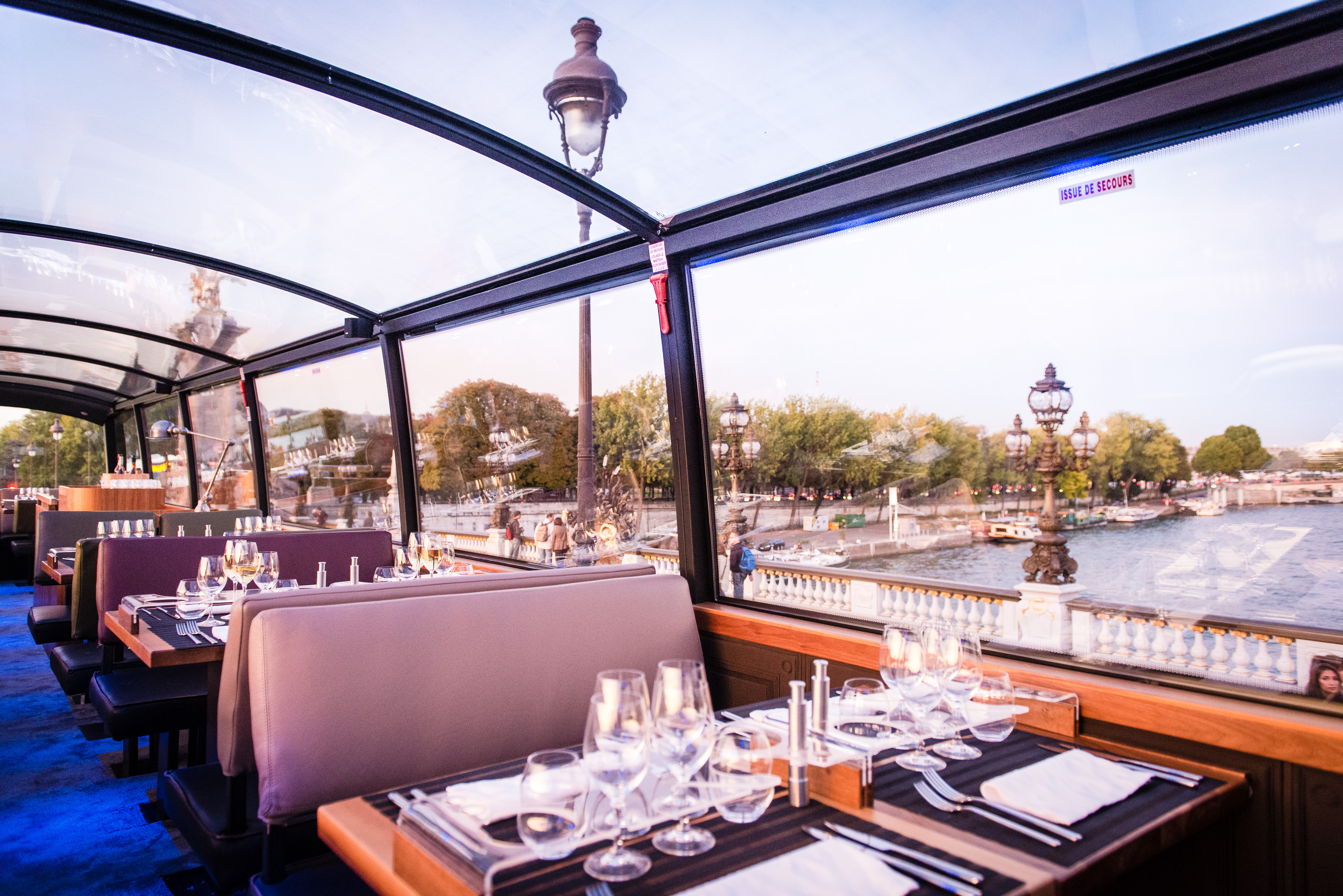 The bus goes down the Champs-Elysées to the ancient Egyptian obelisk at the Place de la Concorde and continues onward to the Roman temple-esque Madeleine Church, Opéra Garnier, Louvre Museum, the partially destroyed Notre Dame Cathedral, and more than 10 other sights before stopping at the Eiffel Tower just before a nightly light show. Along the way, you pass countless other landmarks ignored by the audio tour, which is activated when you touch marked locations on a tabletop map with a digital pen.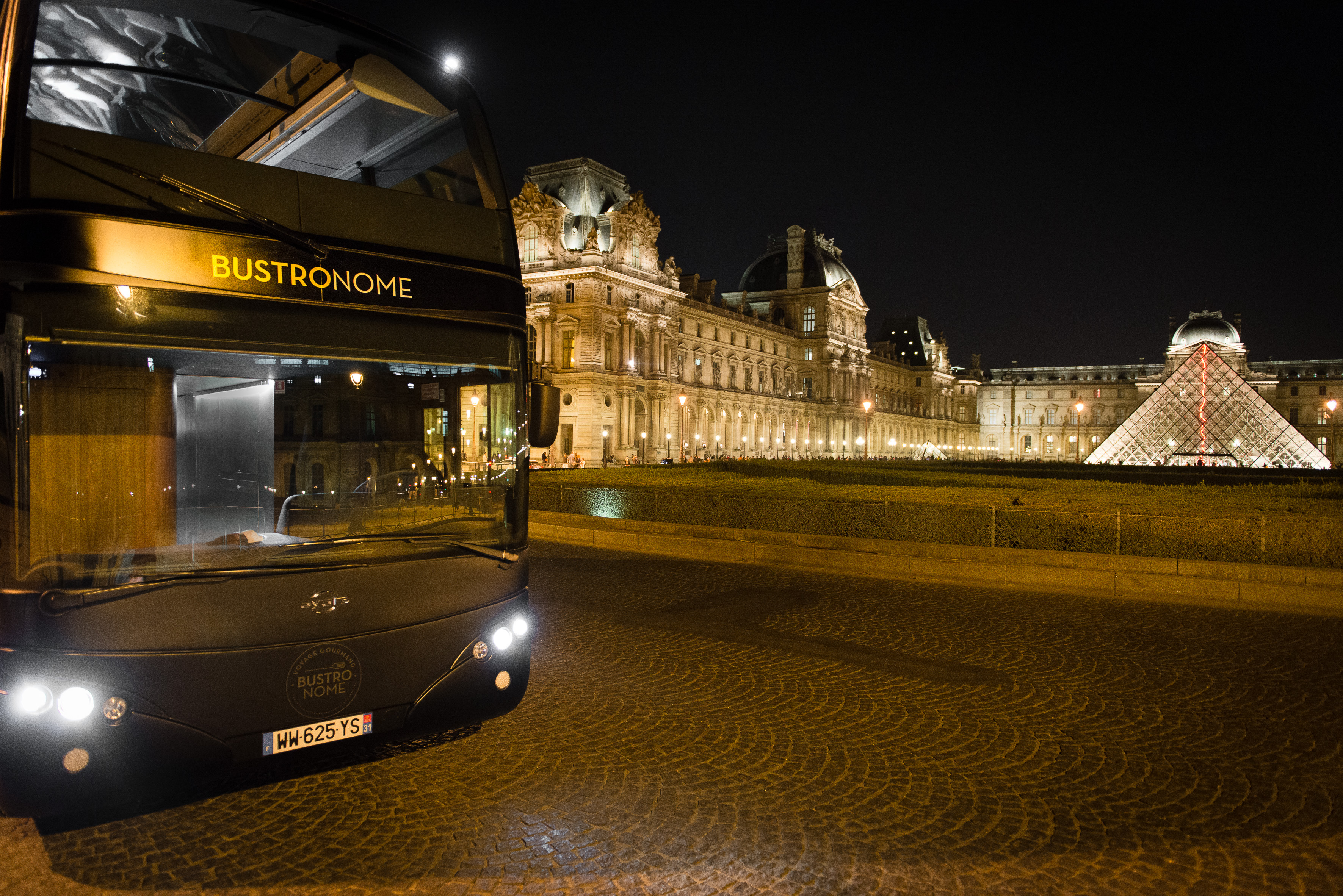 One of the constraints of eating on a bus is that everyone receives the same courses, unless an allergy or dietary restriction is specified at the time of booking. However, unlike an airplane, which fairly or not is the closest comparison, everything is freshly prepared by a chef in the onboard kitchen. 
On the night I dined, the menu consisted of snails, lobster ravioli, fish coulibiac, chicken breast stuffed with foie gras, Vacherin Mont d'Or cheese, and chocolate pavlova. As I abstain from eating meat, my first and fourth courses were substituted with smoked salmon and risotto. Even though the first three courses were unnecessarily rushed to tables within an hour of departure, everything was perfectly prepared and plated in the same elegant way as a chic Parisian restaurant.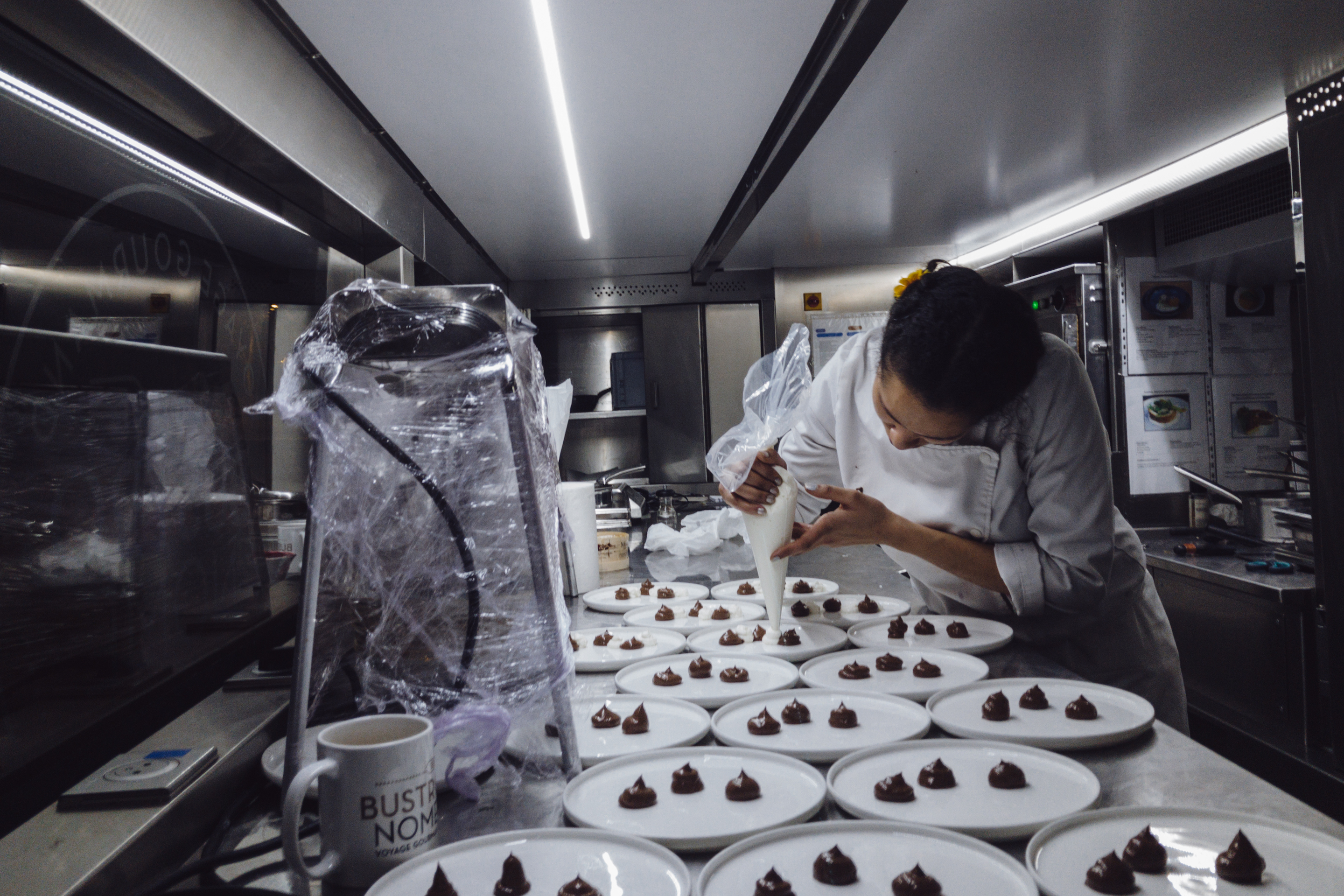 The wine also flowed freely, thanks to an ingenious cupholder contraption that kept glasses steady as the bus traversed Paris. Downstairs is the kitchen and a lavatory that was kept immaculately clean.
The addition of a sommelier or dedicated wine steward would have been an improvement, as the single waiter seemed constantly busy despite a few empty tables. This resulted in service deficiencies, including the unpardonable sin of room-temperature champagne.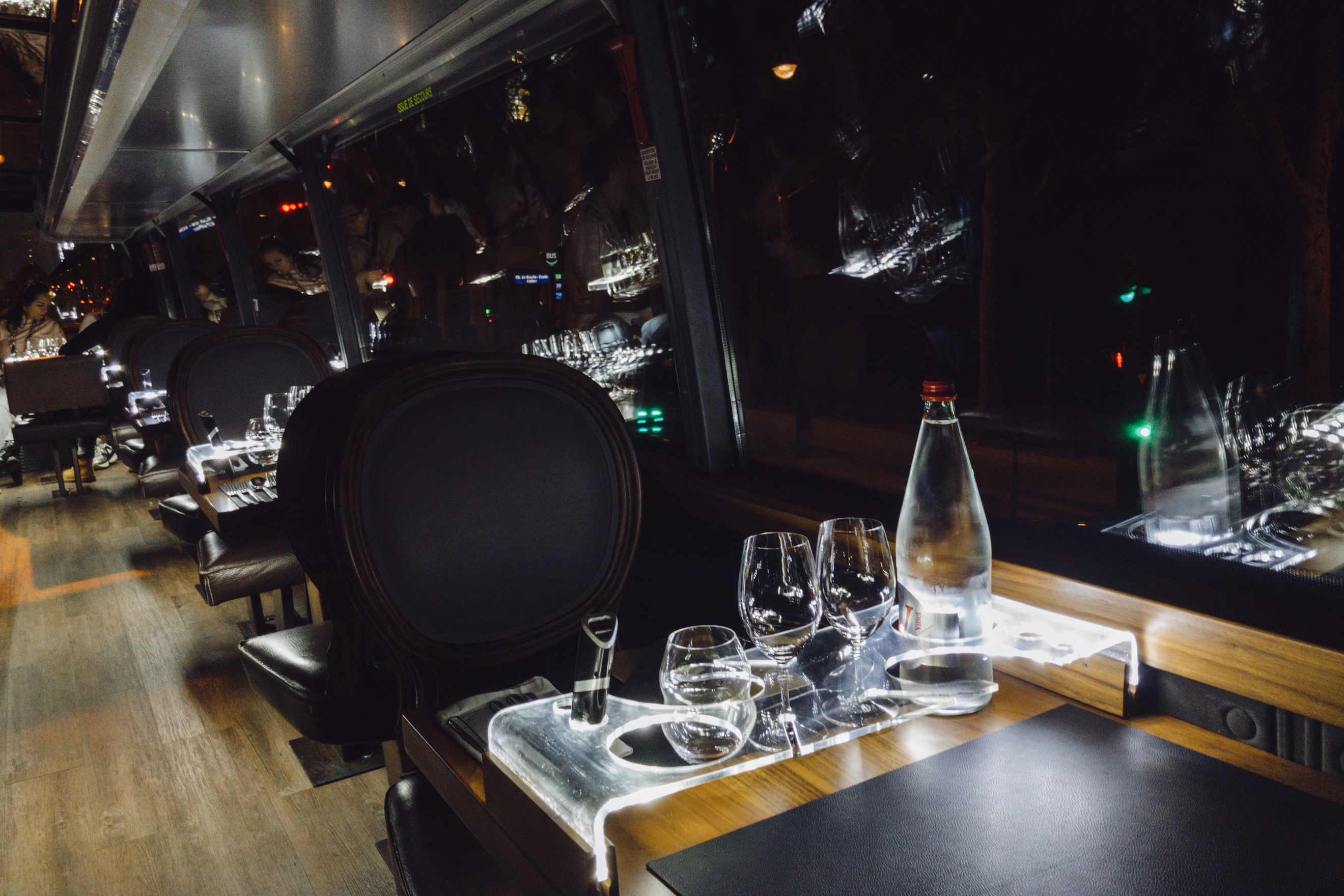 Bustronome's innovative dining concept paired with seeing the famous landmarks through the panoramic glass-top bus made for an unforgettable experience. First-time visitors to Paris would also find it useful in orientating themselves.
If You Go
Nothing in Paris is inexpensive. This maxim also applies to Bustronome. Dinner with drinks is 130 euros (about $144), a good value if you price the cost of an extensive city tour followed by dinner in an upscale restaurant. While less expensive at 85 euros (about $94), lunch takes a shorter route and misses the splendor of the City of Light at night.
As for practicalities, you meet the bus curbside on Avenue Kleber, a short walk from the Arc de Triomphe. This is also the drop-off location.
Consider staying at the Renaissance Republique Hotel, my go-to hotel. The five-star hotel, part of Marriott's vast portfolio of branded properties, is in an authentic Parisian neighborhood within walking distance of many major sights. Be sure to use the concierge desk, which is exceptional at booking tickets, making reservations, and more. 
Dennis Lennox writes about travel. Follow @dennislennox on Twitter and Instagram.