The South Korean drama "Descendants of the Sun" took Hong Kong by storm when actor Song Joong-ki and actress Song Hye-kyo were in town to promote the show.
The war-themed romance is a global hit, scoring a high rating of 38.8 percent at its finale. It is seen as a buoy for South Korea's economy.
"Descendants of the Sun" has been exported to 32 countries across the world, including China, Japan, and Taiwan. Even before it went on air, the 13 billion-won (US$11 million) production, which was record-breaking in K-pop dramas, had already broken even.
Since its release in February, it has been streamed 2.4 billion times on iQiyi in China, an average of over 170 million times per episode. The advertising revenue from product placement for the first eight episodes has already hit 240 million yuan (US$37 million).
The drama series was so popular in China that the Ministry of Public Security posted a warning on its official Weibo site not to mix fictional drama series with reality.
South Korean President Park Geun-hye said "Descendants of the Sun" could help promote South Korea's culture and spark foreigners' interest in the country.
"Good cultural content can not only produce economic and cultural values, but also contribute to the revitalization of tourism", she said.
Cosmetic exports rise
According to a report by Bloomberg, the success of the drama means more tourists, especially from China; a rise in overseas sales of products featured in the drama; and more investment in Korean entertainment companies by Chinese companies seeking partnerships.
The talent fees of the two leads, Song Joong-ki and Song Hye-kyo, are soaring. It is said that Song Joong-ki will bring in around 100 billion won (US$87 million) in ad revenue from about 100 ads in Korea and China.
In March, the domestic sales of the Laneige lipsticks Song Hye-kyo wore in the show rose 360 percent from a year earlier. They were sold out in stores in the Myeongdong retail district, a popular Chinese tourist destination.
The Bloomberg report stated that data from the trade ministry and customs office show that overseas sales of Korean cosmetics rose 22 percent this year through March from what they were a year earlier, even as overall exports fell 13 percent.
Sales of cosmetics were supported by the popularity of Korean movies, music, and TV programs, leading to a preference for local cosmetics brands, the customs office said.
Cultural values
From "Autumn in My Heart" and "Jewel in the Palace" to "My Love from the Star" and "Descendants of the Sun," every one of these Korean drama series sparked a Korean wave in Asia.
Famous Hong Kong writer Chip Tsao explored the reasons behind the Korean waves. He thinks the first reason is beautiful packaging. The leads are pretty, the plot is romantic, and the contents are straightforward and appealing.
Secondly, Tsao stated, South Korea preserves Chinese culture, especially the essence and core values of the Han and Tang dynasties, just like Japan. Korea tends to be more direct compared to Japan.
Koreans display unimpeachable integrity and character, which remind us of the samurai spirit of the Japanese, Tsao added. He stated that these qualities, which are depicted in popular Korean dramas, are absent from the values of Chinese nationals.
Chinese nationals have no more ethics, moral principles, or aesthetics to talk about, he stated.
Tsao thinks Korean thespians have an unaffected manner, which their Chinese counterparts are unable to imitate. He thinks there has to be trust in a society where people are truthful and kind towards one another, and since you don't have to guard against one another, you feel unrestrained and relaxed.
If you look at South Koreans, Tsao stated, the expression on their faces is not tense, and their smiles are genuine. But that's not the case for Chinese nationals. The faces of the Politburo Standing Committee members of the Communist Party of China tend to be taut, he stated.
He lamented that Chinese nationals are only concerned about the GDP, the economy, spending money, eating, and drinking these days. Due to the lack of values, they are unable to produce drama series like "Descendants of the Sun" and "Jewel in the Palace."
According to Tsao, many of the settings in Chinese movies are fake and artificial, and the contents are hollow.
Government support
 Institute of International Relations researcher Tsai Zheng-jia of the National Chengchi University has written a book to explore Korean waves. He said Korean drama themes are diversified, and what lies underneath the romances is the rich traditional culture of Korea.
"Jewel in the Palace" touched on the relationship between South Korea and China in ancient times. South Korea is trying to establish itself as an orthodox Confucian country after its rise as a strong nation, Tsai said.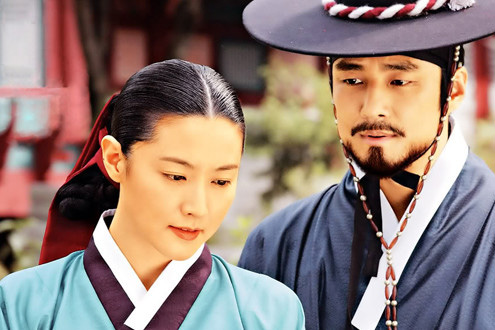 "My Love from the Star" may be about an alien, but it also stressed the leading role South Korea has played in East Asian culture, Tsai said. In "Descendants of the Sun," South Korea was playing an active role internationally, Tsai said.

"It is the country's strategy and marketing," Tsai added.
Tsai believes the success of Korean productions is closely related to the promotion by the Korean government. The government draws up the strategy, the enterprises come up with the money, and the showbiz administers it, Tsai explained.
The end product is the effort put in by three sectors. A committee using Korean dramas to establish the influence of South Korea was set up in 2004, and it reports to the Blue House, the President's office. A huge amount of money is pumped in to help the production of Korean dramas.
Tsai observed that Japanese dramas have been replaced by Korean dramas because everybody sees brightness and hope in the latter. Japanese culture is generally believed to be darker, while South Korea's is more positive. Tsai believes that is why most Korean shows are about big families and enterprises, and science fiction shows are few.
Hong Kong films
The 1980s and 1990s saw the prime of Hong Kong movies. A team from the South Korean Ministry of Culture was sent to Hong Kong in 1998 to learn filming techniques.
The Koreans then added in their ideas and repackaged them before selling them overseas. Protection policies were launched to help establish the South Korean entertainment industry.
Tsai, who is Taiwanese, says he grew up watching Hong Kong movies. However, after Hong Kong was returned to China, Hong Kong movies were no longer appealing in the new political environment.
"Everybody in the industry goes to mainland China to develop their careers, and Hong Kong becomes void. Currently, they still have Stephen Chow, but who will succeed him?" Tsai said.
Chip Tsao feels that since Hong Kong was returned to China, going to mainland China to make movies means that moviemakers have to comply with the mainland's values and censorship. Their creative juices no longer flow.
"If you've never lost, you're able to think out of the box. But once your thinking is shackled, the Muses, the Greek goddesses of creativity, will leave. The Muses have left Hong Kong," Tsao said.
 Professor Chu, Yiu Wai Stephen of the University of Hong Kong regrets that Hong Kong has lost its ability to create celebrities and idols, unlike South Korea. He said that for the Hong Kong government, this is something worth rethinking.
"I believe co-productions are great hits to the Hong Kong movie. Limitations on subjects cause Hong Kong movies to gradually lose their uniqueness," he said. "I feel that Hong Kong should not rely on co-productions. We need movies with local Hong Kong essence to attract audiences."
"The major problem is the funding," he added. "From the government, there is Hong Kong Film Development, but the amount of funding pales in comparison to that of South Korea."
He said the government's input and Hong Kong's current political environment have strangled the development of the movie industry. For example, the contrivances following the recent award won by the movie "Ten Years" indicate that the movie is being politicized.
He believes that Hong Kong films need to be based on local characteristics to re-lead the trend; for example, "Echoes of the Rainbow" has a local feeling, and "The Grandmaster" has an international perspective.
 These so-called Hong Kong characteristics are not xenophobia, but the ability to encompass different cultures to become its own, he said. He hopes to see this kind of dynamism.
 Translated by Su Lin. Edited by Sally Appert.