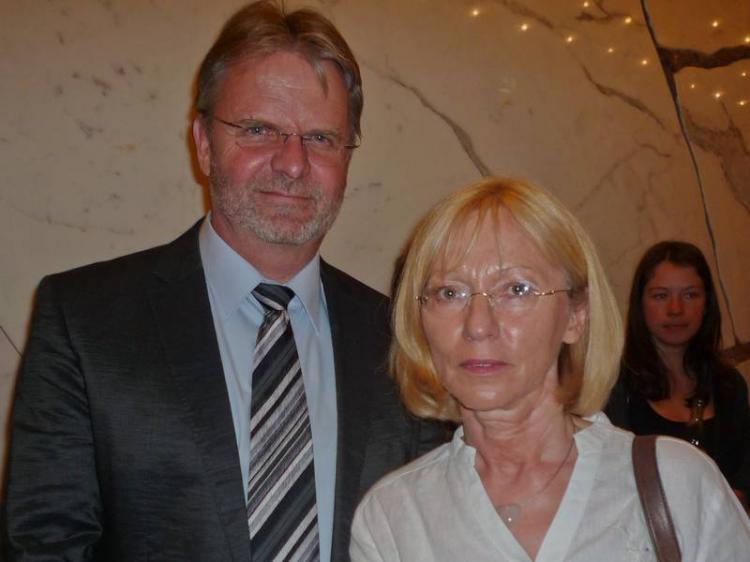 LUDWIGSBURG, Germany—Ms. Roswitha and Mr. Juergen Schmiedel from Marbach were guests at a presentation of Shen Yun Performing Arts Touring Company on April 20 and 21 at the Forum am Schlosspark in the baroque city of Ludwigsburg.
Mr. Schmiedel is deputy dean at the Elementary School Marbach and has been interested in Chinese qigong for over 25 years.
The couple had been introduced to the sounds of the classical Chinese flute and were thus familiar with Chinese instruments, and were very much looking forward to seeing Shen Yun.
"I was astonished that this music spoke to us. One is drawn to it immediately. The tones are pleasant to the ear, relaxing and at the same time engaging. This was a nice mix of melodies and very likable," Ms. Schmiedel said.
The Shen Yun Touring Company Orchestra is unique in that it brings traditional Chinese and Western instruments together to create a unique sound.
As well as the music, the couple were particularly taken with the dance presentation No Regrets. The story tells the fate of a mother and son living in a Chinese village who become victims of state violence because they are practitioners of Falun Gong, a peaceful spiritual practice that follows the principles of Truthfulness-Compassion-Forbearance, but is banned in China by the communist regime.
"It makes a statement, and I can imagine what the persecution of Falun Gong must be like," Mr. Schmiedel said.
According to Ms. Schmiedel, the Shen Yun performers display an inner beauty, which they portray through their artistic expression and physical bearing.
"My overall impression is that their body language and facial expressions unmistakably contribute much to this successful presentation. The scene Herding on the Grasslands portrayed the horses and riders spot on."
Mr. Schmiedel was impressed with the hi-tech animated backdrops. He said, "It changes, and then the dancers become part of the backdrop; they approach the gods, and then the gods descend; that is very interesting."
Ms. Schmiedel commented on the dance Ladies of the Tang Palace, in which noble and refined women of the Tang dynasty project an aura of gracious majesty in their full skirts and wide sleeves. She said, "When the women dancers extended their arms in the wide sleeves, the stage lighting reflected on the sleeves. This was something so positive that I really liked."
Mr. Schmiedel said: "I have already recommended the show to acquaintances and told them that they would be treated to 5,000 years of Chinese culture on stage."
Reporting by Veronika Mueller, Alexander Hamrle and Christina Riveland.
Shen Yun Performing Arts will perform next in Stockholm, Sweden, and Vienna, Austria. For more information, visit ShenYunPerformingArts.org