NIMMO BAY, British Columbia—Like the revelation of a mystery, the fog lifts once we roll away from Sullivan Bay.
Having boarded a Cessna Caravan Amphibian in Victoria, we lifted off, leaving the city behind, winging high over dense temperate rainforests, skirting coastal mountains, finally banking inland, flying through a broad valley, relaxed in the luxury of our own private ride.
With the fog too thick to land right next to the lodge, the pilot put her down further away, the plane's big pontoon's skimming evenly across a saltwater inlet, then taxiing, with a little boat-like sway, to a little cluster of buildings. A shop, café, fuel station, and a few private residences ring a harbor so glassy-calm that their façades are reflected back, mirror-perfect, in it.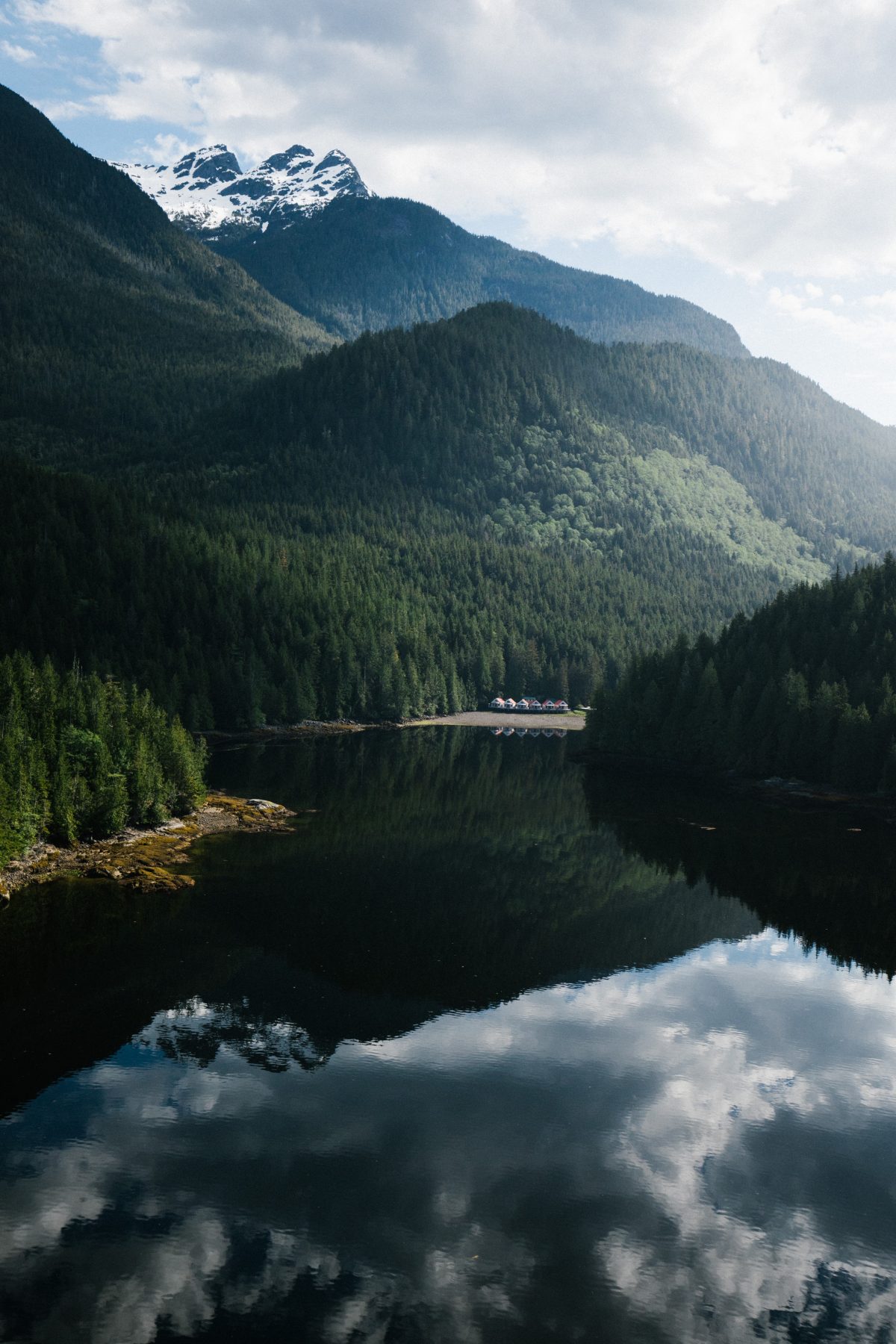 The pilot makes a call from the coffee shop, and soon enough we're skimming again, this time in the Raven, the fastest boat in the fleet at Nimmo Bay. With the last wisps of murk now far behind us, we roll up to an unlikely oasis, a strange, wonderful bit of luxury, deep in the forest. Passing a series of postcard-perfect cabins strung along a stretch of wild Pacific coast, we walk up the dock, are greeted by a friendly dog, then seat ourselves in overstuffed chairs. The Lumineers spin on a record player somewhere nearby. Every window is like a work of art, revealing its own scene of beauty. It's all a little surreal, here in the heart of the forest, wildlife and wilderness, all around us. 
I'm at Nimmo Bay Wilderness Resort, in the heart of the Great Bear Rainforest. With just nine cabins, located both in the forest and the intertidal zone, the whole place is connected by docks and wooden walkways. Both luxurious and stylish, it's an uber-comfortable place from which to launch wild adventures.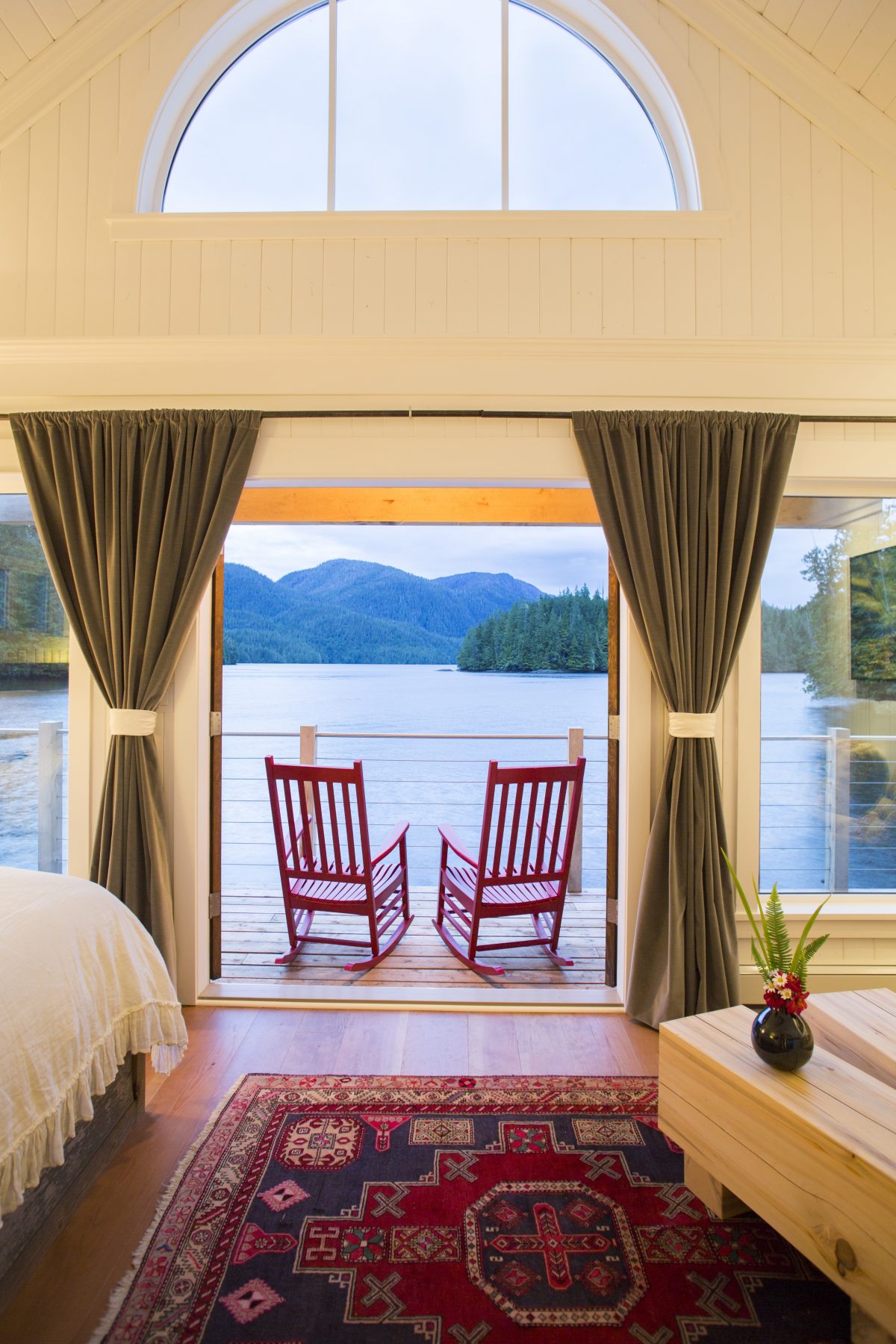 But first, I take a tour of the place, Neepa, the resident mutt, tagging along. The two-bedroom cabins are separated from the main lodge by a waterfall, which provides both fresh water and hydroelectricity to guests and staff. Walking past a series of helipads and over a bridge that traverses a fresh little stream, I settle into my waterfront cabin. Set on a floating dock, I'm told that it will rise, and fall, with the tide. But I only have a moment to pause and sit on a rocking chair on the cabin's broad front porch, which opens up to ocean and mountains.
Because soon, I'm back on the Raven, winding through a series of small inlets. Leaving the British Columbia mainland behind—the Alaskan panhandle way to the north, the city of Vancouver eventually to our south—we roar, at 30 knots, across Queen Charlotte Strait, in search of humpback whales. Our captain, a sunny young woman named Jen, checks an online tracking system, then explores a series of spots—Malcolm Island, Swanson Island—in search of marine mammals. Mindful of the seas, we keep our eyes on the skies, too. "The local first nation called seagulls 'birds of abundance," she explains, noting they would simply follow them to the food, where whales were feeding.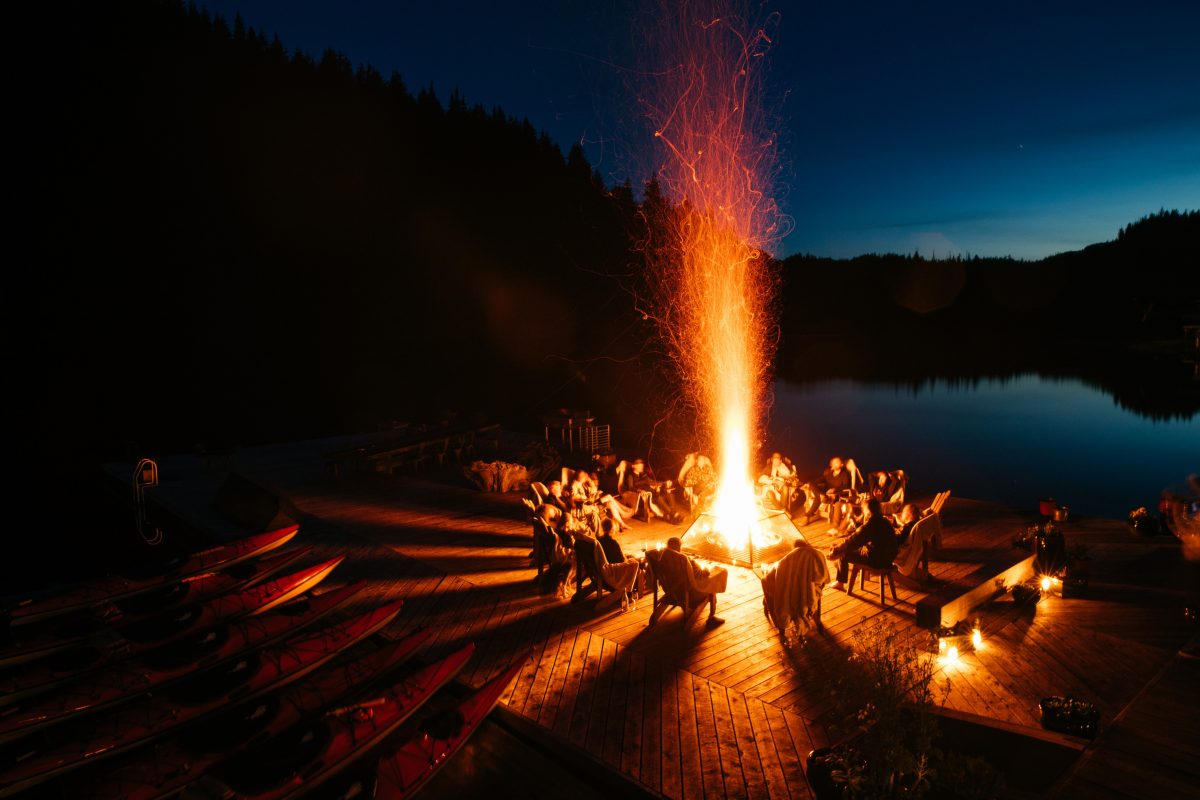 In Blackfish Sound, just off Vancouver Island, near the famed Broughton Archipelago Marine Provincial Park, we find the whales—incredibly, some 50 of them, surrounding us. Even Captain Jen and our on-board guide, Karlie, are amazed at the sight, these humpbacks surfacing to lunge feed, in every direction, a thick canopy of birds circling above. In awe, we watch as they swim, and spout, and then dive deep, flukes (tails) waving high as they leave us behind. 
We remain for a while, then roll on back across the Strait, toward Nimmo, pausing along the way to take in a Steller sea lion rookery, one of only three in B.C., the pinnipeds lounging high on a rock, seemingly smug and comfortable, sitting near the top of the local food chain.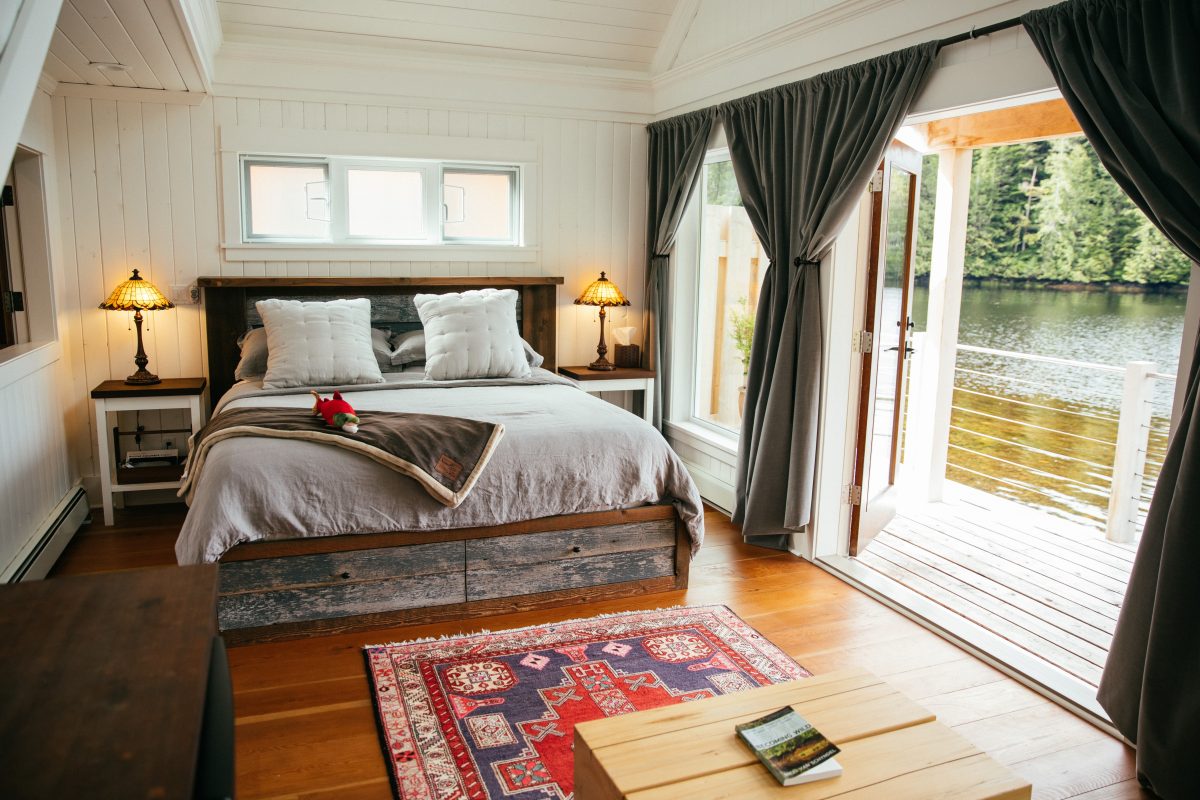 The area is also home to thousands of years of indigenous human history, and we encounter that, too. Canada's west coast was a place of relative abundance for these ancient societies and, consequently, art flourished here, from wood carvings to pictographs—thousands of years old—like we're seeing now, near a place called Kenneth Point, made from red ochre and bear grease. 
The next day, it's time for bears. Rolling out with the same captain-guide pairing, they take us into the dark waters of Mackenzie Sound in search of grizzlies and black bears. Continuing her informative patter as we all scan the shorelines for life, Captain Jen notes that this water is home to a number of marine mammals, including dolphins, porpoises, seals, sea lions and, occasionally, orca. She adds that we're looking for areas near the water filled with rocks, which bears like to turn over, looking for mussels and crab. "They spend a lot of time in the intertidal zone," she says, which present these beasts with a sort of wild supermarket of food options every day. 
Soon enough we spot one, a big male bear, about five years old, flipping rocks, browsing for breakfast. Our boat falls silent, and we approach, the engine low, trying to get close, without disturbing his meal. After a few minutes of searching, he gives up, sauntering back into the nearby woods, gone the second he passes from the rocky shore, into the green. 
Heading back toward Nimmo, we keep our eyes peeled for grizzly bears, en route passing a series of tidal rapids, navigating near the village of Hopetown, a small, isolated indigenous community that's home to Henry Speck Jr., a renowned carver whose work is collected across North America. We arrive back at the lodge famished, and sit down inside—snug, warm, comfortable—to a huge platter of seafood, primarily super-fresh crab, red and ready to go, as well as a healthy mess of mussels. Like that bear, earlier in the morning, we dig into it, hungrily scooping out the mussels and cracking the crab.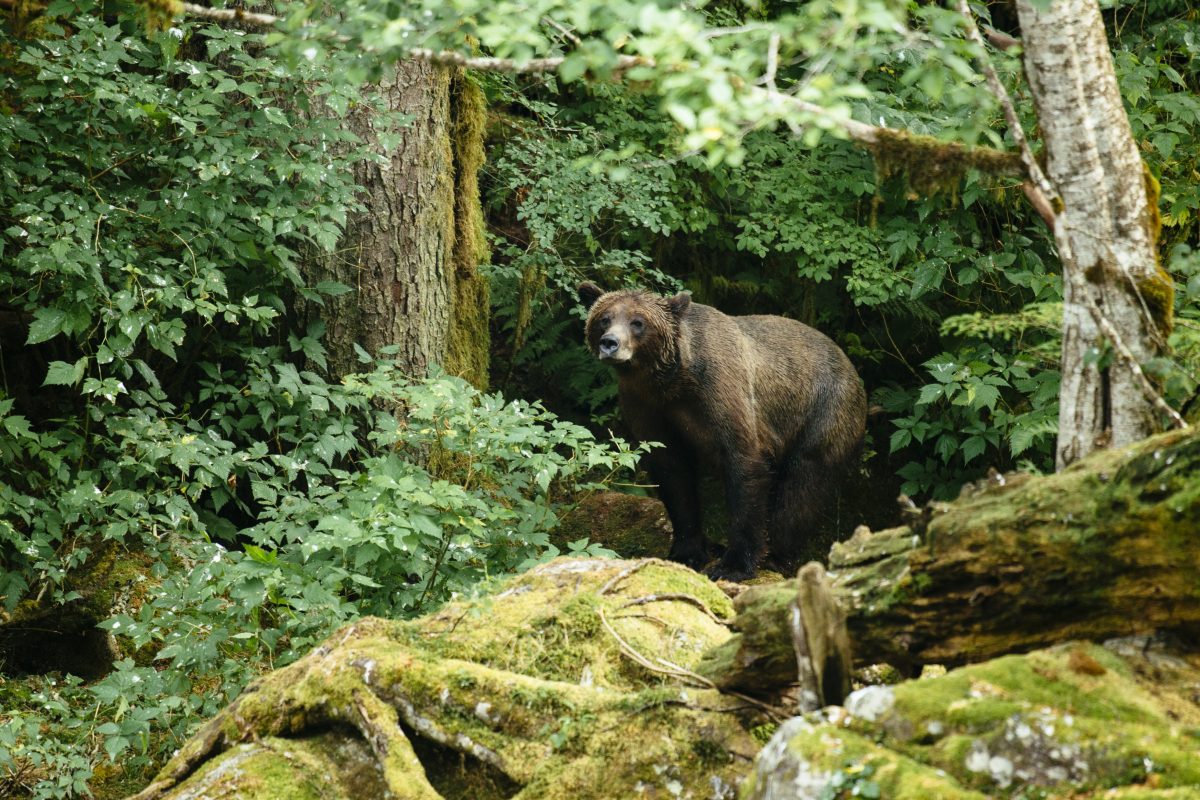 The float plane is waiting, pulled up to the dock and primed to take us back to civilization. But for the moment, just now, another album spinning on the record player, the sun shining, the rainforest all around, and a hearty feast before us, I can't quite imagine leaving—at least, not until the last leg is gone from the platter.
When You Go
A member of National Geographic Unique Lodges of the World and the Magnificent 7 Luxury Wilderness Lodges of Canada, Nimmo Bay Resort is accessible only by boat, helicopter, or float plane. Their nine luxury cabins are often booked well in advance—months, even years—during peak season.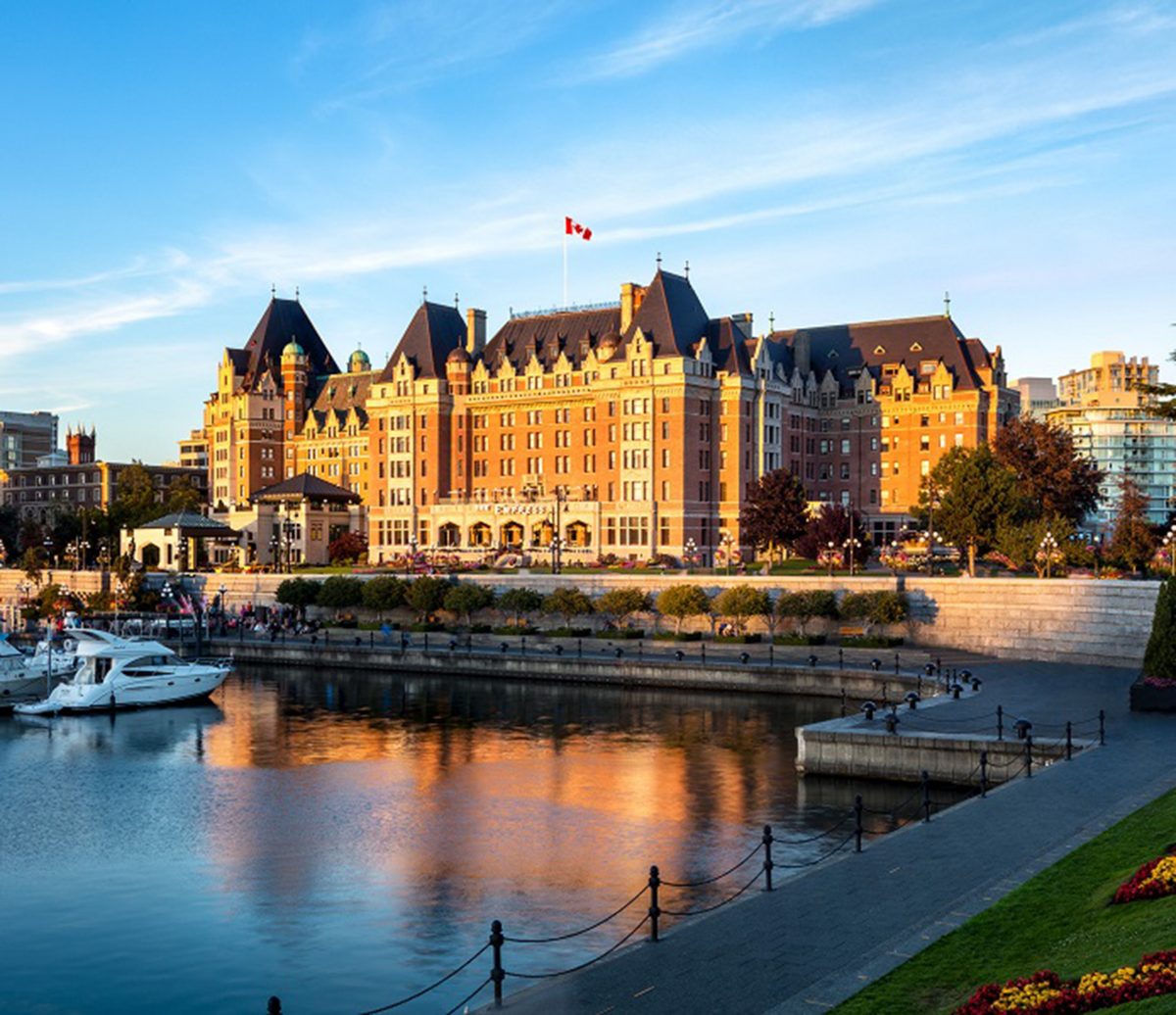 The Fairmont Empress has recently emerged—lovelier than ever—from a $45 million renovation, Canada's Castle on the Coast has commanded Victoria Harbor since 1908. Stay and enjoy sweeping water views, as well as high tea, which has been served here since the day the hotel opened.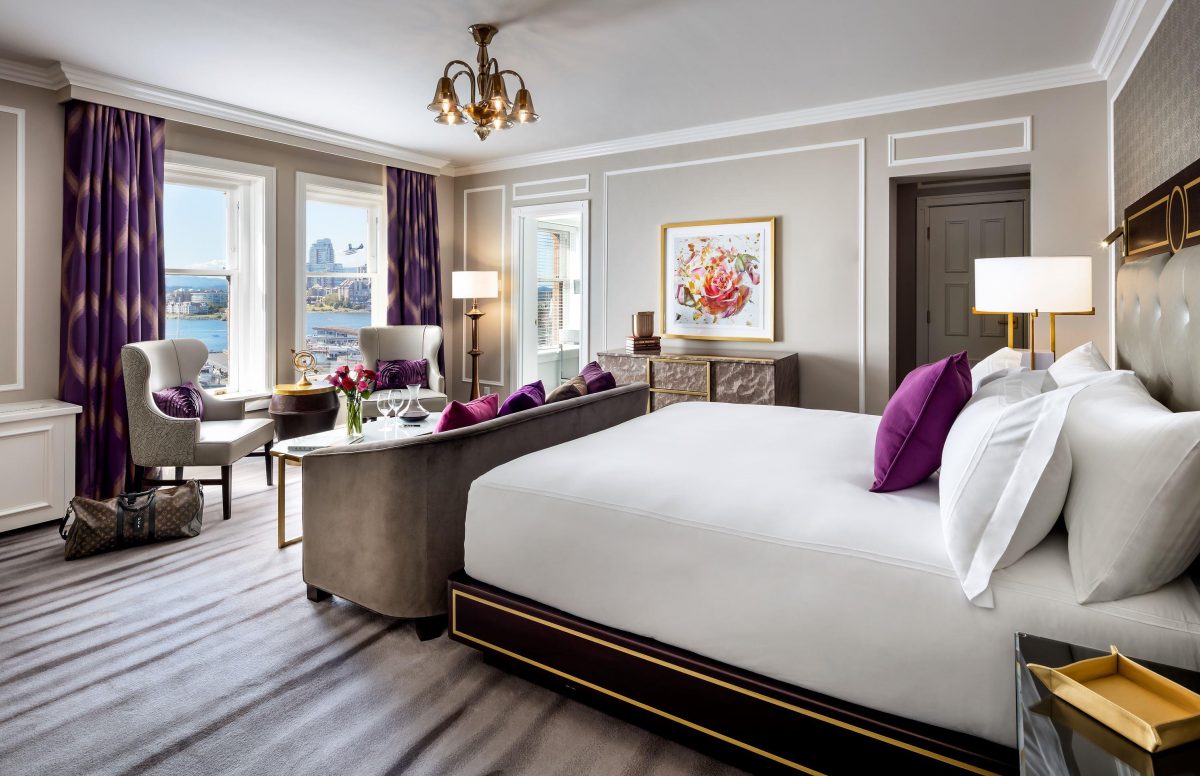 VIH Executjet provides an exclusive, private experience aboard their fleet of helicopters, jets, and planes, including the Cessna Caravan Amphibian that shuttles guests from Victoria Harbor up to Nimmo Bay. 
Toronto-based writer Tim Johnson is always traveling, in search of the next great story. Having visited 140 countries across all seven continents, he's tracked lions on foot in Botswana, dug for dinosaur bones in Mongolia, and walked among a half-million penguins on South Georgia Island. He contributes to some of North America's largest publications, including CNN Travel, Bloomberg, and The Globe and Mail.
The writer was a guest of Destination BC and Nimmo Bay Resort.