By current count, there are more than 300 wineries in and around Paso Robles, California. Some, like Austin Hope, can trace their roots back to the 1970s winemaking renaissance in Napa and Sonoma. But others, like McPrice "Mac" Myers and Susan A. Mahler, are shaking things up and taking their industry in exciting new directions. There's also a dynamite new foodie destination in town, by way of Napa, called FINCA, home of the chipotle-butter-grilled oyster.
Though he's a relative newcomer to the scene, Myers's wines—particularly his blends of Rhone varietals—are the exciting results of an ongoing work in progress. With a flair for the unpredictable and a willingness to take chances, this winery promises to be a multiseason phenomenon.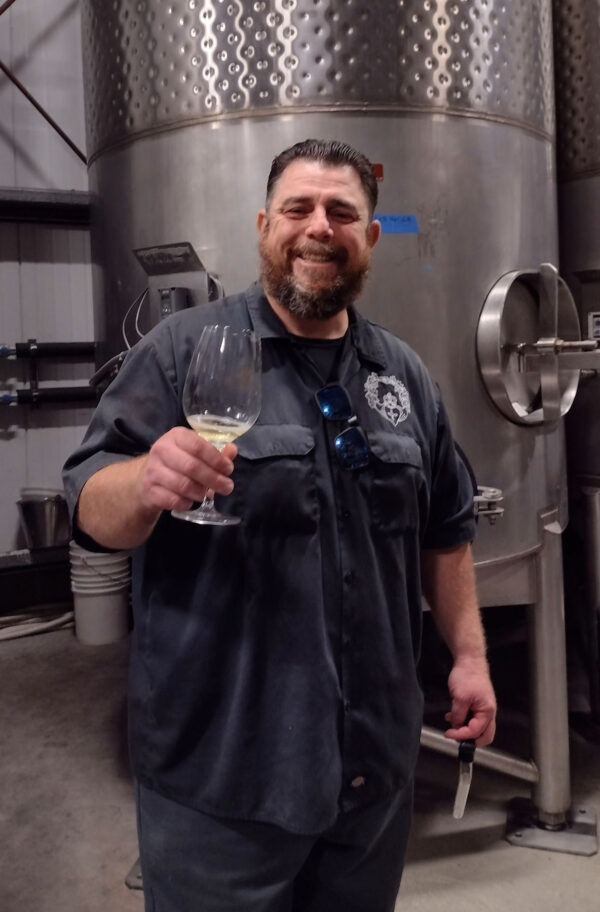 What I found equally engaging was the story of Myers's back-door entry into the high-stakes game of winemaking and the delight he takes in being the feisty working-class new kid on the block. Who else would proudly proclaim a line of "Hard Working Wines"—which are enjoying national distribution—with names such as "Bull by the Horns," "Right Hand Man," Pound for Pound," and "High on the Hog"?
His signature "Beautiful Earth" series includes a fragrant "Earth Rose" fermented in stainless steel from 100 percent Mourvedre and a big, full-bodied Rhone blend, "Beautiful Earth Red." His secret weapon is the addition of white Viognier grapes to his red-wine blends.
"Winemakers have been adding white grapes to red blends for years to add depth," he said. "But they won't tell you about it."
Enjoyable as his tasting wines are, it's the barrel-room samples he has extracted from his sleeping beauty Syrahs—so dark in color they look like motor oil—that offer a promise of great things to come.
Unlike many a tasting room, Myers doesn't show off a framed copy of his diploma in viticulture from UC Davis. That's because he doesn't have one. If he framed anything it would probably be the first dollar he made working the floor at the Trader Joe's market in Whittier. It may not sound particularly prestigious, but at that time in its evolution, Trader Joe's was renowned for offering intriguingly odd lots of international wines—from Bordeaux to Santiago—at bargain prices. For an eager young man with keen taste buds and a desire to learn, it was the perfect place to become a self-proclaimed "wine geek." Take those skills, add an extended stay in France, get some backing, and find available land in and around Paso Robles, and you have the origins of McPrice Myers Winery. Remember the name.
The road to Paso Robles was equally unpredictable for Susan A. Mahler. How many other winemakers can you think of who have earned advanced degrees in earth science and remote sensing from UC Berkeley, done five years of climatological research, worked as a flight instructor and towed gliders, trained as a professional cook at a Colorado hotel when she was 18, become an avid downhill skier and mountain biker, and achieved an elite degree in tae kwon do. Mahler co-founded Four Vines Winery, then moved to Paso Robles in 2002, where she now oversees and owns Cypher Winery Tasting Room and Kitchen.
With her business now located in the old Paso Robles train depot, Mahler has dedicated herself to raising the wine-tasting experience to another level. Forget that stale bowl of oyster crackers. For Mahler each wine is paired with its own perfect bite, gathered from local artisans or harvested from her garden.
Her seven-course ($25) wine flight, among its varied delights, pairs a Cypher "Ethereal" Rhone white blend with a bite of brie topped with a dollop of Grenache blanc jelly on croccantini. The "Elemental Tannat" is matched to goat cheese with blueberries dusted with Cypher Kitchen dried sage on a toasted baguette. It all builds to Mahler's fireworks finale—the "Dirt Candy Port"—aged for 15 years from late-harvest Zinfandel grapes—served with a serious fudgy brownie infused with ganache, Dirt Candy Zin Port jelly, and Turkish figs.
Austin Hope Winery and the Hope family have been around for a long time, since the formative Napa days of Caymus and Liberty School wineries. They could be considered California winemaking royalty, with multiple winery labels and a hospitality empire to prove it. Their wines are consistently excellent. But if you wish to sample any of them beyond the single Cabernet Sauvignon they distribute, you'll have to visit their idyllically sited Paso Robles vineyards and tasting room.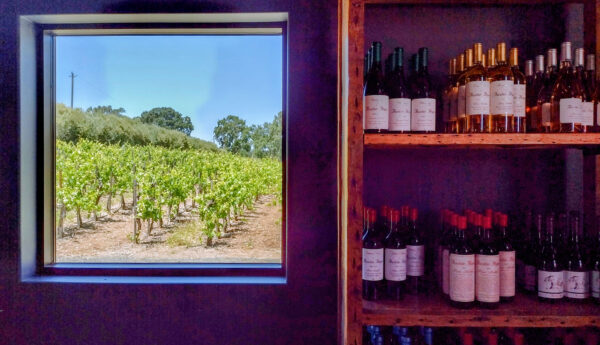 In a pair of enormous wooden barns, visitors can sip from a selection of Rose, Grenache, Cabernet Franc, the Cabernet Sauvignon, and Mourvedre. There is a commodious tasting bar, but the most enjoyable setting is to reserve one of the cozy, umbrella-covered tasting cabanas. Initially created as a safeguard during the pandemic, these vineyard-facing cabanas became so popular they are now a permanent fixture.
Located on Spring Street in downtown Paso Robles is a Mexican cafe with a gourmet difference, FINCA. It had been open for just over a month when I had the good luck to be directed to it. It was founded by the co-owners of La Taquiza in Napa, Patrick Aguirre and his wife Stephanie, who are ably assisted in the new location by their son, Diego, and daughter-in-law, Cecilia.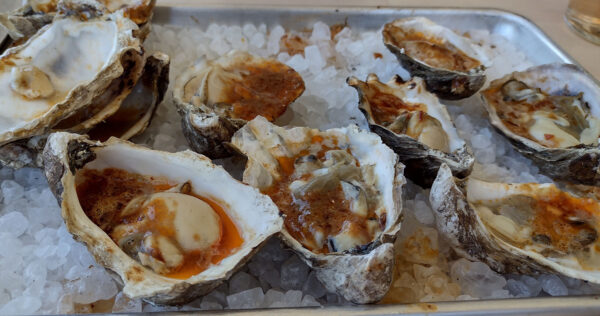 Located in a historic house adjacent to the newly developed Paso Market Walk, FINCA—Spanish for farm—features Baja- and Sonora-style Mexican food with an emphasis on wood-grilled seafood and carne asada. And while the pork belly chile verde and pollo tesmole tacos were delicious, served Baja-style on soft corn tortillas, the fresh-grilled oysters served bubbling in chipotle butter were to die for, especially when combined with a perfectly chilled Grenache Blanc.
Sure, Napa is fine. No doubt about it. But for half the price and something more off the beaten, predictable path, head to Paso Robles.
When You Go
Visit Paso Robles Wine Country online at PasoWine.com, McPrice Myers Winery at McPriceMyers.com, Cypher Winery Tasting Room and Kitchen at CypherWinery.com, Austin Hope Winery at HopeFamilyWines.com, and FINCA at FincaPasoRobles.com
Jim Farber is a freelance writer. To read features by other Creators Syndicate writers and cartoonists, visit the Creators Syndicate website at Creators.com. Copyright 2021 Creators.com