Davey's Ice Cream Opens Twice
New homemade ice cream shop in East Village
September 20, 2013 7:02 pm Last Updated: September 20, 2013 7:03 pm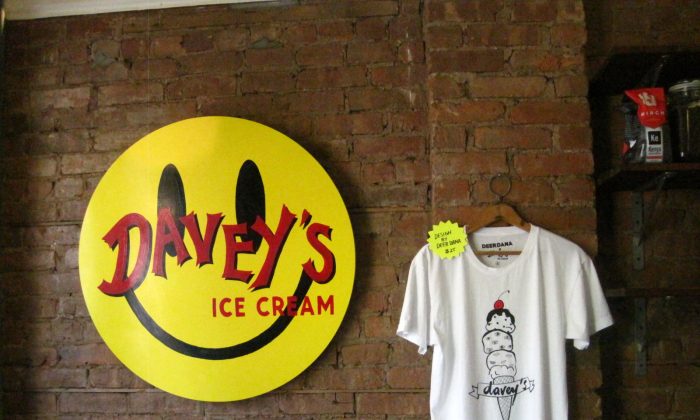 NEW YORK—A meandering line formed in front of Davey's Ice Cream at 1st Ave and St. Marks Place on Sept. 13, as free samples of homemade ice cream were handed out in celebration of its opening.
On Sept. 20, owner David Yoo, 30, celebrated the opening again—he said the ice cream last week was not the right texture, and this week was the "real" opening.
"It was too frozen [last week]," he said. The shop closed on Wednesday and Thursday to fix the problem, and officially opened a second time on Sept. 20.
Yoo didn't sleep for two nights beforehand, as his ice cream takes three days to make.
A Parsons graduate, Yoo was a graphic designer at Giovanni Bianco Studio 65 until September last year. He personally designed logos for clients such as Madonna, but left to be an entrepreneur; he left without taking a single portfolio with him.
"I wanted to make sure there was no turning back," Yoo said.
Ice Cream Marathon
The idea for Davey's Ice Cream was born during an "ice cream marathon" with his girlfriend a few years ago, when they tried to sample every single ice cream shop in New York City in the course of a day.
"We ran out of stores to go to before midnight," he said. "So our last stop was the Mister Softee truck at Union Square."
For Yoo, the important lesson of the day was not how much dairy the human body can possibly hold, but that there are very few homemade ice cream shops in New York City.
Other New York City businesses that hand make ice cream include Milk Made Ice Cream, Ample Hills Creamery, and Cones. But Yoo feels there should be many more.
He recalls his visits to Portland, a city close to farmland, where made-from-scratch ice cream stores are on almost every corner.
He has an assembly of equipment in the back, including a custom-made pasteurizer from the Netherlands. He calls the equipment his "dairy farm," which can be seen through a glass window.
Flavors
Davey's Ice Cream sells coffee ice cream made with Birch Coffee beans. It combines the exquisite taste of ice cream, with the gratifying bitterness of good coffee. It comes with a wake-up buzz too. His coffee ice cream is a must-try for all coffee addicts with a sweet tooth.
Yoo also sells a delightful Mexican Vanilla ice cream. But he only has two months' worth of vanilla beans due to a supplier issue in Mexico, so get it while you can.
The ice cream flavors at this moment are: Chocolate Chocolate; Strong Coffee; and Roasted Pistachio. One scoop costs $4.25; 2 scoops, $5.50; and 3 scoops, $6.25.
They have a variety of toppings and syrups, such as sprinkles, peanuts, whipped cream (75 cents each); and homemade hot fudge and caramel syrups ($1 each).
Right now, there is also a very nice seasonal black pepper watermelon sorbet.
Keep an eye out for more flavors as Yoo keeps figuring things out.
Davey's Ice Cream
137 First Ave., New York
212-228-8032
Hours
Monday through Friday: 1 p.m.–11 p.m.
Saturday and Sunday: 1 p.m.–12 a.m.