Daniel Lee, Leaf Artist Extraordinaire
September 15, 2014 11:54 pm Last Updated: September 15, 2014 11:54 pm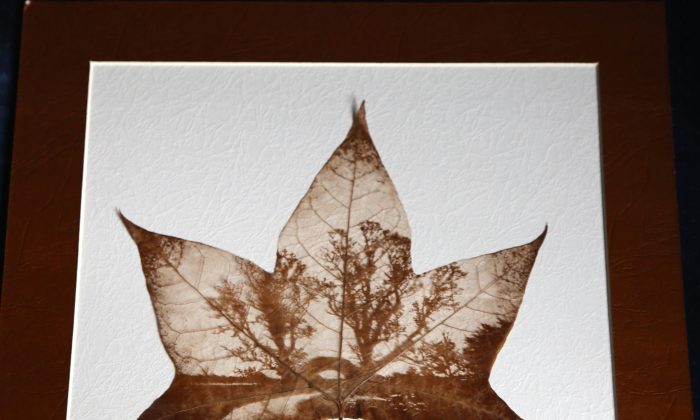 Artist Daniel Lee takes autumn leaves and gives them a new life by carving beautiful images on them. 
Although leaf carving is relatively new to Canada, it is a folk art from his home country of China that Lee says he learned from a master.
Lee, who moved to Canada three years ago and lives in Montreal, spent this past summer selling his art in the market in downtown Ottawa.
It takes both perseverance and a delicate hand to process the leaves and then carve each into a piece of art. 
"It takes time and patience," says Lee. "It's a special technique I learned from a master personally and originally from China. The processing time takes six days to finish one from the beginning to the end."
Lee collects maple leaves that have fallen from trees in the park, dries them, and then preserves them using a proprietary process. After preservation the leaves are flexible and have turned a mahogany brown colour, which varies in density across the leaf.
Lee says the leaf will stay this way for many years and will not dry out or crumble so it can be framed and hung on the wall. He sells them mounted and matted or framed.
After choosing an image to carve into the leaf, Lee first makes a stencil. Then, using a very fine blade and other tools, he creates the image by slowly removing the upper layers of mesophyll, or leaf tissue, while leaving the veins and structure intact. He also makes use of the various shades of brown in the leaf to add dimension to the image.
"It's very special artwork," says Lee, adding that he is the only leaf artist in Canada.
His subject matter varies and may include such iconic images as the beaver and moose, which, on a maple leaf, couldn't be any more Canadian.
Lee also carves delicate landscape scenes containing trees and birds, and images from other lands such as the desert camel. His choice of subject matter is far-reaching and makes for a unique piece of art. The final product is both natural and attractive.
For those who prefer the original red and gold colours of autumn leaves, Lee will carve a leaf without first processing it. However, the leaf is very delicate and could crumble over time if not soon mounted under glass to protect it and keep it intact.
Lee says he also does oil painting, acrylic painting, and name art. His leaf carvings and other works can be seen at www.etsy.com/ca/shop/Uniqueartworkss