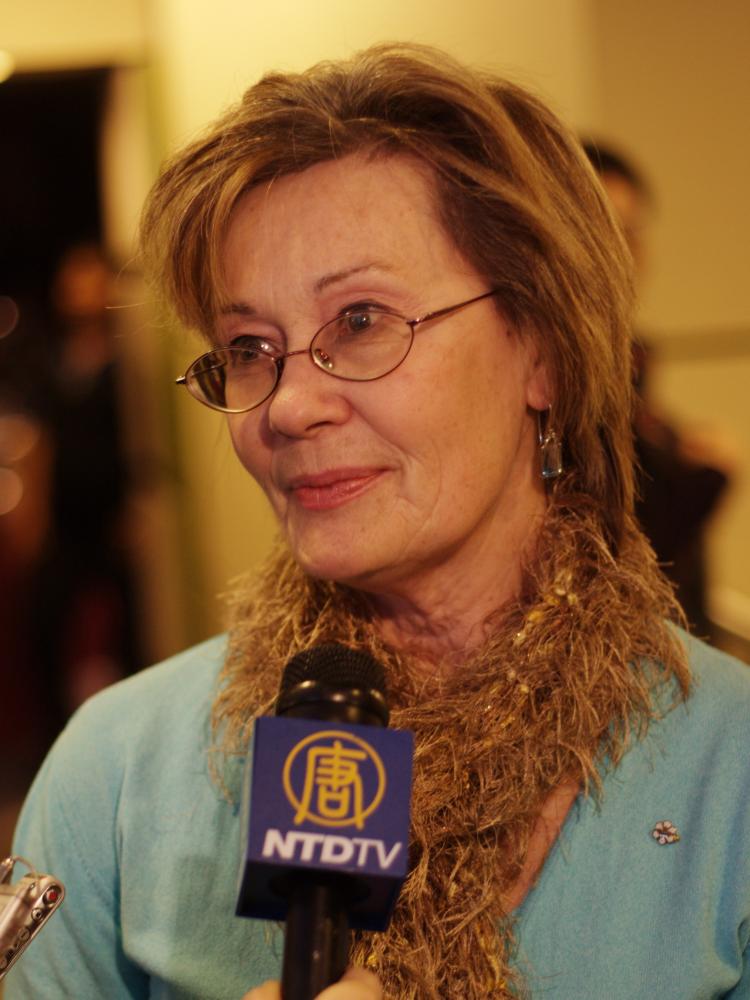 TORONTO—Tuesday night was renowned Canadian ballet dancer Ms. Harwood's third time seeing Divine Performing Arts (DPA) on stage.
At intermission at the Toronto Metro Convention Centre, she noted that the pieces were "completely different" and praised the beauty of the show and the technique of the dancers.
Ms. Harwood particularly enjoyed the Dance of the Snow-Capped Mountain, a vigorous dance celebrating the energy and vibrancy of the Tibetan people as they displayed joyful gestures of welcome wearing their long sleeves, sturdy boots, and colourful prayer beads.
"It's very beautiful, well-rehearsed," she said. She said she and her fellow dancers would "love to see a ballet company with male dancers as well rehearsed as these dancers, because they were wonderful, and they do it with such passion and technique too."
Ms. Harwood is a former principal dancer with the National Ballet of Canada. For her accomplishments, in 1984 she was appointed as an Officer of the Order of Canada, the top civilian honour of the country.
Ms. Harwood became known as "Superswan" after her moving interpretations of Tchaikovsky's "Swan Lake." Her performances were in constant demand worldwide, and she was also an outspoken advocate of Canadian unity through the arts, noted the office of the Governor General of Canada, who announced her appointment.
Ms. Harwood highly commended two of DPA's lead performers.
Lead dancer Yungchia Chen reminded her and her colleagues of "an old partner" whom they danced with in the past—Mr. Boutilier.
"[Mr. Boutilier] was a little taller, but he had great technique and great passionate energy to the audience who can't stop looking at him."
Mr. Chen won the Gold Medal at New Tang Dynasty Television's (NTDTV's) 2007 International Chinese Classical Dance Competition. Among other honours, he was also winner of the International Cultural Exchange Award and winner of the Silver Medal in choreography at Japan's Kitakyushu International Dance Competition.
Before coming to the United States, Mr. Chen was a lecturer in dance at Central University for Nationalities in Beijing.
Why would the audience like one performer over another? "They seem to have an inner strength, an inner something that comes across to the audience and touches them, for whatever reason," said Ms. Harwood.
Ms Harwood said Mr. Chen stood out for his charisma and experience.
"Often, as a performer has more experience, their power becomes stronger. And the reason we are on stage is to communicate with an audience and make them feel and make them see something different or think about themselves in another way. So as a performer gets older and they have that inner charisma … and [Mr. Chen] has that."
And lead dancer Michelle Ren, winner of the first prize in the Adult Female Division of NTDTV's International Chinese Classical Dance Competition in 2007.
"She's special, because she's definitely different than all them," said Ms. Harwood.
"She has an inner feeling that comes across. Her acting is very strong, and she makes you feel the pain of what they are going through and is very beautiful."
Ms. Ren currently serves as a choreographer as well as a principal dancer with DPA New York Company.
Ms. Harwood noted Ms. Ren's skilled performance in the piece Heaven Awaits Us Despite Persecution.
Heaven Awaits Us Despite Persecution, tells the tale of a father who is persecuted for practicing Falun Gong. The fantastic scenes that ultimately unfold in this piece present a message of hope and bespeak of a longstanding Chinese belief that good people are ultimately rewarded, even if not in this lifetime.
It's a modern story that in some ways "represents all of life in any situation," said Ms. Harwood. It made her think of other situations around the world that are unfair—situations "you try to fight against. [Michelle] brings that strength and makes you see these things."
Ms. Harwood said the show also helped her realize that gymnastics originated from Chinese classical dance. "Like the flips and back flips and the cartwheels … That was something I never knew before. No wonder they're good at it."
The Chinese classical dance performed tonight was "very, very well rehearsed and precise, so it's very, very specific … To do it well, and I am seeing that they're doing it well, it has to be well rehearsed," said Ms. Harwood. And when it's very specific, "it is very beautiful," she said.
She also found it interesting to hear the sound of Chinese and Western music and instruments mixed together in the Divine Performing Arts' live orchestra
"Somebody said, oh my goodness, they have a live orchestra! Now maybe big ballet companies have a live orchestra, but a lot of shows do not, so it's very nice to hear."
Divine Performing Arts will take to the stage once more in Toronto on Wednesday evening before moving on to New York City's famed Radio City Music Hall. Divine Performing Arts has two other dance companies currently touring in the United States.
The Epoch Times is a proud sponsor of the Divine Performing Arts 2009 World Tour. For more information visit www.divineperformingarts.org