Dancer, Choreographer Says Classical Training in Shen Yun Is Amazing
April 16, 2014 8:50 am Last Updated: April 16, 2014 8:50 am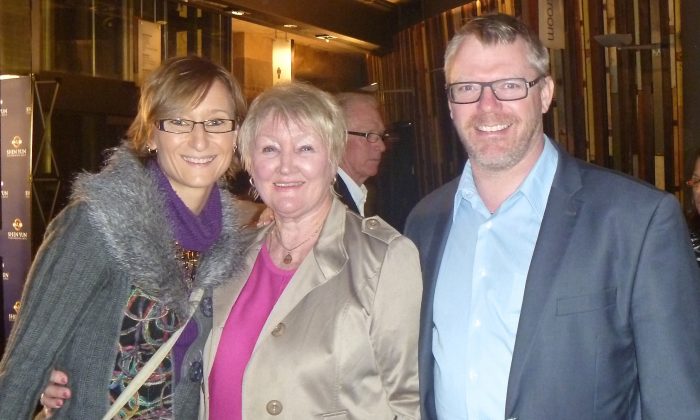 SYDNEY—"I think it's excellent," said Diane Heaton from Diane Heaton Dancers, after the opening of Shen Yun Performing Arts International Company at Sydney Theatre on April 15.
"The classical training is amazing," she continued, accompanied by friends Katherine and Graham Munro.
Classical Chinese dance is at the heart of New York-based Shen Yun. The show also includes folk and ethnic dances, as well as mini-dramas and vocal soloists. State-of-the-art digital backdrops and a live orchestra add to a complete theatrical experience.
Ms. Heaton particularly appreciated the costumes and classical dancing, and how each complements the other.
"I loved the colour and the movement. The costumes are amazing! The colour and the movement is fabulous," she said.
"The movement is amazing, the acrobatic skills are very good, most enjoyable."
She was very interested to hear that Shen Yun is based in New York and not in Beijing.
Ms. Heaton began her career as a dancer on television, and her love of live variety theatre led to choreography. She has organised and choreographed many special events for numerous high profile companies, as well as three Royal Command Performances–twice for Queen Elizabeth and once for the Duke and Duchess of Kent. Her dance troupes have won nine consecutive Mo Awards. Today she also works as a casting director and consultant for several worldwide companies, according to her website.
Dance Teacher: Incredible Unison
Katherine Munro, model, actor, musician, dancer, and dance teacher, also shared her experience of the wonder of Shen Yun. "I think it's incredible, the unison, amongst all the dancers," she said.
As the Shen Yun website explains: "Classical Chinese dance has its own set of training methods in basic skills and has strict training in both physical expression and specific postures. It also involves learning combinations of leaps, turns, flips, spins, and other aerial and tumbling techniques. It is a vast and independent system of dance."
With up to 20 dancers on stage at a time, their precision is a feature that amazes many. Being a dance teacher, Ms. Munro was particularly impressed by this.
"As a dance teacher myself, to try and get all the kids to dance together, it's difficult, so obviously the professionalism and everything like that is just incredible," she said.
Ms. Munro felt inspired by Shen Yun, and said she would encourage all dancers to experience this performance.
"Just to give the kids some inspiration, maybe tell them to go and see … That's the only way that you can really show them what it is, how to dance together: go and watch."
She said it was hard to put into words what she had experienced. "I don't really have words to explain. It's amazing, amazing is definitely one of the words to describe it for sure.
"I loved the story lines, loved the acrobatics, loved the dancing, loved everything," she added.
"I loved the men, when the men are dancing and doing all their acrobatics and all of the fighting, the choreographed fights, I loved that stuff. It's awesome, and with the instruments, like the chopsticks and the drums, adding that combined with the dancing."
Trumpet Player 'Blown away' by Execution
Graham Munro, a musician and classical trumpet player, was also impressed by the Shen Yun experience, particularly the orchestra.
The Shen Yun orchestra features classical Western instruments and traditional Chinese instruments playing original scores.
"I loved the orchestra, I loved that it's a live orchestra, and the musicians are phenomenal," he said, adding that the trumpet players were "fantastic."
The combination of the Chinese and Western instruments "sounds great, it's a good sound.'
The synchronization of the music and dance also appealed to Mr. Munro.
"I'm just blown away by the execution of everybody," he said. "It's unbelievable, some of the flips that land on a cymbal hit and things like that are just incredibly timed."
"And all that chopstick work, and especially that last piece, and the drum work and the dancers on stage with phenomenal timing, impeccable rhythm, it's exciting."
Reporting by Steve Xu and Leigh Smith
New York-based Shen Yun Performing Arts has four touring companies that perform simultaneously around the world. For more information, visit Shen Yun Performing Arts.
The Epoch Times considers Shen Yun Performing Arts the significant cultural event of our time. We have proudly covered audience reactions since Shen Yun's inception in 2006.