January 2, 2013, was the day that Brent Gehring's life would change forever: his then 1-year-old daughter, Emma, was diagnosed with brain cancer.
When Gehring and his wife, Kathryn, who have two other kids, received the news, they had to take a day off of work to process what they had learned. Gehring returned to his job as a Marketing Teacher at Bellevue East High School in Nebraska the next day and shared their story with each class.
"It was obviously one of the more emotional days of my life," he told Humanity.

After telling one of his classes about Emma, a student of his said, "Don't worry, Mr. Gehring. She's Emma Strong! She'll be fine."
Those words stuck with Gehring, and "Emma Strong" became the name of his campaign—to not only help his daughter but raise money for other children with brain cancer.
Over the years, Emma has proven just as strong as the campaign's name suggests. Throughout all of her scans, shunts, and surgeries, she has kept holding on, inspiring others with every challenge she has overcome.
Still some see Emma and her parents from the outside looking in, not understanding why she behaves how she does or why they treat her the way they do. Usually their questions and confused stares aren't malicious—they simply stem from ignorance.
On June 11, Gehring shared the story of one encounter he had outside of a restaurant on the Emma Strong Facebook page. Since then, that post has gone viral.
A Rude Remark

The incident occurred outside of Union Oyster House in Boston, Massachusetts, right after Gehring and Emma had finished a meal.
Gehring is not a Boston native but he considers the city a sort of second home, since he frequently brings Emma there for medical treatments. Such was the case on this day when doctors had told him that the girl would soon be beginning her seventh round of chemotherapy.
Gehring and Emma made their way back to the car, the dad carrying his daughter who couldn't walk without the use of a walker. As he carried her along, Gehring heard the words of a stranger yelling.
"Make her walk. That's what is wrong with kids today."
Gehring asked the man multiple times if he was talking to him. Once he received an affirmative answer, he headed across the street to confront the stranger.
It was hard not to be angry in that moment. Still, he wanted to take the high road.
"I'm not going to lie to you and say that I didn't go across the street with other intentions but, as you get into the moment and as I'm holding my daughter in my arms, you just hope you're going to make the right choice," he said.
He ended up telling the man, "My daughter has been carrying my faith and my strength for the past 5 years since she was diagnosed with a brain tumor. She can't walk but I am happy to carry her because of all the amazing things she has taught me through the years. So I would advise you not address my daughter in any way other than respectful."
Once the stranger learned the truth, he started backpedaling because he knew he had messed up.
"It wasn't a real long encounter," Gehring said. "He talked about [a relative of his] whose name was Emma before she passed and how she had some kind of cancer … he told the story and he talked about the importance of religion and faith."
By the end of the interaction, both men were in tears. They hadn't become friends, but they had learned to understand one another.
After the Incident

Once Gehring posted the story to Facebook, it received over 4,000 reactions and over 1,000 shares. Also his story was covered by Boston's local news station, after which Gehring thought that the stranger from that night might come forward.
However, that has yet to happen.
Either way, Gehring is glad that so many people are learning more about not only Emma's story but brain cancer in general.
While childhood brain cancer is far from a cheerful topic, Gehring wants to focus on the positive impact he's had on children and all of the thoughtful things others have done for him.
"There's so much negative out in the news … but I think, in the last year, the generosity and the kindness that Emma and our family has been surrounded by I could fill a newspaper with," he said.
Recent examples include the prayer shawl Gehring received in the mail after somebody heard his news story, and Emma Strong's annual golf fundraiser which made over $36,000 this year—the most it ever has.
While Gehring is glad to receive, he's also happy to give, as made evident by his plans to donate $75,000 to The University of Nebraska Medical Center, which is about to open a brain tumor clinic. In the end, it's all about awareness.
He said one of the principal goals for Emma Strong and a lot of the other organizations around—in addition to raising money and finding a cure—is to educate people.
"Before Emma was diagnosed, I didn't know very many kids that had brain tumors and now I have five kids' names that I wear on my wrist and we've spent countless hours sitting in oncology rooms watching kids [receive treatment]."
Emma's seventh round of chemotherapy was pushed back so she can have a healthy start to the school year on August 14. We wish her luck as she enters a new grade as well as another round of chemo—likely on August 24.
If you want to help raise money and spread awareness for childhood brain cancer for Emma and other children like her, visit EmmaStrong.com.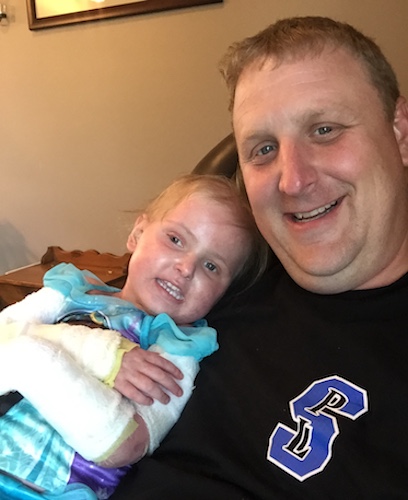 Have an inspiring story you'd like to share? Email me at benjaminbrown@humanitytoday.com
This article was originally published on Humanity.