Czech MP: Shen Yun an Experience for Everybody
May 4, 2014 9:50 pm Last Updated: May 5, 2014 7:24 am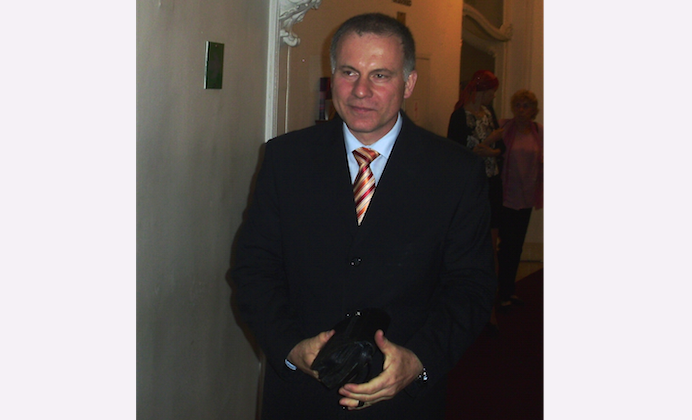 PRAGUE, Czech Republic—After watching Shen Yun Performing Arts' presentation of classical Chinese dance and music at the Opera House in Prague on May 3, Czech Member of Parliament Ludvik Hovorka said the performance is a "beautiful portray of the Chinese history."
"It is very beautiful, certainly an experience for everybody," Mr. Hovorka said.
Classical Chinese dance, which is at the core of Shen Yun's performances, is "known for its incredible flips and spins, and its gentle elegance," according to Shen Yun's website, and "is one of the most rigorous and expressive art forms in the world."
Mr. Hovorka said he enjoyed the different spins and flips performed by the male dancers, as well as the gracefulness of the female dancers.
"The spinning technique, you cannot see this anywhere else," Mr. Hovorka said.
Watching Shen Yun, Mr. Hovorka said, gave him a feeling of relaxation, a feeling of calm that he can take home with him. The music of Shen Yun is also very soothing, he added.
"I like the Chinese music, it's very relaxing. And also I like the movements."
Spirituality in Chinese Culture
According to the Shen Yun website, "Sophisticated dance techniques, an orchestra joining instruments from both the East and West, beautiful costumes, and a stunning back drop—this is Shen Yun at first glance. But digging deeper, one discovers a sea of traditional Chinese culture.
"Mortals and divine beings merge on stage as one. Principles such as benevolence and justice, propriety and wisdom, respect for the heavens, and divine retribution, all come to life, washing over the audience. Originating from Confucianism, Buddhism, and Taoism, these ideals are the essence of traditional Chinese culture."
Mr. Hovorka said watching Shen Yun, he could see how the traditional Chinese culture is rooted in spiritual beliefs.
"I think that the ancient Chinese culture has its basis in spirituality, and it has been passed on from one generation to the next."
He also expressed concern for what the current communist regime has done to the Chinese culture and how it has turned people away from their traditions.
"The question is how much modern Chinese people are religious and have the [traditional] values inside of them, how much the [Chinese communist] regime has influenced them," he explained.
"Because also here, in Czech, we were influenced by the [communist] regime, and I would say that most people nowadays are atheists or believe in new modern religions."
In closing, Mr. Hovorka said he'd certainly recommend the performance to his family members and colleagues, and he'd also be planning to attend the performance next year.
With reporting by Peter Sanftmann
New York-based Shen Yun Performing Arts has four touring companies that perform simultaneously around the world. For more information, visit Shen Yun Performing Arts.
The Epoch Times considers Shen Yun Performing Arts the significant cultural event of our time. We have proudly covered audience reactions since Shen Yun's inception in 2006.