Curb Food Cravings With Sautéed Greens
July 4, 2013 1:39 am Last Updated: July 4, 2013 1:39 am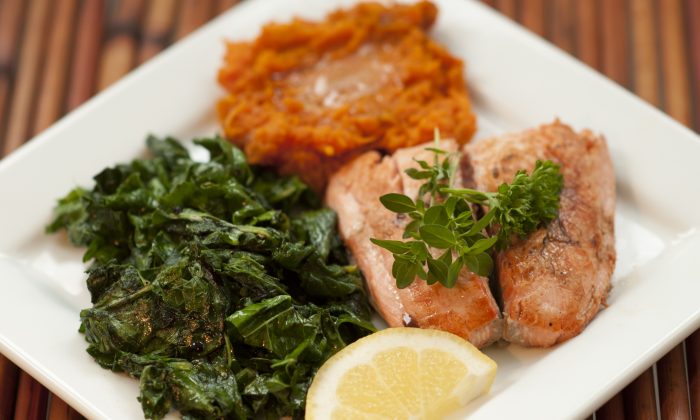 Our internal circadian system regulates our hunger level and appetite for certain foods. This system appears to peak in the evening, and in some people can lead to overeating and the craving for sweets, starchy, and salty foods, according to a joint study by Harvard and Oregon Health & Science University.
The results are often unwanted weight, fluctuations in energy and sugar levels, and feeling unhealthy.
However, there may be a simply solution. It is known that two cups of greens to the evening meal can help reduce food cravings. Greens make the meal more satisfying, so no late night eating.
Greens include kale, collard greens, watercress, bok choy, swiss chard, spinach, broccoli, broccoli, rabe, and arugula. They are packed with nutrients such as folic acid, calcium, vitamin C, iron, and fibre, which help digestions.
There are several varieties of kale and bok choy, all of which have different tastes and firmness. You may have to try out a few different kinds of greens until you find your favourites. I prefer kale, bok choy, swiss chard, and spinach, prepared individually or in combinations by sautéing.
Greens are an easy side dish to prepare and complement eggs, meat, fish, tempeh and tofu. What's for dinner tonight? A low-calorie but satisfying meal of sautéed kale and spinach greens with salmon and a sweet potato.
Tasty Sautéed Greens
500 to 750 ml (2 to 3 cups) of leafy organic greens (kale, bok choy, swiss chard, or spinach) or a combination
5 ml (1 tsp) virgin olive oil or flavoured oil
Pinch of salt, pepper and/or seasonings of choice
Dash of soy sauce or flavoured vinegar (optional)
Small amount of scallions, onion, green or red peppers, garlic, chopped or grated ginger (optional)
Prepare greens by rinsing and towel drying (no need to get all the water off). Remove any big veins and tough stems. Chop the greens into bite-sized pieces. Heat oil in a cast iron or nonstick frying pan on medium heat. When the oil is hot add salt, pepper, and any other seasonings or scallions, onions, etc., and sauté them for a few minutes. Then add greens and sauté until bright green, 3 to 5 minutes. Do not overcook, as they should be slightly crisp. Serve immediately.
Special tips: For extra protein, add two eggs or about one cup of marinated or seasoned tofu or tempeh (sliced thinly), marinated meat cut for stir fry, or fish.
The protein food can be added to the pan after cooking the greens for about a minute. Just push the greens to one side of the pan and cook the protein food on the other side. Combine both for the last minute of cooking. If the protein food takes longer than 3 to 4 minutes to cook, or if you are cooking for multiple people, then prepare it in a separate pan.
As for seasonings, as well as salt and pepper I usually use whatever I have in the fridge that sounds good, such as diced onions and peppers and even sauerkraut, along with a splash of flavoured vinegar or blackened meat or fish seasoning. If you are not a regular vinegar fan, don't rule out a splash of quality seasoned fruit vinegar on top of the greens just before removing them from the pan.