NEW YORK—This annual presentation, now in its 13th year, is a feast for the eyes as well as the ears. Cristina Fontanelli brings her glorious soprano voice to the service of Italy's best-loved songs, operatic arias, Neapolitan songs, as well as favorite Christmas carols.
It is a plus that Ms. Fontanelli presents a gorgeous and glamorous figure, wearing richly embellished but tasteful gowns—a different choice for each of the program's two acts. 
But beyond being just a singer, Ms. Fontanelli is a showman (or woman). She is immensely theatrical and exhibits a strong stage presence. Yet she is also down-to-earth, and holds the audience in the palm of her hand with her genuine warmth and vivacity. At times during the performance, she even made verbal contact with friends or colleagues in the audience that afternoon.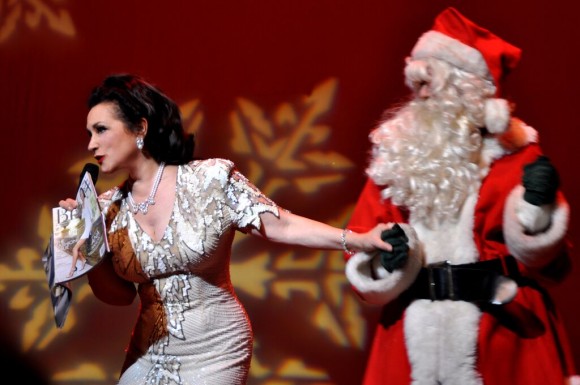 Her love and enthusiasm for her material are very evident, and the listener senses that Fontanelli's life has been devoted to what must be a calling more than simply a career.
Ms. Fontanelli, if she were so inclined, could boast of a remarkable resume. She has been host for Andrea Bocelli's historic free concert in Central Park. She has entertained at the White House in Washington, D.C., for President Clinton, as well as being invited to open the ceremonies at the Stars and Stripes Inaugural Ball for President George W. Bush, to list only a few highlights of her rich career. Other credits and awards are too numerous to list.
A generously sized printed program supplied brief synopses of each offering, for those audience members whose Italian may be rusty or nonexistent.
One smiled at the explanation of Puccini's "O mio babbino caro" from "Gianni Schicchi." Here Ms. Fontanelli winningly portrays a young girl pleading with her daddy to let her go to a jeweler's on Florence's famed bridge Ponte Vecchio to get a wedding ring. She threatens to throw herself off the bridge if her father forbids the marriage. Of course, her daddy is soft-hearted.
The emotional "Mamma," by Cesare Andrea Bixio, arguably could be taken as a tribute to mothers in general.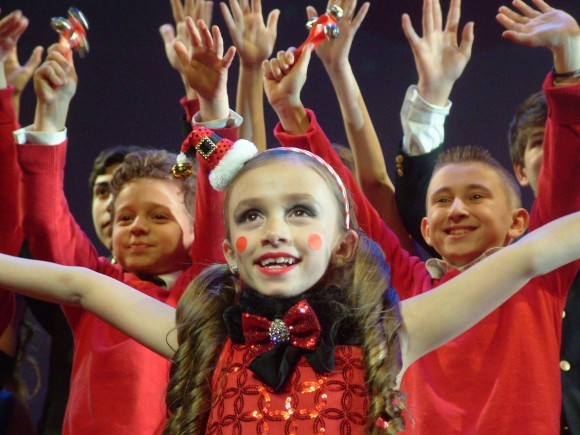 Of course, Italy being Italy, there were a spate of love songs, performed by Fontanelli with the appropriate seasoning of passion and verve: "Brindisi" from "La Traviata," "Torna a Surriento" (Come back to Sorrento), and many, many more.
Lending more depth and variety to the program was Fontanelli's generosity in selecting other performers to contribute different elements of the Italian musical experience. A marvelous tenor, Blake Friedman, charmingly partnered with the diva in some selections, and the two engaged in amusing small talk between songs.
Particularly delightful were selections by an instrumental combo. Featured were mandolin as well as piano, guitar, and accordion.
Not to be omitted were Plu Sayampol and his dancers, and the Christmas in Italy choir.
Even Santa Claus made an appearance.
Two groups of young performers lent their talents. "These are our future," Ms. Fontanelli stated with enthusiasm. These were The Children of the Little Language Studio (Alberta Gulatto, a teacher who has devoted her life to teaching children Italian), The Children of the Jersey City Ballet (Judith Elins, founder, teacher, choreographer), and winners of the Miss Italia USA Scholarship Program.
Even Santa Claus made an appearance; under his beard and bright red costume was possibly lurking one Jon Reinhold.
The above-mentioned younger players added their enthusiasm and skills to such Yuletide favorites as "Jingle Bells," "Dominick the Donkey," "White Christmas," and "O Holy Night," following the classic selections of Verdi, Puccini, Donizetti, Rossini, and others.
But Cristina Fontanelli, with her commanding presence and powerful voice, dominated the proceedings. All in all, the one performance made for a welcome contribution to New York's plethora of Christmas entertainments.
One looks forward to next year and the 14th "Christmas in Italy" presentation.
'Christmas in Italy'
Washington Irving Campus Landmark Theater
40 Irving Place
Information: CristinaFontanelli.com
One performance: Dec. 18 at 3:00 p.m.
Diana Barth writes for various arts publications, including New Millennium. She may be contacted at DiaBarth99@gmail.com