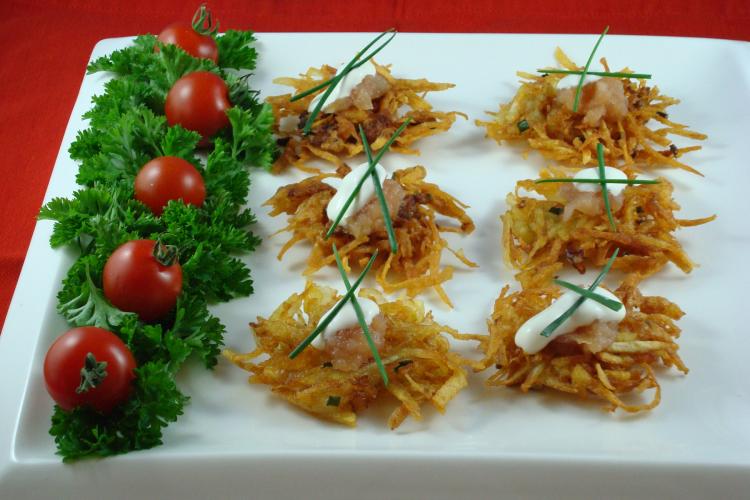 In France they're called pommes frites, in Germany, Kartoffelpuffers, in North America, hash browns, and for Jews everywhere, the latke. No matter what you call them, fried potatoes are popular in many cultures and come in many forms.
The secret to keeping the potatoes crispy is the type of oil used, keeping the temperature of the oil high, and using egg whites rather than whole eggs in the recipe.
Potato pancakes can be made small as appetizers or larger to serve with a main course. To make smaller pancakes use a fork to drop the potato mixture into the hot oil and spread it carefully to get jagged edges.
For the applesauce, cooking the apples with the skins on gives it a pretty pink colour. Most apples are sweet enough without adding sugar, although sugar can be added if a sweeter flavour is required.
Add a dollop of crème fraiche to the pancakes just before serving for that tangy cool touch.
Potato Pancakes
4 medium Burbank russet or Yukon Gold potatoes, peeled
1 small white onion, peeled and minced
15 ml (1 tbsp) snipped chives or green onions
2 egg whites, beaten
40 ml (3 tbsp) all-purpose flour
2 ml (1/2 tsp) baking soda
Salt and pepper to taste
Safflower or Canola oil for frying
Grate the potatoes and put immediately in a large bowl of cold water to keep them from discolouring. Before using, drain the potatoes well and spread on paper towelling to remove any excess moisture.
In a medium-sized bowl mix the onion, chives, egg whites, flour, baking soda, and salt and pepper together. Add the potatoes to the onion mixture with a fork.
Preheat .5-cm (1/4-inch) of oil in a large frying pan until hot, about 180º C (350º F). Place large spoonfuls of the potato mixture into the hot oil, keeping the temperature of the oil constant. Press down on the pancakes with a fork to flatten the centres.
Brown the pancakes on one side for about 5 minutes, turning once until brown on both sides and crisp around the edges.  Transfer to paper towels to drain. Keep the pancakes warm on a rack in a tray in the oven, rather than stacking them on top of each other. Serve with applesauce and crème fraiche.
Pink Applesauce
6 McIntosh apples, washed, cored and sliced
25 ml (2 tbsp) juice or water
5 ml (1 tsp) lemon juice
5-cm (2-inch) cinnamon stick
Place all ingredients in a medium saucepan. Bring to a boil, cover and simmer for 20 to 30 minutes until soft. Remove from heat. Remove cinnamon stick and mash with a potato masher; remove skins. Serve hot or cold.
Crème Fraiche
125 ml (1/2 cup) whipping cream
125 ml (1/2 cup) sour cream
Mix together in a small bowl. Cover with plastic wrap and stand at room temperature for 2 to 5 hours until mixture thickens.  Chill and stir before serving.