My friend and I drove from Toronto to Bayfield, a village on the eastern shore of Lake Huron, to enjoy the sunset at the end of September. Later, a local friend took us to dinner at the newly opened Cowbell Brewing Co. in nearby Blyth.
We both chose grilled Japanese Wagyu and I have to say I've never eaten beef that tender. I was so impressed with the food and the service that I returned one day recently to find out more about Cowbell and take a tour of the facility.
Located in Blyth at the corner of Highways 4 and 25, Cowbell bills itself as the first carbon neutral brewery in North America and the world's first closed-loop brewery, meaning the water used to brew the beer is sourced from an onsite well, with a wastewater plant to manage the effluent. This results in zero impact on the municipal system or the environment.
Tour guide Cheryl Peach said water usage is further reduced by the cutting-edge system the brewery uses.
"You use a lot of water to make beer," she said. "The bottom line is that it's normal that it takes 10 litres of water to make 1 litre of beer. … Our goal at Cowbell is to make a litre of beer from just four litres of water."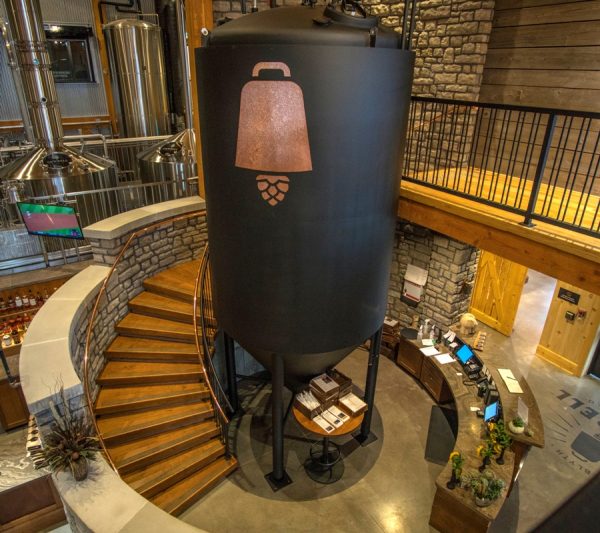 It's a family-friendly facility, so you can take the kids. Aside from the brewery, there's a farm-to-table restaurant with a wood-fired pizza oven, a retail store, entertainment spaces, and a bar that serves fresh Cowbell beer, craft sodas, and nitro coffee. The latter, for the uninitiated, is cold-brewed coffee infused with nitrogen that comes straight from the tap and looks a little like Guinness.
Set on 111 acres, Cowbell can also accommodate weddings, business meetings, and family gatherings, with indoor and outdoor seating for over 400 and a staff of 150. It just opened in August but it's already becoming a popular spot.
The architecture really caught my eye. The building is Grand Old Barn style, built with wood from a sustainably managed Douglas fir forest in British Columbia. It has over 650 beams, which are secured in place by large wooden dowels. Interior and exterior stonework enhances the effect.
As for the beer, there are 10 fermentation tanks and a team of 6 brewers who create various types. The Founders' Series is named for local characters from the past, such as Absent Landlord, a Kölsch-style beer named after Henry Blyth, an Englishman who bought the village in the 1800s but never lived there or even came to see it; Doc Perdue's Bobcat, an ale named for a colourful vet who practiced in the village for 40 years; and Kelly's Contraption, a Hefeweizen-style beer named after John B. Kelly who invented a short-lived automobile four years before Henry Ford.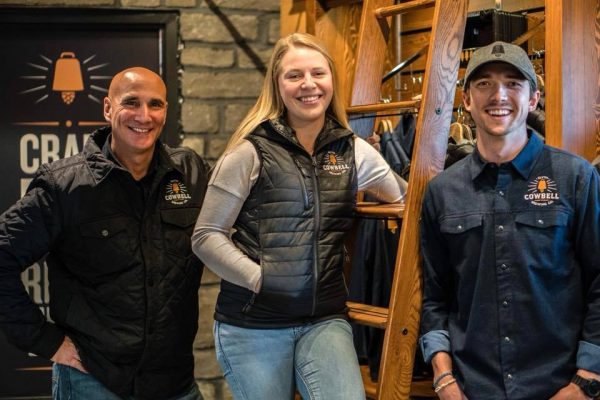 The brewery is owned by Steven Sparling, whose father moved to Blyth in 1948. He started Sparling Propane, a family-owned business that grew to be one of Canada's largest propane retailers before it was sold in 2013. That's when Steven, too young to retire, had the idea of opening a brewery, but not just any brewery—he wanted it to be a cut above the rest.
He runs Cowbell along with his brother David and son Grant, and giving back to the community through a charitable fund they established is a big part of their vision—a desire to support the growth and economic development of Blyth and Huron County.
"They are extremely community focused; everything they create is for the betterment and use of the community," said Cheryl.
Looking to the future, there are several new initiatives in the works, including the construction of a unique outdoor natural amphitheatre for concerts as well as cultural and athletic events, big enough to hold 10,000 people. That will open next year and provide year-round entertainment.
"Lots of fun to come on the Cowbell Farm!" said Cheryl.
More information: cowbellbrewing.com