Consultancy Company President: Shen Yun is Inspiring, Uplifting, Just Brilliant
April 16, 2013 11:46 pm Last Updated: December 23, 2013 10:15 pm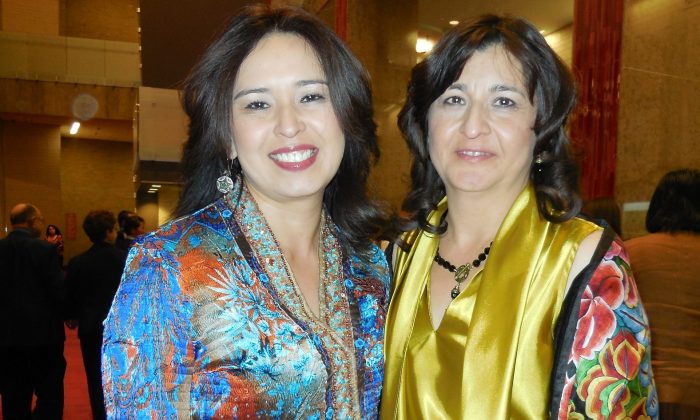 SAN ANTONIO—Shen Yun Performing Arts was a touching experience for Ms. Romanita Matta-Barrera, public advocate and president of Fluent Strategy Group consultancy.
"It was absolutely beautiful, we enjoyed it, and we were also just very pleasantly surprised to hear the history and the background that went with each of the dances as well," Ms. Matta-Barrera said at the Lila Cockrell Theatre in San Antonio Monday night, April 15.
Ms. Matta-Barrera, a leader in cultural outreach herself, was impressed with New York-based Shen Yun's mission to revive traditional Chinese culture through music and dance.
"It was just going back deep into tradition, but also bringing [it] in to the modern era, so I think it brings the relevancy of what's happening today in history as well," said Ms. Matta-Barrera, who serves as the Director of Hispanic Outreach and Communications at the U.S. Department of Education.
"Certainly artists and performers should not be refrained from performing in their own country," Ms. Matta-Barrera said. "And I feel that we're privileged to be able to see it here in U.S. but it should be seen back in China, and it should be celebrated culture, and traditions should be celebrated everywhere."
As the emcees had explained, Shen Yun is not a show you can see in China.
Under the Chinese Communist Party's regime, traditional Chinese culture has all but been destroyed, Shen Yun's website explains. "Forcing atheism upon society, the Chinese Communist Party has for decades launched various campaigns—most notably the Cultural Revolution—to destroy not only cultural sites, temples, and relics, but also the Chinese people's belief in virtue and faith in the divine."
"I think we came away with more than what we expected," Ms. Matta-Barrera said. "It's beyond beautiful performance and art."
Ms. Matta-Barrera said she found the lyrics sung by the solo vocalists to be very touching, and could find meaning in all of the performance.
"Beautiful, absolutely gorgeous," Ms. Matta-Barrera said of the costumes. "I know each one of them had a particular meaning, and we kept noting that every one of them was gorgeous."
"Everything, everything was excellent, it was beautiful, it was absolutely beautiful," she said. "[Shen Yun is] inspiring, uplifting, and just a brilliant performance."
Reporting by Stacy Chen and Catherine Yang
New York-based Shen Yun Performing Arts has three touring companies that perform simultaneously around the world. For more information, visit ShenYunPerformingArts.org.
The Epoch Times considers Shen Yun Performing Arts the significant cultural event of our time. We have proudly covered audience reactions since Shen Yun's inception in 2006.