Concert Pianist: Shen Yun, 'It is an absolutely thrilling performance'
May 13, 2014 8:05 pm Last Updated: May 17, 2014 8:13 pm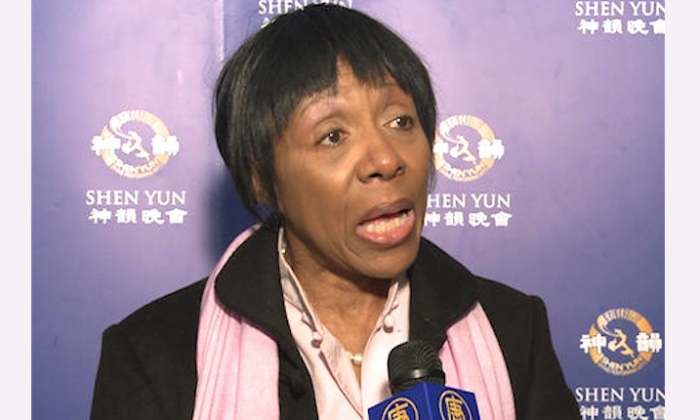 VIENNA—Dr. Sandra Reindl-Schweighofer attended the New York-based Shen Yun Performing Arts Company closing show at the Wiener Stadthalle on Sunday, May 11. This venue opened in the late 1950's, seats up to 16,000 people and is known for many famous shows and artists having performed there.
Dr. Reindl-Schweighofer graduated from New York's Juilliard School and has not just worked as a concert pianist, but also as music director, orchestra conductor and choir directly. She is the founder of Vienna' United Children of the World Choir.
She was the conductor of high school orchestras in several countries and said, "I was conducting an orchestra in high schools, when I was head of music in Japan and also in China. This is actually the reason for me to see this show, because I lived in China for two years. I was also conducting an orchestra there."
She had been given a flyer about the show somewhere in the center of Vienna.
"I was so happy that I happened to come across the flyer … I looked at it and thought, absolutely excellent."
She added, "It was surprising to see, that performers are actually from New York. I know that they are Chinese, but they are living in New York."
"Will they perform in July in New York? Because I will be there," and when told that they were not she said, "Oh, that is such a pity. But, I have seen them, so this is fantastic."
In her mind, the show was "absolutely fantastic … It shows such a history of the Chinese culture and the dancing is fabulous. The orchestra is absolutely super. I really loved that there was a live orchestra and not just background music. The dancing, the singing was absolutely fantastic. It was just beautiful."
Remembering the performance she said that the show was "absolutely beautiful. The synchronization was impressive, as well as the colors."
"It is just a beautiful, fantastic program, especially as it is displaying the Chinese culture, which hopefully will not be lost."
According to the Shen Yun website, "Shen Yun cannot be seen in China today, where traditional culture has been nearly lost. Yet Shen Yun—a non-profit organization—has become an international phenomenon, bringing the wonders of ancient Chinese culture to millions across the globe."
In her musicians mind, the show "was beautiful. Just the way in which everything was presented and the way the choreography was done."
Shen Yun artists perform to the sounds from a live orchestra, an additional important reason for enjoying the show.
"The music I loved so much, especially the live music adds very much to it. Very often you have a production that just has playback music, but you have an actual live orchestra there which is absolutely wonderful. It is an absolutely thrilling performance—wonderful. I am glad I had the chance to see them."
Not having any pre-conceived thoughts about the music she said, "I didn't really think: is this Eastern, is this Western. It was just the music that accompanied the singing, the dancing, everything that was done on stage, apart from the solos that were done with piano accompany. But the orchestra accompanying the dancers, I mean this was just beautiful. A live orchestra is the best thing that you can possibly have."
Looking at the entirety of the show and not looking at individual components, she mentioned, "It is just that everything blended so well."
To emphasize the way she looked at the show, she said "You're in the theater looking at a performance and you just assimilate yourself into the entire production. You do not really try to dissect it and take it apart. You know. You just want to enjoy the entire production. I think that is what it was there for."
Reporting by NTD Television and Heide B. Malhotra

New York-based Shen Yun Performing Arts has four touring companies that perform simultaneously around the world. For more information, visit Shen Yun Performing Arts.
The Epoch Times considers Shen Yun Performing Arts the significant cultural event of our time. We have proudly covered audience reactions since Shen Yun's inception in 2006.