Cole's Greenwich Village Restaurant Brings Flair To Food
July 11, 2013 6:36 pm Last Updated: July 16, 2013 11:37 am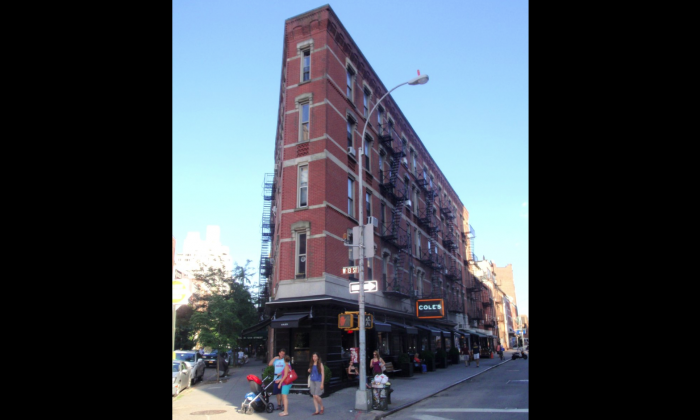 It sits on a wedge like a gigantic piece of cheese. It is old New York with narrow, tree-lined streets and pleasant neighborhoods, old brownstones and brick apartment buildings. Pocket parks add a special flair that is remarkably Greenwich Village. It could be anywhere. A quiet Paris neighborhood, an Irish town, a peaceful German hamlet. It is old world that is specially New York. On the ground floor of the building's wedge, at 118 Greenwich Avenue, sticking out toward Horatio Street, Penny Bradley created Cole's Greenwich Village Restaurant.
The bar area appears at the edge of the wedge with a unique new, yet old fashioned look. Patrons can sit at the bar to have drinks, at casual tables against the wall to dine or pass through to the restaurant area. The room takes advantage of the building's shape with artful displays of old bottles in the windows, antique mirrors in modern frames on the walls with eclectic art that is modern and tastefully placed. The dining room is painted cream with black wood trim. Burgundy leather banquettes are most comfortable and support the back. There are fifteen tables, each of bare wood set with individual candles and linen napkins bearing the Cole's hallmark.
"They are all antique mirrors. You can see things in them. They have depth to them and give atmosphere. Penny soundproofed the ceiling when the restaurant was being renovated. Even on a Friday and Saturday night, when the restaurant is crowded, diners can have conversation," Matthew Lockwood, our server, explained. He offered a cocktail menu and wine list. Cocktails at Cole's have funny names like Grumpy Old Man, a mix of Bourbon, honey, peppercorns, mint and ginger ale. The Midnight Cowboy is a concoction of Bourbon, sweet vermouth and tobacco bitters.
Cole's wine list is straight forward, simple and complete. They offer sparkling Prosecco di Treviso from Italy $11 the glass, $49 the bottle. Veuve Clicquot yellow label from France is $23 the glass, $98 for a bottle and Nicolas Feuillatte brut rose from France is $22 a glass $95 for a bottle. White wines are put in categories like Crisp and Light that includes Sauvignon Blanc, Veramonte, Casablanca, a 2011 vintage at $12 a glass and $40 the bottle. Bright and Fruity includes Melon Di Bourgogne Muscadet Chambau also a 2011 vintage, $10 a glass and $38 the bottle. Red wines that are Fruity and Dry include Pinot Noir by Pinot Patch, 2011, $14 the glass and $50 a bottle. Bold and Powerful reds include Cabernet Sauvignon, Gravello Librandi, a 2009 vintage from Italy, $67 by the bottle.
"The restaurant opened in January 2013. Between Chelsea and Greenwich we draw people that are in the entertainment business. The staff is laid back. We have a lot of autonomy to make people happy. It is a very happy atmosphere," Matthew said. He served delicious country baked bread with a hard crust and a dish of creamery butter.
Cole's appetizers run from $10 to $16 and include an artichoke and morel salad with pea shoots. The asparagus bundle is wrapped in prosciutto with fennel-lemon jam. There are grilled sardines, hot flashed squid and corn soup. Plates are presented artfully and are tasty combinations of flavors.
Cole's regular menu includes eight regular entrees for the main course with specials every day. Spaghetti a la chitarra with heirloom tomatoes and basil is $18 as is the Cole's burger with cheddar and fries. We ordered Atlantic salmon with asparagus and quinona romesco. It was a thick steak that flaked tenderly with wonderful fresh caught flavor, $26.
The dry aged prime New York strip was a large piece of meat grilled to perfection and served hot from the kitchen with french fries. The steak is marbled but not fatty, seared and tender, $52. There is crisped chicken, cod, and Long Island duck breast. The special of the day was baby back ribs.
Executive Chef Daniel Eardley grew up in northern Dutchess County, NY. "My father worked on a farm. I got the work ethic for being in the restaurant business. The town was so small we had only 50 kids in the whole high school. As a teen-ager I learned to be independent. My room was above the kitchen. I could yell down and ask, 'Mom what are you cooking?'" Chef Daniel said.
"I was very finicky when I was a child. The first thing I learned how to cook was soda bread when I was eight years old. We had a garden. I'd go and pick fresh strawberries, corn. Here we are a neighborhood restaurant. We buy fresh, pure and simple," he added.
Chef Daniel operated his own restaurant that he sold about the time Penny Bradley was looking for a chef at Cole's. "I showed up and here I am," he laughed.
"Pasta is number one. I went to the Culinary Institute of America, graduated in 1996. Cole's is not Italian it is California. Everything is fresh. We don't have to do a lot to it. I worked for some pretty tough chefs, one was German. 'Now you are going to have to learn to cook,' he told me. We are 80% gluten free. I don't like to over handle food," the 42 year old Executive Chef explained.
Cole's is open for lunch week days from 11 AM to 3 PM. For brunch on weekends from 11 AM to 4 PM. Dinner is served from 6 to 11 PM. Good, healthy, fresh food, tastefully prepared and served in a cordial atmosphere, reasonably priced to attract and keep loyal diners.
Cole's is located at 118 Greenwich Avenue (do not confuse it with nearby Greenwich Street), New York, NY 10011. http://www.colesgreenwichvillage.com telephone 212 242 5966