NEW YORK—"I have to say, from where I'm sitting, I think chamber music is more popular than ever," said pianist Wu Han, who is co-artistic director of the Chamber Music Society of Lincoln Center (CMS), along with her husband, cellist David Finckel. The duo, who both perform and run educational programs, have been leaders in directing chamber music series for almost two decades, so Han is speaking on good authority. Since they took the positions at CMS in 2004, the society has grown and grown.
Part of its popularity is based in practicality: Chamber music is comparatively inexpensive to produce, and that translates into reasonable ticket prices, too. What's an octet, compared to hiring a whole orchestra of musicians or putting on an opera? And if you have budget cuts, you can program a trio instead.
"You get two people, and it's chamber music," Han said. And you don't need a big venue; it could be a church or someone's living room.
The intimacy of these concerts helps engage people and build a community, so chamber music has become one of the more accessible and increasingly popular art events for audiences. CMS also has a travel program, in which they bring their audience along with them on trips to scenic places and perform music connected to the region.
It's a very friendly art form—because if you aren't nice to others, no one will want to play with you, she added with a laugh. "If you don't love people, you don't want to play chamber music."
If you can program three or five concerts, you have a music series. If they're scheduled close together, you have a music festival. "It's not that hard," said Han, who currently puts together over 100 programs a year. "I can teach you how to do it," she offered. And indeed, every young chamber musician seems to have started their own festival or outreach program.
In addition to running CMS, Han and Finckel are the artistic directors of the music festival Music@Menlo in Silicon Valley, where they have inspired or mentored people to create many more music festivals in the area. 
Music First
When it comes to programming, the music gets top billing—not this or that star musician, like at most venues. CMS's recent winter festival advertisements, for instance, display Mendelssohn's image front and center.
"I have a very, very strong conviction about the power of music," Han said. She and Finckel see themselves as curators, she said, selecting pieces from 400 years of music and programming them together in a way that best enables the audience to feel a sense of discovery, before inviting the best musicians to perform that particular program. 
"There's a reason, there's a purpose, and there is an enrichment after the two hours [of a concert], whether from pure pleasure or the intellectual challenge or exploration of a certain subject," Han said. At CMS, many audience members are repeat patrons, and her goal is to allow them to develop their knowledge and palate.
In addition to balancing the pieces chosen over a season, Han and Finckel have to take into consideration the fact that their Tuesday audiences aren't the same as their Friday or Sunday audiences, as well as many other logistics. Their 2017–2018 season lineup was recently announced after about a year of constant tweaking, and Finckel writes every word of the program descriptions himself. This has proven to be a winning method over the years.
Even before Han got into directing, she was always interested in how concert halls and festivals planned their programming. As a pianist, she was often without an instrument to rehearse on backstage while waiting to perform, so she would read whatever programs and brochures she could get her hands on. "I'm very curious—to the point of being kind of nosy," she said. 
In the United States, she was performing at all the major music festivals and in each she would have several performances scheduled throughout the festival. So instead of playing one concert and flying out to the next city, she could stay for two weeks at a time and observe the effect of the entire program. "Being a musician, you're always analyzing."
Then in 1998, she and Finckel got a call with an offer to become the artistic directors of La Jolla Music Society's SummerFest.
"I remember David and I were driving from Italy to Switzerland, over the Alps. By the time we got to Switzerland, we realized we had so many opinions that were bottled up from over the years … [that] we got so excited," she said. They had marching orders to fill the hall, build national attention, and create a balanced budget with the best music. They did all of that, plus they started a recording and radio broadcast project. The hall was packed by the time their contract expired. 
When they started building the Music@Menlo festival from the ground up, the couple decided it would be a thematic festival where audiences could intensely explore a subject for three weeks. They did not shy away from the educational aspect or water anything down; audiences were mailed a two-hour-long disc of audio notes on the festival program ahead of time, for instance. "The idea was, you spend a lot of time with them, day in and day out, and you hope by the end of the whole journey, they become a much more sophisticated audience," Han said. It worked; they hit 98 percent capacity in the first season.
With CMS, there are also pre-concert lectures, talks with composers, masterclasses, online videos, and listening suggestions. They've had almost a decade straight of subscription increases. "People just come. They know the concert is really good, they know the program is well thought out, they know they can have a journey with us, and they trust the quality. We try to create that relationship with our audience," Han said.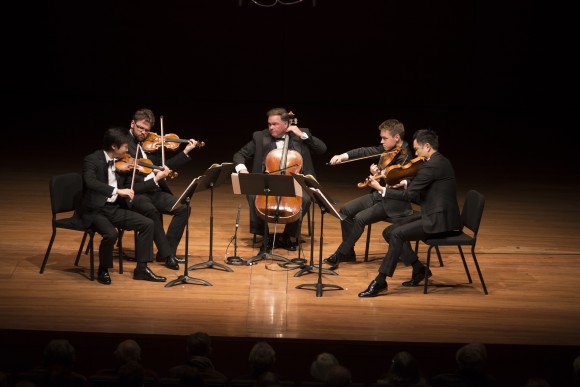 Passing It On
Han and Finckel support young artists through numerous educational programs at many music festivals from New York to Korea.
It's natural for one generation to pass on musical knowledge to the next, Han said. She feels fortunate to have had many talented musicians devote their time to her artistic development throughout her life, and she wants to pass it along. The most effective way to do so is by playing together. "I really believe chamber music is the best way to educate."
Chamber music requires an incredible deftness and skill, Han added, because musicians need to understand their instruments and the piece they are playing so well that they can make adjustments to each other at the drop of a hat, making it an even better vehicle through which to pass on knowledge. 
"Once you start to play, it's like magic," she said. "Sometimes you put a sound in somebody's ear, so there's a transit of the knowledge. … There's a sensibility you develop playing with young musicians."
They also regularly program concerts and events for children and create opportunities for students to form a club and attend concerts at a discount.
"I think our society is way too busy feeding the practical and material parts of our lives," Han said. Cars and houses are great, she said, but in a healthy and civilized society, "it's a spiritual world that we all need—and music provides that."
Because these materialistic aspects of society are so loud, she feels a responsibility and need to expose the next generation to the classical music art form.
"Even if the kids play a little of this or that instrument, it gives them the sense of creating something. It gives them the sense of being artistic, of thinking outside the box. It gives them the sense of the analytical ability to figure out why this is this way or that way," Han said.
It's a necessity: Without the arts, we lack the culture to be civilized to each other, we lack empathy, and we aren't in touch with our feelings, she said. Without it, we would descend into the Dark Ages. 
"I really believe classical music is like fine wine," Han said. Like with dining, you don't always want fast food; from time to time you'll want something "more sophisticated, and a little more interesting," and over time you want to understand the ingredients used, how it was cooked. "The more you know, the more you appreciate the art form."
"All the fine things in life are all, in my opinion, things that take some work," she said. 
The Chamber Music Society of Lincoln Center presents "Love Sonnets," with works by César Frank, Maurice Ravel, and Antonin Dvorak, and the New York premiere of Jonathan Berger's "Rime Sparse," on March 12 at 5 p.m., at Alice Tully Hall. Use code EPOCH25 online or by phone (212-875-5788) for a 25 percent discount. No ticket limit.