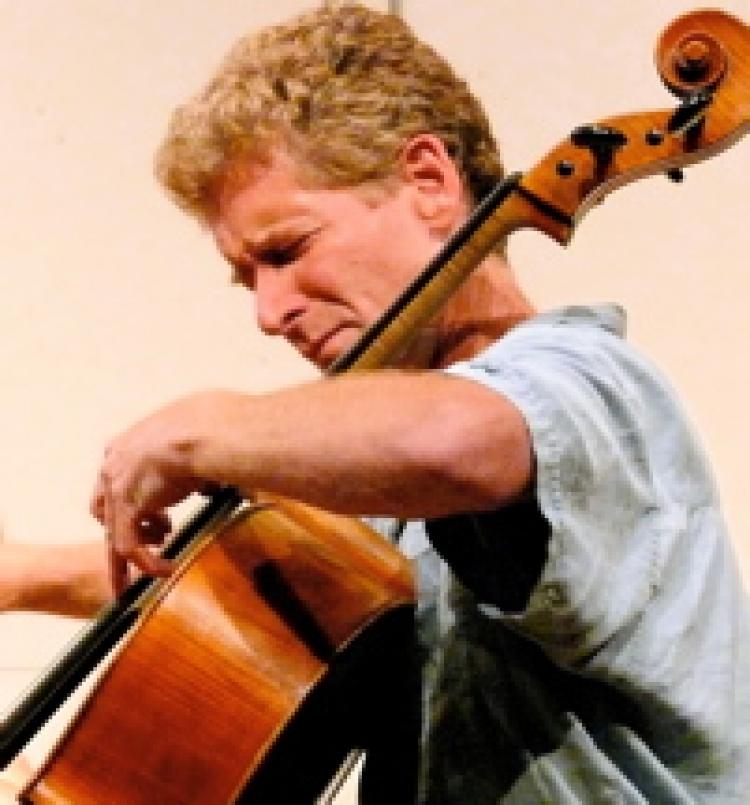 In the last six months, I have learned to admire the lives of others. This is odd because I do not belong; I am a feather floating around. Yet these profiles I am writing of EcoVillagers are a revelation to me.
Jazz cellist Chris White lives in EcoVillage. I asked him, "What brought you to settle here?"
He said, "Love." This is the story behind that surprising one-word answer.
Chris White is a classical and improvisational jazz cellist. He is one of Ithaca's treasures. In 1995 he founded the New Directions Cello Festival—an annual three-day festival dedicated exclusively to the celebration and expansion of non-classical uses of the cello. Listening to his CD, "First Principles," I float on wordless wings of melody.
White has performed and taught in Canada, Europe, North Africa, and across the United States. He played with flamenco, Celtic, and jazz groups in Spain. He plays cello with the Binghamton Philharmonic and improvisational music with his jazz quartet.
He was the guest artist at the First World Cello Congress in Washington, D.C., in 1988, presided over by Russian cellist Mistislav Rostropovich. But I most like to mention his improvised musical accompaniments to the 1919 silent film "The Cabinet of Dr. Caligari."
The film's theme is an 11th century myth. Artists create their work out of the detritus of life: The film becomes useful if one thinks of each frame and each character in the myth as being questions about the self. Each frame becomes an echo chamber.
The narrator, Frances, tells the story. The next frame is set in a fair. There Dr. Caligari exhibits a somnambulist psychic who can foretell the future. Alan and fiancé Jane meet the somnambulist-dreamer who has the power of prophecy. When Alan asks him, "How long will I live?" he answers, "Until dawn."
Aren't we all sleep-walkers woken up by death? Tragically, Chris White was woken up with the devastating death from cancer of his beloved young wife, Susan, mother of his three children.
Some musicians live a life of excess. Not Chris. He says, "I get my discipline and my perseverance from my grandmother."
He had the good fortune to be born into an interesting family. Chris' grandmother, Grace Goulder, who was a journalist for the Cleveland Plain Dealer, was the author of five books; she went to Vassar College. Chris's mother, Molly, and his sister likewise went to Vassar. The grandmother was busy at her desk, but Chris sees his mother as the matriarch.
His mother and her two sons formed a trio: Molly, piano; Gene Jr., violin; and Chris, cello. Chris took lessons on the ukulele and guitar, as well as cello from age 8.
Grandmother lived in the house where his mother was born, and Chris was born in the house his parents built when they were deeded adjoining land. They sound like an 18th century family living next door to each other as in a Jane Austen novel. They lived in Hudson, Ohio, near Cleveland.
He remembers the locust trees—home to cardinals and blue jays—with their light and airy foliage, their gnarly bark. He would ride his bicycle frequently on the campus of Western Reserve Academy, a prep school, where he later attended high school.
In Chris's idyllic young life, death was an overarching frame, as in "The Cabinet of Dr. Caligari." His father's first wife died from cancer, leaving two half-siblings; a maternal uncle died in World War II.
Shakespeare wrote in "Measure for Measure": "Thou hast nor youth nor age; but, as it were, an after-dinner's sleep, dreaming on both."
Chris's music is like the locust trees of his youth, letting in light and air—even on the worst day, music is a solace. Then followed a big moment of change: Love brought him to EcoVillage where he now lives with his love and new wife Marcy Little, her son Zaccharie, and his daughter Lianna.