Chocolate Sommelier Holds Court at Vienna's Ritz-Carlton
April 18, 2013 5:53 pm Last Updated: April 18, 2013 5:53 pm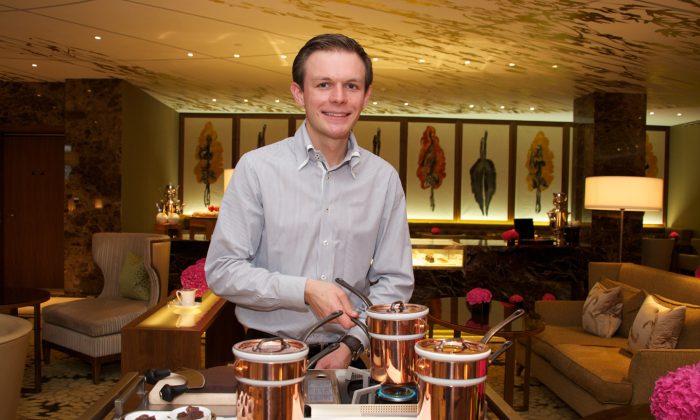 Wine sommeliers are specialists who have been trained in wine service and wine and food pairings. I had heard of beer sommeliers and tea sommeliers but never a chocolate sommelier. What may be the first-ever chocolate sommelier serves cups of hot chocolate every afternoon from 3 to 6 p.m. at the new Ritz-Carlton in Vienna.
The chocolate used at the Ritz-Carlton is Criollo, the best there is. As the sommelier says in a Ritz-Carlton press release, "Only 0.001 percent of the world harvest of cocoa derives from those precious beans."
The sommelier offers guests chocolate from a variety of chocolate chips made from Criollo beans grown in Ecuador, Madagascar, Peru, or Venezuela. The chocolate is then prepared with water in little copper pots to ensure the best flavour. Guests may add milk or cream later, along with different spices such as Tonka beans, chili, or perhaps a dash of Grand Marnier.
Presenting hot chocolate as an afternoon drink showcases the wondrous variety of Criollo single plantation chocolate. One may even talk about the "fresh nose, slightly minty and fruity, delicate taste" of Madagascar Criollo, then add that it is "acidic on the finish."
It seems most chocolate sommeliers pair chocolate with wine but that is definitely not the way hot chocolate is presented at the Ritz-Carlton. Wine is available, of course, but most guests wait until later in the afternoon or evening.
Mexican Hot Chocolate for Armchair Travellers
113 g (4 oz) sweet baking chocolate
56 g (2 oz) unsweetened chocolate
1 L (4 cups) milk
15 mL (1 tbsp) sugar
1 mL (1/4 tsp) vanilla
l stick cinnamon
Melt chocolate in top of a double boiler over boiling water until it melts. Heat milk in a separate pan with cinnamon stick until hot but not scalding. Pour into chocolate and stir until blended. Add sugar and vanilla. If desired, beat with chocolate still over the heat, preferably with a Mexican wooden mill, a wire whisk, or a rotary beater till chocolate foams. Remove cinnamon stick and pour into four to six heated cups.
N.B. It's fun to experiment with different chocolates. Criollo is available in Canada but it is usually mixed with a different bean.
This recipe is not from the Ritz-Carlton.
Susan Hallett is an award-winning writer and editor who has written for The Beaver, The Globe & Mail, Wine Tidings and Doctor's Review among many others. Email: [email protected]