Chinese Theatergoer Hopes Shen Yun Will Perform in China (Video)
April 30, 2014 6:35 pm Last Updated: May 9, 2014 4:49 am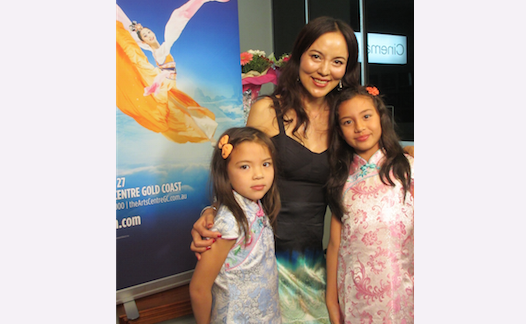 GOLD COAST, Australia—China-born Yaya Wang hopes one day to see Shen Yun Performing Arts on the stage in China for the sake of her children and the Chinese people.
"In China, it's very difficult to watch the very traditional, original Chinese classical show, … so I'm really happy to see this," Mrs. Wang said. She was attesting to the fact that there is no performance like Shen Yun in China today.
According to the Shen Yun website, the explanation dates back to the Cultural Revolution and the communist regime's systematic attempts to wipe out the heritage of 5,000 years of civilization.
"Today, on the surface, the Chinese Communist Party claims to be reviving traditional Chinese culture," the website states. "But no matter how its efforts are framed, they are ineffectual. For the Chinese Communist Party removes the cultural essence of respect for the divine, thereby extracting the heart and soul of traditional Chinese culture."
Mrs. Wang was excited to see New York-based Shen Yun at The Arts Centre Gold Coast on April 25 while she was visiting the popular Gold Coast, near Brisbane, with her two children.
"I'm really glad I can see the Chinese show in Australia because I'm Chinese," she said. "Many of the stories in the show I understand. … I loved the show! I loved the show! I'm really happy to see the show."
The world-acclaimed Shen Yun revives 5,000 years of Chinese civilization—said to be inspired by the heavens—through the universal language of music and dance, according to the company website.
"Sophisticated dance techniques, an orchestra joining instruments from both the East and West, beautiful costumes, and a stunning back drop—this is Shen Yun at first glance.
"But digging deeper, one discovers a sea of traditional Chinese culture. Mortals and divine beings merge on stage as one. Principles such as benevolence and justice, propriety and wisdom, respect for the heavens, and divine retribution, all come to life, washing over the audience," the website states.
Mrs. Wang studied ballet from age 6 to 12 years, and then went on to learn traditional Chinese dance for another six years. As a dancer and mother, she showered Shen Yun with praise and appreciation.
"It's really exciting. This group did a great, great job because—especially for my children—many stories are disappearing." But today, she said, Shen Yun can portray many of the traditional stories.
"I hope one day this group can [perform] on a Chinese stage … to show the Chinese people. They really keep the traditional dance very well. Very good!" she said.
Reporting by NTD Television and Raiatea Tahana-Reese
New York-based Shen Yun Performing Arts has four touring companies that perform simultaneously around the world. For more information, visit Shen Yun Performing Arts.
The Epoch Times considers Shen Yun Performing Arts the significant cultural event of our time. We have proudly covered audience reactions since Shen Yun's inception in 2006