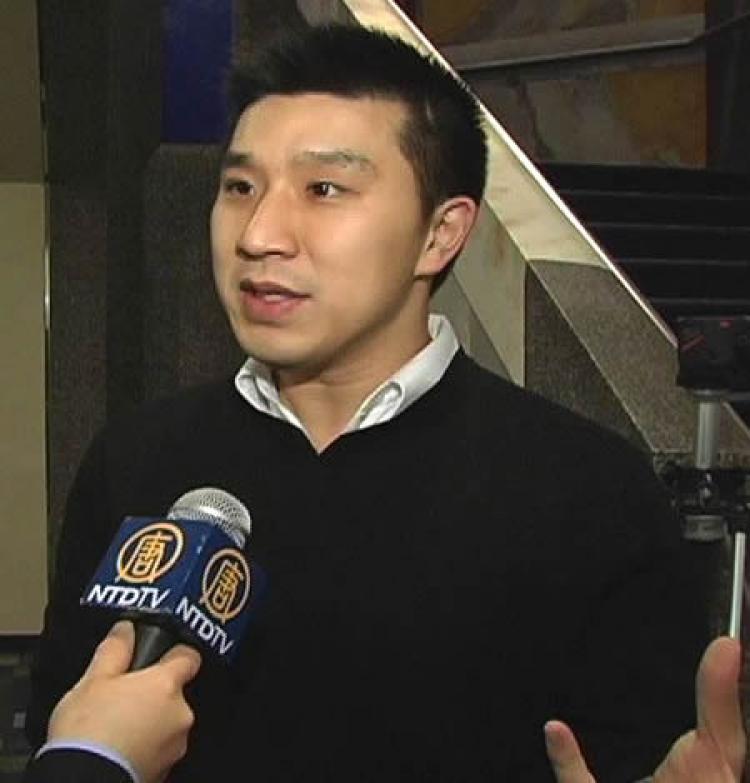 TORONTO—"I enjoyed it all," said Mr. Lee at John Bassett Theatre in Toronto on Saturday. Mr. Lee was commenting on the Divine Performing Arts (DPA) show currently playing in Toronto, regaling audiences with its thrilling portrayal of Chinese traditional culture.
Mr. Lee, who attended Sunday's performance, is the general manager of a charitable theatre group that supports Asian-Canadian theatre artiststhrough the production of new and established works.
"I would say that this is a fabulous production, that there are many things about it that I certainly love," he said.
"I enjoyed the costumes, I enjoyed the performances. My expertise is generally in theatre but I do enjoy dance and this was lovely, lovely dance pieces, as well as the beautiful music that was in between. I think that there's something for everyone to take away from the show, that whether you enjoy dance, or you enjoy music or whether you enjoy something that gives you cause to think about yourself and the world around you, there's something to take away from that in that it's a very fulfilling show. And it moves along at a great pace."
DPA is a New York-based performance company founded by leading Chinese artists seeking to revive China's traditional culture and present it to audiences around the world through Chinese classical dance and music.
"It was beautifully choreographed," said Mr. Lee. "There were lovely moments and images. The costumes were beautiful and expressively colourful. The messages, the stories were very clear. The MCs kept everything light and kept everything going and it was very engaging that way."
Originally from China, Mr. Lee said the show, with its portrayal of Chinese culture and values that were all but detroyed with the advent of of communist rule, was "a great way for me to have a reintroduction to the Chinese culture, very specifically to the Chinese artistic culture. Me being an artist myself, it is lovely to see that and to be inspired by that."
His favourite musical piece was "Hope," by erhu soloist Xiaochun Qi. The erhu is a two-stringed instrument renowned for its wide range of notes and mellow, haunting sound.
"The Erhu musical instrument mimics the vocal chords, mimics the way a person sings, a person talks. The erhu player was lovely—so moving to watch her play. Just listening to her reach the climax of the song, I had shivers in my body. It was very beautiful, and very moving. In fact, it wasn't just an auditory experience, like it wasn't something just to listen to, but it was something that you can almost see."
As an artist, Mr. Lee explained, the show was a source of inspiration for him.
"It is inspirational to know that there is something that the gift of creativity, art, bestowed upon us as individuals can really and truly be inspiring, and have a message of peace and connectivity between each other. That something so simple as two strings on a piece of wood played by someone can make us all connect in those unique ways that only music and movement can. I can feel that within the audience itself that when she was finished playing that everybody was in that same moment of 'wow.'
"I think that was more inspirational than anything that can be done. It definitely moved me. Made me feel very much connected to not only my cultural heritage but to the members of the audience themselves, that there was this energy that was given to the player and back and to everyone around me. The lady next to me, who I am sure has never seen a show like this before, went 'ahh,' very moved by the experience, and I can feel that, and by extension to being able to feel that I think I shared a connection with her, just like she shared a connection with me by watching the show."
He was also impressed by a piece called "The Udumbara's Bloom." The Udumbara blossoms every 3,000 years and is believed in Buddhism to be a sign of blessings and good fortune. Udumbara flowers were reportedly seen in several countries in 2008.
"I could totally believe that there was a flower blooming on the stage," he said. "The ladies did a lovely job of sort of expressing nature in many ways and it was great to see the intricate little pieces of movement that's like…the process of a flower blooming. It was lovely to watch."
Mr Lee said pieces such as "Mulan Joins the Battle" and "Heaven Awaits us Despite Persecution" expressed virtues such as compassion and selflesness.
"For me there is a sort of spiritual, religious message behind the show too, which is very clear to me. The message of being generous to each other, of being spiritually wise in order to really grow and prosper, not only as oneself but as a race, as a community, as a whole. And that generosity of spirit needs to be conveyed in order to have a peaceful prosperous world.
"Mulan, where she really represented her father in going to war to prevent him from suffering through that—that kind of generosity of spirit and not being selfish but being selfless I think is a common theme in many of the pieces."
Mr. Lee said that as he was leaving, he overheard other audience members' appreciative comments on the show.
"There were some people who were very appreciative of the artistic beauty and some people were very surprised at the spirituality and the deeper message of compassion, of being honest with yourself and with the world around you and I think that they were very surprised that there was a message like that and very happy I think to receive a message like that because it's not often that shows like this will show you some wonderful spectacle and they'll be nothing to take away and I think there's something nice about that."
He concluded by saying that in a society where "religion and spirituality don't often have a place," the DPA show is a good reminder of the importance of virtues.
"Very valuable, especially in this day and age."

For more information, please see DivinePerformingArts.org