The Chinese military has been a key player in Beijing's bid to use "vaccine diplomacy" to increase its global influence, having delivered China-made COVID-19 vaccines to military forces in 28 countries.
The Chinese Ministry of Defense (MOD) has donated vaccines to the militaries of developing countries across four continents, an act rarely seen carried out by other countries' armed forces.
Tan Kefei, an MOD spokesperson, said at an Oct. 28 press conference in Beijing that the People's Liberation Army (PLA), the Chinese military, was practicing the concept of shaping mankind's common future via sending vaccines and other pandemic related materials to foreign militaries.
"Shaping mankind's common future" is a concept that Chinese leader Xi Jinping has promoted in recent years, described by analysts indicating a desire to export Beijing's authoritarian model of government the world over.
"The military as well as other government organs are tools of the Chinese totalitarian authorities, which perform whatever the regime asks. China sending the vaccines to other countries isn't for kindness as it claims, but to force these states to support it in the international community," Tang Jingyuan, U.S.-based China affairs commentator, told The Epoch Times on Nov. 9.
China is one of the countries that announced it had COVID-19 vaccines months after the pandemic started. In October 2020, Chinese media revealed that the Beijing regime seeks to aggressively export its vaccines at low prices, although the vaccine's efficacy appeared to be much lower than U.S.-made vaccines that demonstrate efficacies higher than 90 percent.
A U.S. Senate budget hearing in July revealed that the lack of vaccines in the global market gave the Chinese regime the chance to export its vaccines.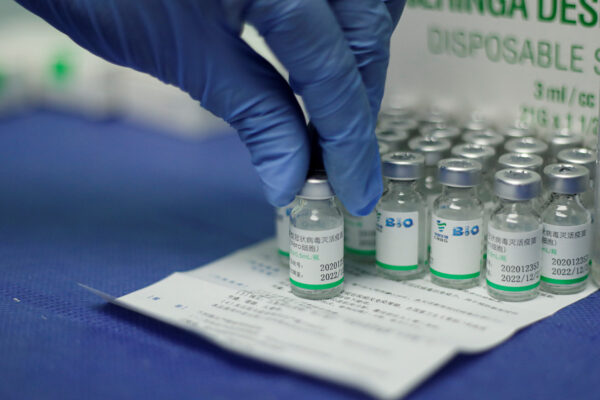 Military's Vaccine Diplomacy
The PLA contacted foreign militaries and has sent the COVID-19 vaccines overseas using military aircraft in the past months. Chinese media praised the military's diplomatic efforts and claimed that the endeavor received positive results.
On Aug. 24, the second day after the PLA sent vaccines to Vietnam, CCP mouthpiece Xinhua reported that Vietnamese Prime Minister Pham Myung Ching summoned Chinese ambassador Xiong Bo and told him that developing relations with Beijing was Hanoi's priority and that Vietnam is against the politicization of the origin of the CCP (Chinese Communist Party) virus, commonly known as novel coronavirus.
China and Vietnam have disputes because both claim sovereignty of several islands in the South China Sea.
Chinese web portal NetEase reported on Aug. 25 that it was the PLA's donated vaccine that caused Hanoi to support Beijing.
MOD's spokesperson Tan announced on Aug. 26 that the PLA would send more COVID-19 vaccines to foreign militaries.
On Oct. 28, the PLA released a post listing 54 countries that received the vaccine or other pandemic-related material donations from the PLA, including Bolivia, Ethiopia, Myanmar, Pakistan, Cambodia, and Laos.